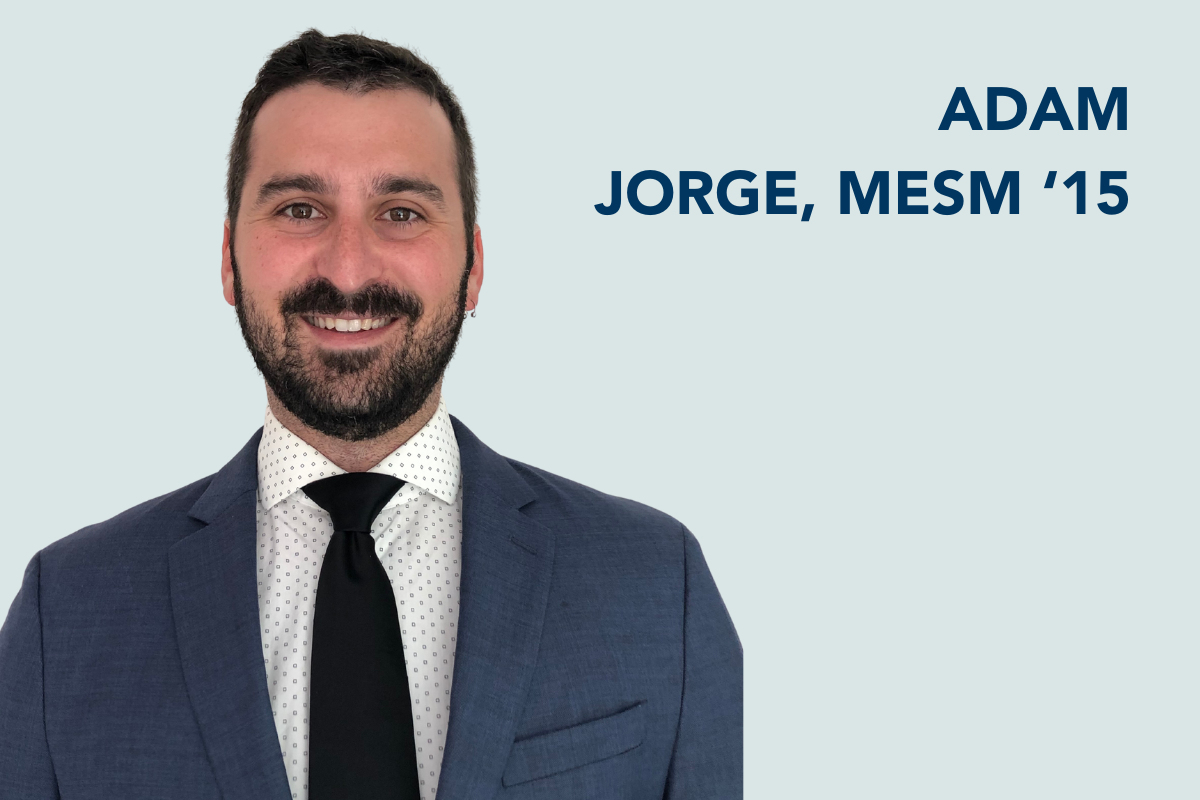 Adam Jorge '15 discovered his career path as an undergraduate student at CSU Stanislaus. After a series of internship opportunities, Adam realized his passion for connecting the links between environmentalism and public policy. His time at UC Santa Barbara as a graduate student studying Environmental Science and Management further honed his career focus on the energy space.
As a regulatory affairs manager for Sempra Energy, Adam spends his work days mired in complex problem-solving centered around reaching company-wide net zero carbon emissions. Even still, Adam decided to return to school part-time to begin working on his PhD, a degree he has put a lot of thought towards. He appreciates the rigorous nature of his work and realizes that its difficulty is actually what he loves most.
Q: After receiving your bachelor's degree in Political Science and Government, you attended UC Santa Barbara for a master's program in Environmental Science and Management. What shaped your interest in environmentalism as a career?
When I was at CSU Stanislaus, I completed a series of different internship rotations around environmental policy and advocacy. I worked with a lot of great organizations, like the Sierra Club California. I really got the bug for legislative advocacy there, as I had great mentors and learned a lot. I then went to CSU Monterey Bay to participate in the Panetta Institute Congressional Internship Program in D.C. I worked for Congressman Sam Farr, as well as other environmental folks focused on agriculture and ocean policy. By the time I finished my degree at CSU Stanislaus, I had a pretty rich set of experiences in the legislative policy space, which was what formed my undergraduate thesis. 
Q: You stepped into a new position this last Spring. What do you enjoy most about your day-to-day life as a regulatory affairs manager for Sempra Energy?
After my time with the EPA, I wanted to move into carbon. A friend helped me get in contact with a manager at SoCalGas because they were looking for someone with technical and policy experience. I just slid into that role, working in zero emission transportation, and then later moved to the Sacramento office for a different scope of work. Now, the work that I do is on behalf of Sempra Energy's subsidiaries, looking at different policies relevant to the utility space for non-CPC agencies. A lot of my work focuses on electrification and decarbonization research and development. 
What I love most is that it is really hard. It is complicated work, and I don't like easy problems. We're trying to create this integrated, interdisciplinary, multi-company approach to hitting state targets of net zero carbon emissions. There's an incredible amount of learning!
Q: How have your schooling and other experiences prepared you for your career path? Follow-up: What have you learned along the way?
Nobody gets anywhere without a hand-up from a mentor or role model, but a lot of people don't have access to those high-powered folks as they start off. I think it is so important to really take in the information you learn and make connections with those who are driving your interest in certain topics. The more you dive into the details, the more you realize that there is to learn. I don't think I've ever finished a job feeling like I know more than when I entered it. That's not to say I didn't learn, but you gain so much more information that you feel the weight of everything else that needs to be considered to do something responsibly.
Q: What did you enjoy most about the six years you spent working with the Environmental Protection Agency?
 I started in the headquarters office in D.C., then later moved to San Francisco. During my time, I stayed within the same program, which focused on examining nonpoint source pollution and overseeing environmental restoration projects. Big agencies take time to advance as an organization, so after six years I felt as though I had gotten the most out of that experience that I could.
Q: Environmental science is a large field. You have specialized in pollution prevention and remediation, and water resources management. What led you into these specific sectors, and why do you believe they are important?
At the beginning of my career, I was really torn between all of my different interests. I felt like I wanted to do everything! But what I liked most about pollution prevention and remediation specialization was that it involves actually looking at the state of the world's environmental affairs and creating solutions to issues that have already occurred. A lot of work in this field is preventative, like conservation planning, or examines social aspects of environmentalism. 
Q: After over 5 years in the workforce, you're going back to school for a PhD in Management of Complex Systems. How did you make the decision to continue your education? 
I am going back to school part-time, along with working full-time. Honestly, I am always looking to learn as much as I can! I realized I am in a place in life where I have time to work on my PhD research. I was the first kid in my family to go to school. My mom got her bachelor's degree much later in life, which improved our lives so much. Since then, I've held the idea of getting my PhD pretty closely.
Q: What do you enjoy most about being a student?
I enjoy being a student in the same way I enjoy my work. It's complicated and messy. The learning curve is enormous. I love that the energy space entails so much integrated work. Working on this degree further facilitates my interests in connecting the dots between all of the different factors of the energy space.