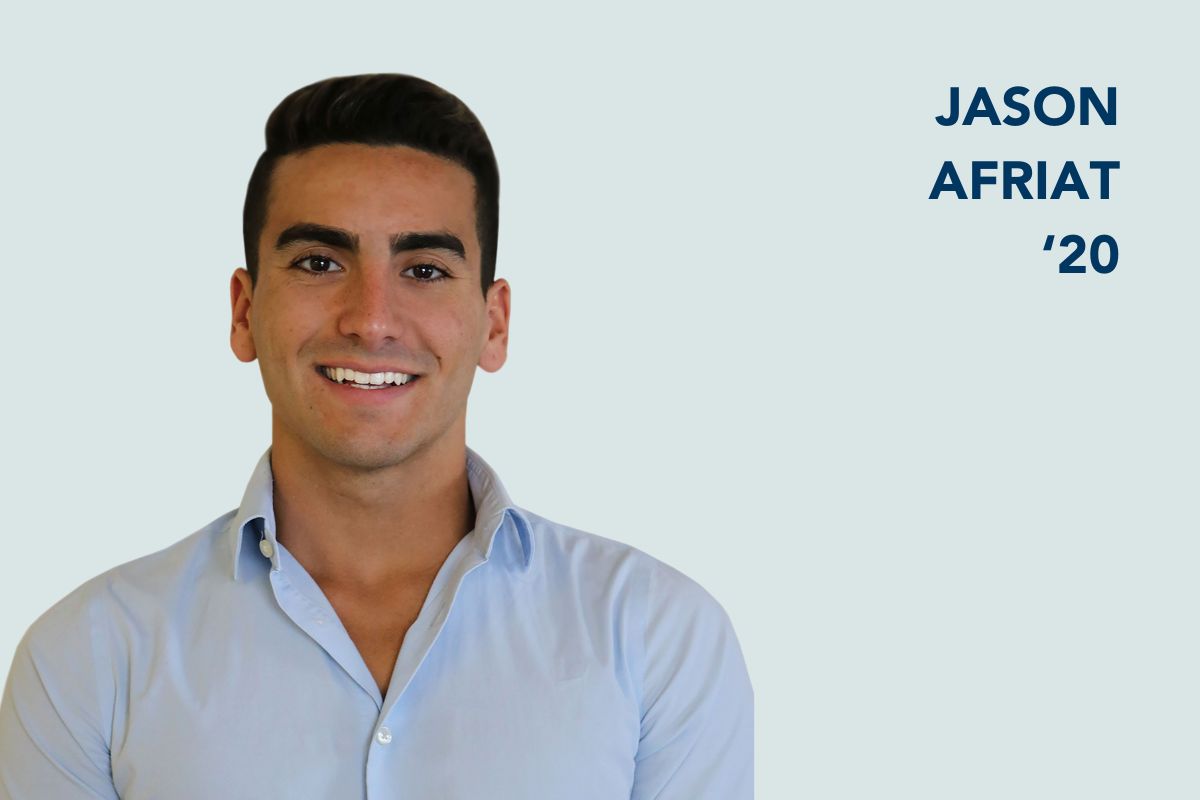 Jason Afriat '20 majored in Sociology, but found ways to incorporate his love of marketing and advertising into his studies. He enrolled in many business and communication courses during his time at UCSB and joined organizations like TAMID, a nonprofit organization that develops undergraduates' professional skills through hands-on interaction with the Israeli economy.
On the UCSB rowing team, Jason learned the importance of teamwork and perseverance. He carried those ideals with him post-grad to create Motion LA, a weekly workout community of entrepreneurs and influencers. Hosted by world class trainers, the workouts also function as a means for business and social networking. And, with a passion for storytelling, Jason teamed up with his brother to build HipTyper, a subscription-based copywriting service launched earlier this year. Jason's love of community and movement fuels his work ethic and his drive.
What drew you to UCSB for your undergraduate degree?
I actually transferred to UCSB from Chapman. The second I got there, I felt comfortable and the crowd was warm and welcoming. I was able to tap into a lot of great communities there, both in athletics and through cultural organizations.
What was your experience like being on the UCSB rowing team? How did that shape your time at UCSB?
It was incredible. I felt like I had an immediate family. We always pushed each other to be our absolute best selves. To me, rowing is about pushing yourself hard yet still having the willpower to keep going. You have eight other people in the boat with you and if you mess up, so does the entire crew. That pressure is what really builds and bonds a family. I'd do anything for my team. It taught me a lot about life and how to keep going.
How and where did you find a sense of community at UCSB, besides rowing?
I'm very social and I love meeting new people. I'll talk to anyone – even the wall! At Chapman, I was a founding member of a group called TAMID, which is a worldwide organization centered around consulting and investing. When I transferred to UCSB, I found out that TAMID wasn't very active, so I immediately got on board to start that. I became president of the organization by my second quarter; it was a really fun and rewarding experience. I was also able to get involved with a bunch of other Jewish organizations, like Chabad. Overall, I met a ton of amazing people at UCSB.
Tell me about the beginnings of your fitness company, Motion LA, and the drive behind this career venture.
Motion LA started in 2020 with a desire to bring together different types of people – entrepreneurs, influencers, lawyers, professionals – and network through an amazing workout. We started off small but each week, a few more people would show up. Through Motion LA, we have recreated the way people socialize through health and wellness. We de-emphasize the need for alcohol, drugs, and partying as a means of socializing, instead replacing it with goals related to health and wellness. The way folks bond over sweating and grinding at the gym together is like no other. Everybody immediately becomes family because it is such a great way for everyone to really get to know each other.
Every event we have, I see the happiest people with the biggest smiles. Our team has created an environment and a community in which everyone feels comfortable to be themselves. At the end of our workouts, everybody comes together and says who they are, what they do, and what they need. We always have someone in the group who can help them get whatever they may need.
Where was your favorite place to unwind during your time as an undergraduate student at UCSB?
The outside area of the Isla Vista Starbucks. I'd go and sit at the benches and tables there to study for a test or just have a cup of tea and chill. I love coffee shops – I still work at them every day!
How do you feel like your undergraduate degree in Sociology prepared you for your entrepreneurial endeavors?
I learned so much from Sociology, and the biggest takeaway was a greater understanding of people. I'm also extremely into marketing and advertising and I took a lot of classes related to business. Those courses allowed me to get a better idea of what I wanted to do because I took sociology concepts and used them within marketing and advertising. Ultimately, my degree has allowed me to find a way to connect people with what they love by getting them to see and believe in my vision.
You are also involved with the company, HipTyper. Can you explain how you got involved in this endeavor as a co-founder?
About four months ago, my brother, Avi, and I launched HipTyper, a subscription service for copywriting. We believe that the storyteller is the most powerful person in the world. There are so many brands in competition, so it is necessary to differentiate ourselves. HipTyper helps clients do that by telling their story through writing – clients can request any type of content copy within their subscribed word count to be completed by our pre-vetted writers. My parents are immigrants from Israel and Morocco, so we grew up speaking four languages within a wild family. My family is really good at coming up with business ideas but they lacked the ability to properly write a good story. Avi and I always took it upon ourselves to write it for them, and about a year ago we decided we needed to do this for other people. So, we got started and eventually launched HipTyper.
In what way do you feel you made the most out of your time at UCSB?
I made it a point to talk to everyone and be present in the moment. There were always stressful times, but I understood the value in knowing that we are in the present and that we can't go crazy about what could happen in the future. Everything will happen exactly the way it is meant to. That was the mindset I had at UCSB. I opened up my mind to be spontaneous and not overthink.