New mother and new business owner? No problem for Monique Ritter '11. Her experiences and connections made while at UCSB have her ready to take on the world.
Ritter grew up in small town Ohio. She was a creative child, with a love of painting, writing, and dancing. While in high school she joined the Speech and Debate team, which became a formative experience. Learning the value and skill of delivering content in spoken form inspired her to major in Communication.
While at UC Santa Barbara, Ritter participated in the Education Abroad Program at UC Paris in France. She also worked at the UC Santa Barbara Family Vacation Center (FVC).
Ritter chose UC Paris because she was not friends with anyone else in that specific program. For Ritter, studying abroad at UC Paris was an opportunity to step out of her comfort zone, culturally and socially. Her time making new friends with differing worldviews grew her humility, compassion and empathy.
Never letting an opportunity pass her by, Ritter made the most of her time working at the FVC. From working with FVC director Sheri Fruhwirth she learned to improvise and overcome. She also forged genuine relationships with fellow staff members and vacationers. In fact, her first job out of college was working for a vacationer at his start up in Silicon Valley.
What drew you to study at UC Santa Barbara?
UC Santa Barbara's location was the number one draw. After growing up in Ohio, I wanted nothing more than to experience living at the beach. To me, it was the ultimate "California dream"
What inspired you to start your own business?
I learned so much from working for a tech startup in its beginning stages. I loved the freedom to be creative with little to no boundaries. There is an exciting permission in the startup world to recklessly try things and learn along the way. Breaking away from a caution-oriented way of working was extremely inspiring. That work experience combined with the personal experience of cycling for 3 months in Europe while pregnant gave me the fearlessness to start a business. It was on the cycling trip that I really experienced the time and space to work through fears and doubts of one day starting something on my own. After returning to The States and having my son I was even more empowered.
What are some of the highlights of being an entrepreneur
Some highlights of being an entrepreneur are setting my own pace and balance. I am a new mom and being with my son is so important to me. I am able to prioritize and reprioritize as I see fit for that time and that has proved to be invaluable. Another highlight is the relationships I've been able to make along the way. Starting a business means constantly asking for help from people you don't know about things you don't know. This humility has turned into some genuine friendships.
What are some of your challenges?
A challenge about being an entrepreneur is the temptation to always compare your company or brand to others. It's a constant reminder to enjoy the process and have fun rather than letting your passion become a competition.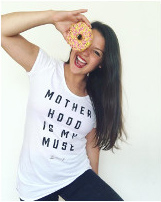 If you have an amazing idea, don't google it. There are so many reasons to not act on a passion and the biggest one is "someone is already doing it." The truth is, yours will be different and reflect pieces of who you are and that is the point.
What are your goas for the future? Where do you see yourself in five years?
My goals for the future are to grow Kinship Cap Co and begin to be able to help other entrepreneurs start a creative business, specifically moms. I would love to be a "creative consultant" and give women the encouragement and resources they need to turn a design into a tangible product. I've made so many mistakes and oversights and I would love people to learn from these. Being a mom is so amazing but it doesn't always allow for a creative outlet (at least while they are babies) so encouraging moms to act on their creative passions is so important to me.
Reason's We're Proud to be Gauchos
No. 1
"I am proud to be a Gaucho today because it was through my experience at UCSB that I was equipped with the knowledge to act on my dream. I had the privilege of receiving a well rounded and thought provoking education that propelled me to take risks. I learned alongside people that were nothing like me and that in and of itself has changed me forever."