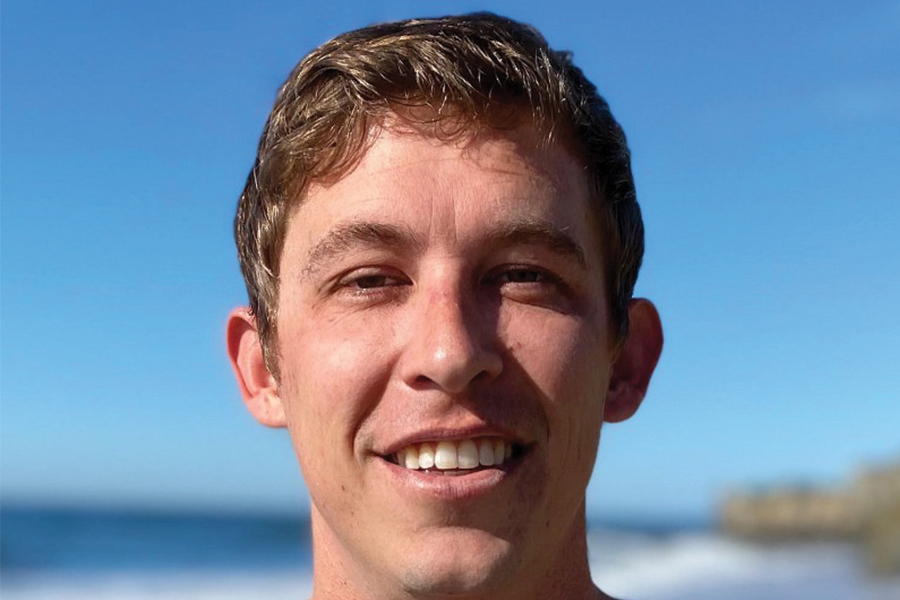 Cruz Foam works hard to be the change the oceans need by reducing the amount of plastics in the oceans. CEO & Co-founder, John Felts '08, is here to explain how his time at UCSB and the waters off the Goleta coast sparked his environmental change initiative.
Cruz Foam's mission is a bold, straightforward approach to battling plastic and styrofoam waste in our oceans. Cruz Foam is a chitin-based formula made from naturally occurring waste products from the seafood industry that serves as a packaging alternative. As the second most abundant biopolymer on the planet, chitin, and other natural ingredients, are transformed into a structural packaging foam that is both compostable and affordable.
John Felts '08 graduated from UC Santa Barbara with a degree in Chemical Engineering, a love of surfing, and a new appreciation of our waters. Check out this interview to learn more about his transition from graduate, to researcher, to CEO.
As a Chemical Engineering student, how did you balance academics and your social life?
What advice can you give students pursuing this field of study? It takes a lot of work-life balance and time management. Chemical Engineering is an extremely demanding field of study and I worked hard to balance that with enjoying college life and the beauty of the Santa Barbara area. I went through the engineering program with a great network and they definitely helped me utilize my time wisely. In retrospect, although I managed to get in a surf almost every day, that time in the ocean probably brought me to where I am at Cruz Foam today and I do not regret any part of my UCSB experience.
How did Chemical Engineering prepare you for your professional career? Are there other courses you wished you'd taken to get ahead in your industry?
I mostly applied the scientific principles behind chemical and mechanical engineering. The scientific method helped me develop the initial material with a chitin-based formula, which is what we built the company on.
With this application, it was helpful to have some understanding of how to take engineering into a business aspect. Certain labs that allowed me to take a concept and relate it to a real-world application interested me as I wasn't too drawn into theoretical research.
Reflecting on it now, UCSB offered a materials emphasis for the chemical engineering degree. This could've helped me along my journey so for anyone interested in these aspects of the degree, I would advise you to check it out.
Cruz Foam prioritizes bio-sustainable plastic alternatives to reduce plastic waste in our oceans. What inspired you to launch Cruz Foam?
In short, I learned how to surf at UCSB and I became strongly connected to the ocean. During your studies, most students start to tie their learning to their passions, and at the time, I had no idea what that meant for me. But today, I can see where the seeds were planted and I am doing what I do now because of that connection with the ocean.
Due to the global economic issues, graduating in '08 was a horrendous time and I'm sure some can relate to that today. When I first started my degree, my path was common. Most chemical engineering students transition to certain high-salary professions such as petroleum engineering. By the time I left, I coalesced more of what I wanted to do with my life being closer to my passion for change. So I worked at a company in Santa Barbara called Tetra Tech for 6 years, doing environmental engineering consulting.
I went back to school at the University of Washington where I met my co-founder, Professor Marco Rolandi. At the time, he was working with the material that influenced Cruz Foam called chitin. Chitin is superabundant and one of the most renewable food industry waste byproducts that are super under-utilized.
We bonded over our connection with the ocean so the idea came from surfboards and seeing the potential this material had. Eventually, we started doing the early material research and development in 2017. We went through a 7-week program with the National Science Foundation's iCorps. With this grant, I flew to Australia doing research and discovering our customer opportunities where we eventually pivoted and saw that the initial biggest opportunity for the material was in the packaging. Looking back at the reason why we wanted to start this business, packaging was the perfect track as it's obvious more plastic waste comes from styrofoam packaging and not the surfboards themselves.
What did your transition from a student researcher to the CEO of Cruz Foam look like?
It looked like a lot of learning very quickly. What benefitted me was that span between my undergrad and my graduate when I was working in the industry with Tetra Tech. I am grateful for that glimpse in corporate life, but nevertheless, coming out of my post-graduate studies and trying to create this company was super tough.
The hardest thing for me, which seems odd, was to learn how to focus on the business rather than the science. I have to be so focused on the business development, the fundraising, the market, the product placement, etc. I still have a heavy hand in influencing our engineering but I am not in the lab itself every single day. So in my case, it was an unnatural transition to grow these other skill sets to make the business go forward, even when I was one of the initial engineers working with the formulas.
What is your biggest accomplishment thus far with Cruz Foam and its reduction of plastics in our waters?
My biggest accomplishment thus far has been building the team that we have right now. I am beyond happy to watch this team execute our vision and their ability to make an impact in the upcoming years is exciting.
One of your goals for Cruz Foam is to work in harmony with companies, consumers, and communities to create a greater impact. Where do you see Cruz Foam in 10 years from now?
Hopefully, we replaced all the styrofoam used in single-use plastic packaging and potentially some other terrible petroleum-based foams.
However, the grander vision of Cruz Foam is this idea of using our biomaterial technology and development platform to replace and offer solutions for the stakeholders across the industry: packaging, construction, consumer packaged goods. We want all to make the switch from petroleum-based plastics to bio-based, all-natural material quickly and cost effectively through both performance and scale.
As we further develop our technology, we almost see ourselves being the technology provider and platform that can facilitate that change. We are this platform where people can input what they need and we give them the solution of where they can manufacture, what materials they can use, and the cost they can achieve to meet their demands. And I think that is what we want to see this company grow into.
What role has mentorship played in your career trajectory?
Mentorship is a different type of networking. When you go into these worlds where you can feel really uncomfortable, I think mentorship is critical. When I first began to network and fundraise, I was terrible at it, even with our amazing idea. So growing the skillset to network early on in your career is vital. You must "walk the talk." My business advisor, Toby Corey, uses the term "controlled chaos." Be comfortable with the uncomfortable, and at the end of the day, that takes commitment.
Without mentors, you will experience the pitfalls a mentor would have warned you about and there will generally be a lot more friction. A mentor can help you identify the friction and navigate it. For me, Marco was a very good technical advisor and Toby has been a really good business advisor.
Mentorship has been very critical in the trajectory of my career in both the engineering aspect and business aspect. It is beyond important to get a good network of advisors and peers around you. Finding people to give you the experience you clearly don't have yet is an essential component.