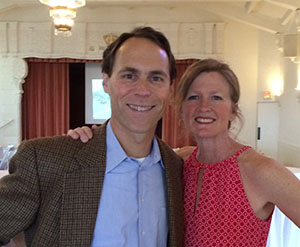 Meet Santa Barbara's dynamic Gaucho duo: the Desmonds. Kristen is a busy culinary entrepreneur, Michael is a tax attorney. Together, the Desmonds are a great team - hard-working professionals who also put in the time to help build a better future for their community and for students here at UC Santa Barbara.
Both native Californians, Michael and Kristen met as students at UCSB and became close friends during their time as UCDC interns (formerly the Capitol Hill program) in Washington D.C. After graduating from UC Santa Barbara in 1990, they moved to the East Coast to build their careers. Michael earned his law degree from the Columbus School of Law at the Catholic University of America and worked for the Justice Department and the U.S. Department of Treasury. Kristen worked at the Close Up Foundation and other non-profit organizations, and went on to complete her masters in business administration at the Darden School of Business at the University of Virginia.
In 2008, the Desmonds moved to New York where Kristen discovered a new career path: the culinary arts. She trained at the Natural Gourmet Institute and went on to apprentice with Chef Jeremy Bearman at the Michelin-starred Rouge Tomate. In 2010, the couple returned to Santa Barbara where Kristen founded Flagstone Pantry, focused on providing healthy meals with fresh, seasonal ingredients.
This fall, our newest Gauchos – the incoming freshmen and their families – and alumni living in the Santa Barbara area will have a chance to meet the Desmonds as they host the Santa Barbara Welcome Reception at their home on Wednesday, August 31.
In our first-ever Alumni Q&A featuring a Gaucho couple, the Desmonds discussed their early days at UCSB, how they started their careers and why they want to keep connected to their alma mater.
What were you fascinated by, as a young teen? Did you get to pursue this area of fascination as a major at UCSB and in your career?
Kristen: I really enjoyed foreign language study in junior high and high school (French). I chose political science/international relations as a major because I was interested in history, government economics and foreign language.
When we choose to do things we like in life, we typically excel.
Michael: In high school, I was probably fascinated more by aviation and flight. I wanted to pursue this interest further – but I realized I had 20/80 vision, so it probably wouldn't have been a good career path for me.
At UCSB, I majored in political science and history. I remember taking a course in Russian political science. For whatever reason, I took a real interest in the area of study after that class. I went on to take seminar courses in history. There was also a political science practicum course – we did a model Congress. (I do regret that I did not participate on the debate team or in mock U.N. during high school.)
What drew you to study at UC Santa Barbara?
Kristen: As a native Californian, I was drawn to the UC system for the academic standards and the in-state tuition. I visited several UC campuses during the application process. As for UCSB in particular, I was drawn to the beautiful setting, the people, campus life and the student community in Isla Vista.
Michael: The UC system is probably one of the best public university systems in the world – that, combined with my interest in staying in California (but far enough to be away from home in San Diego) made me choose UCSB.
It is also one of the most beautiful campuses in the system. I had siblings that had soccer tournaments up here in Santa Barbara. Traveling with them, I had my first of three occasions to visit the UCSB campus. I am very much an outdoors person – I grew up close to the beach – so it did help to see that you could do a bit of surfing and had a chance to enjoy the climate close to the ocean as a student.
Both of you were part of the UCDC internship program in Washington, D.C. – why did you decide to pursue this program? And what was it like to live and work in our nation's capital?
Kristen: Given my major, the UCDC program was a natural fit. I entertained studying abroad for the foreign language experience but though the UCDC program would be a more practical career fit in the longer term – and I was right! After graduation in 1990, I ended up moving back to DC for a job and stayed for the better part of 20 years.
Michael: I did the internship in DC for my senior year – and stayed involved with the program after. It was great – it opened a lot of doors for me, beyond my narrow five-mile radius from the Pacific coast where I grew up. It was an amazing experience. Kristen and I got to know each other at the program – we became great friends. A couple of years later, some time after the program, we found each other independently in D.C.
Michael, did you always want to be a lawyer?
My grandfather was a lawyer and my great-grandfather was a judge in California. I had some exposure through family to that as a career growing up, but I didn't focus on the law specifically until later in college. Certainly, it seemed that there were more career opportunities in law.
I think, academically, I was one of those late bloomers. In my last quarters at UCSB, I was finally focused academically – I was much more mature then. In law school, I was able to leverage that academic focus.
Kristen, what were some of your first jobs after graduation? What were your challenges as your sought to build a career – and your own business – in your chosen field?
My first job was as an instructor and outreach coordinator for Close Up Foundation, a non-profit civic education foundation in Washington, DC. I taught US and international high school students workshops on topics related to government, economics, and current events. I also led tours of D.C. -- a city I love. I worked with communities across the country to help them fundraise and plan trips to DC through Close Up. This experience introduced me to working for non-profits and I liked the mission-driven nature of non-profit work. I stayed in non-profits for 7 years after graduation. I once asked a mentor of mine how to position myself to run a non-profit one day and she told me I should to get a business education so I that I could speak to "anyone in the room." That's one of the many reasons I completed the MBA program at the University of Virginia Darden School (1999).
Following business school, I went into management consulting and worked with government and other non-profit organizations in organization and business development. In 2008, my husband and I moved to NYC and that's when I went to culinary school at Natural Gourmet Institute, a health-supportive culinary arts program. I've always been really interested in health and nutrition and I love to cook. Running my own healthy gourmet grab and go food business is the confluence of my interests, skills and education. I feel like I am firing on all levels.
Let's talk about your current business – what is a typical day at your job?
Kristen: My days are long! My retail business at the Santa Barbara Public Market is open 7 days a week. I have 9 employees. I also have a wholesale business delivering baked goods daily to two coffee shops in town and also stocking our healthy salads at an athletic club.
On any given day I am planning our production, ordering ingredients and supplies, helping customers, making breakfast burritos, and handling all aspects of my business, including dishes. There are always so many dishes. The most rewarding part is probably the fact that we're still around! Thirty percent of small businesses fail in their first two years. We are 2 1/2 years into it -- and growing.
What motivated you to host the Santa Barbara Welcome Reception? Why do you think it's important for our freshmen and their families to meet UCSB alumni in their area?
Kristen: We were really happy to reconnect with UCSB when we moved back to Santa Barbara in 2010. Our undergraduate experience was so positive and set us off on such a great path. Lots of alumni have stories like ours – and it's great for students to see the variety of fields and interests alumni pursue as a result of their educational opportunities. I also like meeting local alumni! It's a great networking opportunity for me, too.
Michael: We were involved in the UCSB Alumni Association back in D.C. and New York when we lived on the East Coast. We both saw the benefits of being part of the Association. We increasingly looked back at UCSB on how it developed us professionally and personally.
We have watched UCSB's status increase – it's rewarding to witness its growth. Our relationship with UCSB has gotten closer over the years and has led us to increase our level of support for the Alumni Association and the increasing academic ability of the students.