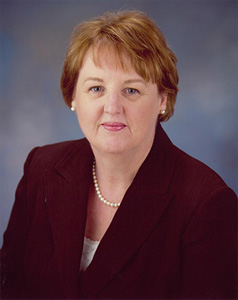 Dr. Betty K. Koed '83, MA '91, PhD '99 is the first female Historian of the United States Senate and head of the United States Senate Historical Office. She earned her B.A. in English as well as her M.A. and Ph.D. in History from UC Santa Barbara. Before she joined the Senate Historical Office in 1998, Koed taught American history at UC Santa Barbara.
In this Alumni Q&A, Koed shares how she applies the Golden Rule to leadership – and how she transformed a love of writing and history into a job that makes history every day.
 
How did you feel when you received news of your appointment as the first female Historian of the United States Senate? 
Of course, I was delighted when I heard I was being promoted to Senate Historian, although the promotion was anticipated. As the Associate Historian, I had been serving as "apprentice" to the historian for many years with the hope and expectation that I would move into that position. Nevertheless, I felt proud and lucky to be chosen for the position. Being the first woman to serve as Senate Historian made it even more special.
We are honored to have you as our featured alumna and honoree at the Exceptional Women, Exceptional Gauchos panel discussion this year. How do you feel about returning to UC Santa Barbara to be a part of this milestone event for our alumna, staff and students? 
My UCSB experience, both as an undergraduate and a graduate student, was wonderful, so I am thrilled and honored to be named as a Distinguished Alumna. I owe so much of my success as a professional historian to the gifted teachers and mentors that I worked with at UCSB --- Professor John Ridland in the English Department and Professors Robert Kelley, Otis Graham, Mary Furner, and Randy Bergstrom in the History Department. Without their help and guidance, I would not be the Senate Historian today. Over the past 18 years, part of my personal mission as a Senate historian has been to shed light on and bring attention to the important role played by women in Senate history. To return to UCSB as part of a tribute to women in leadership positions is a fabulous way to validate that effort.
What do you feel are the best qualities of a leader? What are your biggest challenges at your position? 
I know it sounds hokey, but I believe in the "Golden Rule." If you treat people with respect and kindness, they will return the favor. My biggest challenge? I have 101 "bosses" for everything I do ––– 100 senators and the Secretary of the Senate. Trying to get 101 bosses to agree on anything can be quite a challenge!
When did your love of writing and history begin for you? 
I knew at a very young age that I wanted to be a good writer and began writing essays and stories for contests in elementary school. My interest in studying the past began not with history, but with the related field of archaeology. When I was eight years old I came across a juvenile book at the library called "All About Archaeology" and I was hooked. Before long, I had created my own kit and began burying my mother's dishes in the back yard so that I could "discover" and "excavate" them the next day. My interest in archaeology eventually led to a broader study of history, ancient and modern. It was not until I had graduated from UCSB in 1983, however, that I really developed a passion for U.S. history. After graduation, I visited the East Coast for the first time, taking a road trip from Maine down to South Carolina, visiting many historic sites along the way. Seeing places like Independence Hall in Philadelphia, the Old North Church in Boston, and the U.S. Capitol in Washington, D.C. made me appreciate the richness of our national history. Consequently, when I decided to pursue graduate training, I did so in history. Little did I know that one day I would be working inside the U.S. Capitol!
What made you choose UC Santa Barbara as your school of choice for all your degrees?
I wish I could say that it was part of some grand plan, but it was really just coincidence. My parents relocated to Santa Barbara (from Colorado) during my senior year of high school and I followed. I attended Santa Barbara City College for two years, then transferred to UCSB to complete my bachelor's degree. When I decided to pursue a graduate degree in history, I was delighted to find out that UCSB had a first-rate History Department. It was luck ––– and I ran with it!  
What are your fondest memories of UCSB? What did you love about your experience here?
What I remember most fondly is the collegiality. I formed many life-long friendships at UCSB, both with fellow students and with professors. As a graduate student in the History Department, I felt like I was part of a large family of kindred spirits. We had the best dinnertime conversations!  
If there is one thing you would like to accomplish in your professional life ––– a book, an achievement, an experience ––– what would it be?
I have many professional goals, but nothing is as important to me as being a good colleague who brings a passion for excellence to every task.  
What would you say to young women who would like to follow in your footsteps?
Don't be afraid – be bold! Don't listen to naysayers–just do it! Never be a part of the problem– always be a part of the solution!  
What inspires you?
Generosity.