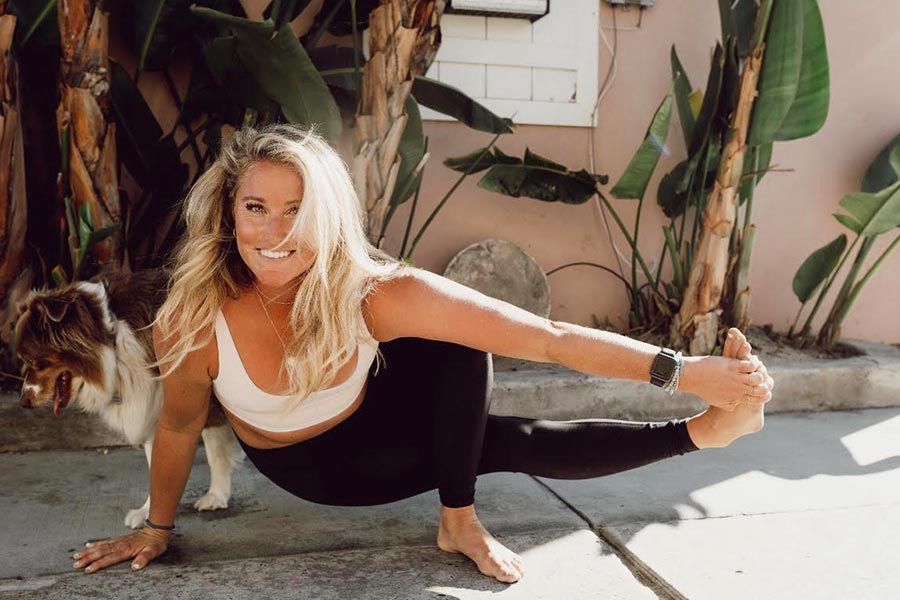 Chelsey Lowe '12, has been competing all her life.
She has been playing sports ever since she could walk and even went on to receive All American Honors and Big West Scholar Athlete of the year for playing Volleyball at UC Santa Barbara. Now, she is a yoga instructor specializing in helping athletes. Recently, she and her dog, Gryffin, starred in the new Amazon Prime Reality TV show "The Pack" that is set to air this Winter.
We caught up with Chelsey to learn about her experience on "The Pack" as well as how her time as a student athlete set her up for success both in the competition and in her career.
What was your experience like at  UCSB?
I was a volleyball player so I chose UCSB because the volleyball is great, the location is amazing, and the academics are one of the best in the country. I was a Global/International Studies major but I also got the sports management certificate as well. I received All American Honors and Big West Scholar Athlete of the Year. I loved the experience, UCSB was the best ever. 
How did you get into yoga and becoming an instructor?
After volleyball, I was Paul Walker's Nanny. He was a Santa Barbara local and just an awesome guy. I got to go to Europe for a little bit while he filmed and I got really into yoga at that time. Before, I started doing yoga because our coach made us do it for volleyball. At first I was kind of against it, like, this is too slow and boring but then I realized how beneficial it was for me mentally. So, I went on to get certified in yoga. After volleyball, I always coached and taught but I never thought it would become a full time job, but it just happened and now I teach full time yoga. 
Tell us about "The Pack"
"The Pack" is hosted by Lindsey Vonn, the professional skier, and it will be on Amazon Prime this winter. It's kind of like "The Amazing Race" but with my dog. We travelled the world and competed in challenges. The prize was $500,000 and $250,000 to a charity of our choice. It's a very good, family friendly show about human and dog connection. We all had a story to tell about our dogs.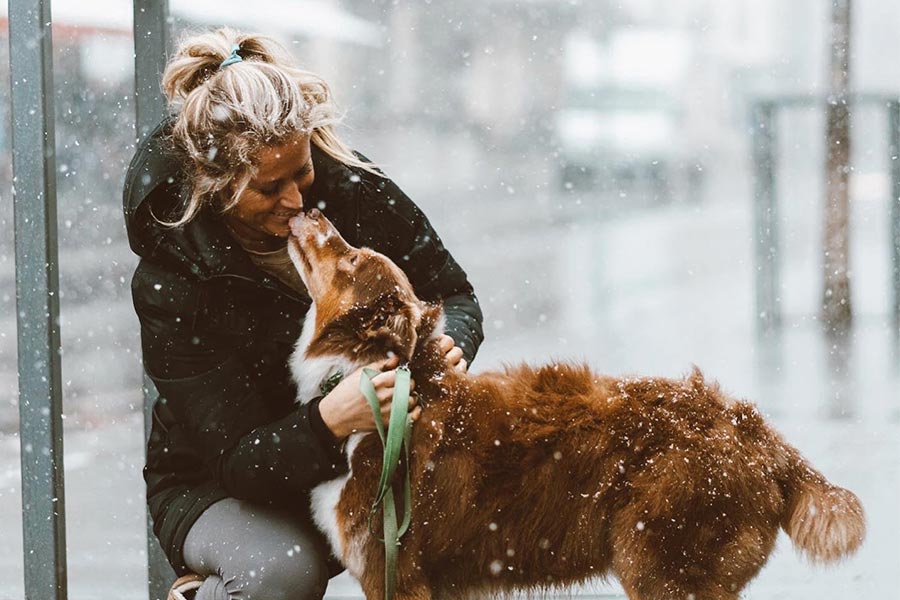 My story with Gryffin began 6 years ago when I just finished volleyball, I was Paul Walker's Nanny when he passed away, my boyfriend and I had broken up at the time and it just felt like my life was all over the place. That is when I got my dog, Gryffin. She had just turned 7 weeks old when I got her and she's been by my side ever since. We got to compete on this show together and travel all around the world. We had insane experiences from helicopter rides to ziplining, it was definitely a once in a lifetime opportunity. 
How has your experience at UCSB prepared you for your career and even this competition?
Volleyball in college was super stressful especially trying to balance the student and athlete elements, but it helped me a lot. I've always put myself out of my comfort zone where I'm challenged so I'm used to that competitive side. I'm able to handle competition and react under pressure and still enjoy the stresses of the game. On the other hand, yoga creates this balance to my competitive side. It brings more of a calming and happier side of the competition and you realize it's not always about winning or losing, it's about enjoying the experience and that there is no real end result. It's all about the process and your journey. 
This balance of being competitive but still being able to stay present and enjoy my time definitely helped in "The Pack." A lot of other competitors were stressed out and they weren't really able to enjoy themselves. Yoga helped me to look around and just be grateful to be in another country with my dog. Sports allowed me to embrace the competition and do my best, while the yoga allowed me to enjoy it at the same time. 
UCSB was great in teaching me how to balance the "work hard play hard" environment. It's a great academic school and I was able to learn so much in my time there, but equally, I really enjoyed it. I was able to put it all out there on the court, in the classroom, and still be able to have the best nights of my life out in Isla Vista. This transitioned well after college with my career by still being able to enjoy life, because that's what it's all about. I'm also a beach girl so UCSB was the perfect place for me. 
College sports was the hardest things I've ever done in my life so anything after that is a lot easier. 
What does it mean to you to be a Gaucho?
Being a Gaucho for me is we are the type of people who know how to get the job done and do it well, we constantly want to learn, grow and get out of comfort zones, but also know when to take a break and enjoy all that life has to offer. I feel Gauchos are able to find that perfect "work hard, play hard" mentality, where we can get the job done but also know when to take a break and have fun - really living life to the fullest.