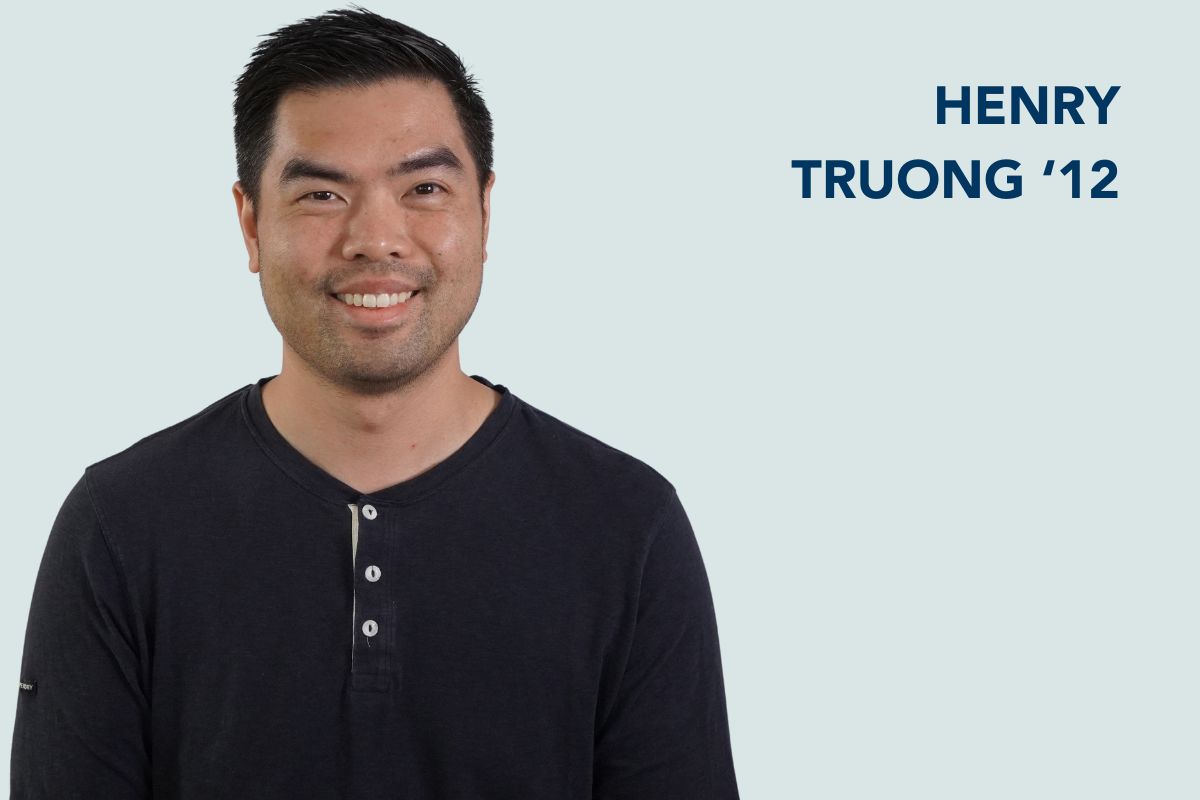 By Ellah Foster '24
Henry Truong '12 majored in Sociology during his time at UCSB. He joined the Finance Connection, a student organization dedicated to preparing Gauchos for a successful career in the finance industry. While his career quickly pivoted away from the Social Sciences, the lessons he learned have not gone stale. At work, Truong is continuously learning about the target demographics he designs for and while at home, he teaches his newborn about the world around him. As a way to give back to those who encouraged him, Henry volunteers as a mentor to those searching for a career change.

How did your major, Sociology, shape your career interests? How has your career path changed since graduating from UCSB in 2012?
After college, I definitely didn't know what I wanted to do. I knew I had a strong interest in the technology space but, at the time, I only had a background in sales. I got started by training at Google, so I could be stationed at Best Buy to help teach people about the new Chromebooks. That position led me into recruiting — which wasn't my favorite — but I learned about design as I matched companies with candidates. I was truly inspired by what they were doing, so I ended up going to a ten-week boot camp design program. That was one of the best decisions of my life. Since then, I've worked at various agencies and have been with Disney for about eight years now. My degree in Sociology makes me appreciate the groups of people that I design for. 

What does a day in your life look like working for Disney?
I'm involved in a lot of digital projects and meetings. There are always improvements to be done on the website and mobile apps, so we spend our time brainstorming the features we want to move forward with. We also have design workshops throughout the day and a lot of cross-collaboration between designers, executives, and managers. Each day is a mixed bag.
 
I understand that you minored in Ethnomusicology. What role does music play in your life now?
I will always love music. I treat it as a hobby now, going to live shows and such; it is a pressure relief for me. I also DJ, so I use that as another creative outlet. I enjoy putting together mixes for my workflow, especially when I'm sitting on the computer staring at screens all day. I think it is important to stay creative outside of work! 

How did your extracurriculars, Men's Volleyball Club and Finance Connection, guide your experience at UCSB?
My experiences in extracurricular activities were all about getting comfortable meeting new people. I learned to introduce myself confidently and speak my mind without fear. My job at Disney is more than just design, and I feel like I am meeting new people all of the time. It really is the people that make it great. Every project is like an interest group as we all cross-collaborate for a common goal.

Tell me about your work as a volunteer education mentor at ADPList.
Coming from a recruiting background and pivoting to design is not a new path that I created; many people want to make a career change. When I was a design student, I had help from more experienced careerists. Now, I just want to provide a similar experience for others. The mentorship work is near and dear to my heart because I understand the challenges of going through career shifts. I believe it is critical to give back to the community and inspire others to do what they love to do. 

What was your most memorable class during your time at UCSB? Why?
It was one on sex ed and development because I currently have a 6-week-old newborn. It was one of the biggest classes in Campbell Hall and a huge part of it was dedicated to learning about the various stages of childhood development. This has helped me as I observe my own child's growth. I've learned to appreciate and pause when I'm watching him. He's constantly taking the world in and learning this new way of living outside of the womb. I should probably review that textbook because there is likely more I could learn!

What is your favorite part about your job?
The satisfaction of knowing that I helped a family have a better experience at the Disney parks. Whether it is by buying tickets online, ordering food on the mobile app, or saving their parked car information in their device, knowing that my design work augmented customers' experiences is a great feeling.