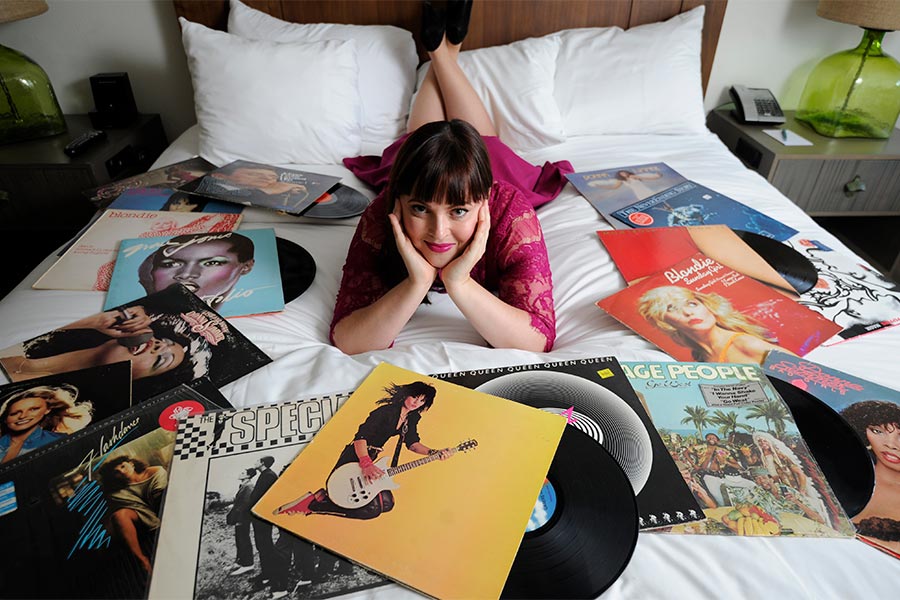 DJ Darla Bea '03 knows how to get a party started. The Best DJ in Santa Barbara doesn't abide by the rules but instead uses her creativity and nostalgic touch to make magic happen.
DJ Darla Bea '03 is an award-winning DJ, born and raised in Santa Barbara. She was awarded the "Best Event DJ in Santa Barbara" Award for the past 5 years in a row. She is the recipient of the WeddingWire Couples' Choice Award 2021, 2020 & 2019 as well as garnering 5 Star Reviews from wedding clientele on The Knot. DJ Darla Bea is known for her intuitive talents when it comes to music, able to read a room and play music to match the mood, hitting just the right note with her audience. She has been providing music and sound services to Weddings & Events in the Santa Barbara area for over 13 years. And now she is ready to provide her musical expertise during the virtual All Gaucho Reunion.
We talked to DJ Darla Bea to hear about her new successes and future plans. She shares her love for her hometown and her tricks to keep a party everlasting.
What songs did you listen to in Isla Vista? Where did you get your musical inspiration while living in the Santa Barbara area?
I was born and raised in Santa Barbara and went to all local schools like La Cumbre Junior High and Santa Barbara High School. Growing up in Santa Barbara I always thought of Isla Vista as this mythical and very musical place - full of parties, Halloween parades, and even some infamous visitors. Long before I transferred to UCSB from SBCC, I would make trips to Del Playa to hear bands play, check out Extravaganza when it was open to locals, and sit on the grass at Anisq'Oyo Park listening to the surrounding music. I heard Nerf Herder play a concert at a Fraternity (later I would DJ for Lead Vocalist, Parry Gripp's wife's birthday party). I saw Fishbone (ska-punk) do a show at the base of Storke Tower when I was visiting the campus with my Dad. I met Puck from the Real World while he was chilling in someone's hot tub, and once walked into an apartment in the late 1990s just to ask what they were playing and then left; it was Daft Punk's Homework CD on their stereo. Even the Santa Barbara High School Prom was held in the UCen and I remember clearly leaving my prom date to talk to the DJ about some of the songs my friends had asked me to request. I listened to KCSB-FM and would go to shows that the station promoted. I've kept in touch with some of my favorite programmers from that time through social media. One of the mainstays of the music of Isla Vista in my teen years was Bob Marley and Sublime blasting out of every window. Gauchos definitely practiced "Santeria."
How did you get involved in the club/DJ scene? What do you love most about this profession?
I got involved in DJ'ing through my Sunday night radio program on KCSB-FM. I decided years after being a long-time listener and huge radio fan in general -- I'm inspired by old-time radio programming like Dr. Demento, KLOS the 7th Day, Disco Saturday Nights -- that I would apply to be a radio host at UCSB's community radio station.
I established a classroom through radio - Santa Barbara's School of Rock "Rock It Properly" where I teach a lesson each week on a genre, theme, artist or topic. There's even a weekly Darlapedia musical definition. After honing my radio voice and personality, I was asked to DJ a night a month at the Mercury Lounge in Goleta by the owner who was a fan of my program. I came up with "L'Eighties Night" an all 80's party for ladies and dudes too. Marketed the night, got it into the local press, built a following and some of my first wedding reception gigs came from attendees. From the Merc as it is fondly known - to the Funk Zone's Seven Bar where I did a regular "What the Funk" Motown and soul night to the Marquee, Blush, Blind Tiger, Tonic, SOhO, etc. And then a monthly stint at the Biltmore's Ty Lounge through local DJ agency - Gavin Roy Presents helped my name and musical reputation started to gain speed. I was then picked up by an L.A. DJ agency and two more SB-based entertainment groups.
What I love most about this profession is seeing people happy, free, and dancing or enjoying the music that I play. I love hearing people scream for joy when they hear their favorite song or someone high-fiving me for a good set. Music brings so much happiness and brings an element or vibe to what could be a basic event or party.
You've worked with UCSB Arts & Lectures and the Alumni Association in the past. What have you enjoyed most about working with UCSB as an alumnae?
It's been an honor to be asked to curate musical experiences for the UCSB Arts & Lectures program. Not only do I feel "officially" involved with my Alma Mater but also as a local, I understand what kind of events UCSB A+L puts on for the public and what level of sophistication they reflect in their movie, performance, and speaker choices. The former Associate Director of Arts & Lectures, Roman Baratiak, has been a long-time listener of my weekly radio show and a great supporter of what I do. It was through his connection that I became the music curator and DJ for many a Summer Movie Series in the Sunken Gardens putting together tracks based on the themes as well as last year's special Drive-In Series. I also created a soundtrack for their Coral Casino season unveiling party as well as one of my most memorable nights - playing music for Anthony Bourdain's final public appearance. I did my research on his taste in tunes and when he came down to sign books I was rocking all of his favorites. So much so that he got up from what he was doing to see if I had his iPhone plugged in and was playing one of his playlists. Incredibly grateful to Celesta and the A+L staff for that experience!
Hosting parties, mixers, and gatherings was greatly limited during the pandemic. What are some ways you have held on to your music creativity through the year 2020?
Throughout the pandemic, I have continued to host my weekly radio show (this marks my 13th year on the air) ROCK IT PROPERLY every Sunday from 8-10pm on KCSB-FM 91.9 kcsb.org. I always had a regular following of music nerds and loyal listeners but with the quarantine and necessity to be entertained the old-fashioned way - my radio show was a fun 2-hour break from reality. I find that music can be therapeutic, distracting, and most of all nostalgic. Since my show is based on the movie, School of Rock with substitute teacher Jack Black at the helm (I met him and have some nice recordings of his voice to interject throughout my show) - the possibilities are endless with Music Lessons, Field Trips, Tributes, and Darlapedia Definitions. 805 Living Magazine has had me curate Spotify Playlists for their publication and readers on a monthly basis including a special "Bea Thankful" Thanksgiving playlist in their Fall 2020 Print Issue. From that project, I've been asked to curate for quite a few brands, businesses, and organizations. The Ventura Harbor had me put together some ocean, sailing, and beachy songs for a "California Streaming" Spotify Playlist as well complete with a video of me giving background on each song or relating them to which business you can visit while in the area. Plus with all the time spent at home - my CD, Vinyl, and Cassette (yes, tapes) collection has never been so organized and actually played on my stereo as in the year 2020.
For this year's All Gaucho Reunion, you are aiding in the GauchoBeats production. What are your steps in creating the ultimate playlist?
Without giving away all of my secrets I can definitely say that you need to have a bombastic start - a great middle that keeps the energy and flows going - and an ending that caps off the total theme of the playlist. The Gauchobeats Playlists will be a time capsule of tunes - taking graduates back to the time when they ate at Woodstock's Pizza, roamed the Library or the "Study Hall" or biked down to the Lagoon for a break in between classes. Like any of your senses - the act of listening to a song can conjure up feelings and in this case, a love of your college days. I'm excited to present the playlists during All Gaucho Reunion Week. I hope they get shared and passed around like your favorite mixtape moment!
What are your musical plans for this year and the future? What can we expect from DJ Darla Bea?
You can expect constant reinvention! I never like to do the same thing twice. I'm definitely booked solid as far as Wedding Ceremonies + Receptions for this year as well as 2022 - which I'm grateful for. I am looking forward to seeing my friends, dancers, and music fans at some safely produced public events this year. In the past, I was used to DJ'ing for 100's of people every weekend - whether it be at a hotel rooftop party, parade, fashion show, or non-profit event. I want to maintain the excellent visibility I've had over the past 5 years as Santa Barbara's Best Event DJ but also make sure I'm saying yes to events that are unique to my personal branding. I'm also branching out with a side business I launched last year Bea Sides™ Branded Music for Businesses which is curating in-store weekday and weekend soundtracks to showcase songs that reflect traffic flow, demographic, and what the businesses' ultimate goal is. I have a background in Marketing & Public Relations that feeds into my current Music career and this business helps bridge the gap between the science of shopping and song planning. I want to keep working with hotels, banks, restaurants, boutiques, and brands till every 805 establishment has a Darla Bea Soundtrack playing inside!
What makes you proud to be a Gaucho?
Attending UCSB was a great time in my life. My curiosity to learn, live in the libraries, find inspiration from professors and study groups, go on field trips and make long-lasting friendships even as a local at the University is something that has given me the confidence to go forth in life starting with KCSB's Rock It Properly! Go go Gauchos!
Make sure to check out the official #GauchoBeats playlists, curated by DJ Darla for All Gaucho Reunion. The music is sure to bring you back to your time on campus. Click here for a list of our scheduled events.