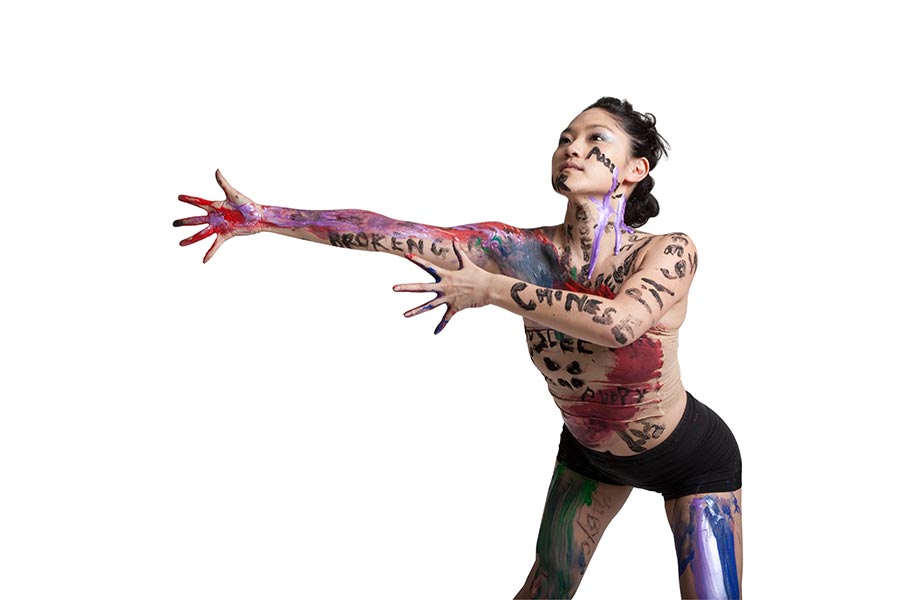 Through her work as a dancer and choreographer, Jessica Chen '06 shifts painful reality into greater social awareness through the art of dance. Dance has always been the way Jessica Chen understood her place in society. Many Americans identified Chen as a Chinese woman in America, yet she was seen as an American woman in China. She never knew quite how to fit in.
Through the years, inequities have amplified and Chen uses dance to express the importance of awareness. Chen is the Founder and Artistic Director of J CHEN PROJECT (JCP), a 501c3 non-profit modern dance company based in New York City. J CHEN PROJECT allows an audience to watch a story unravel and understand the message that comes with every 8-count. With dance, Chen teaches others how to acknowledge their pain but most importantly, find ways to navigate it.
We interviewed Jessica Chen to understand the impact a storytelling dance had on her world. She tells us how she creates explicit change through implicit performance.
When did you first start dancing professionally? What inspired you as you grew as a dancer?
I began my dance training when I was seven years old. My parents signed me up for dance classes in Chinese School to get me into something I could enjoy. But they never thought too deeply about the impact it would have on my future.
As a Global Studies major, I took every dance class that could fit in my schedule, but the first one stands out: Delila Moseley's dance for non-majors. In her class, we watched a documentary on the Alvin Ailey American Dance Theater. They spoke through dance, connected through dance, and empowered through dance. At that moment I remembered thinking, "What they are doing, this is what I want to do and experience."
I graduated in 2006 and got into the Alvin Ailey Summer Intensive. So I essentially arrived in New York with my cap and gown on. When I first moved to NYC, I landed many hip-hop and commercial dance jobs dancing in music videos and commercials. I remember my first dance gig was performing with a recording artist at the Taj Mahal in Atlantic City. The most exciting opportunity was dancing background for recording artist Lil Mama. We performed shows in New York and in Japan!
UC Santa Barbara's Dance Department factors into my growth as a dancer, as well. I am constantly in touch with Nancy Colahan, Senior Lecturer of 25 years, and Christopher Pilafian, Artistic Director of Santa Barbara Dance Theater. When I am back in town, I love to speak to the students to give back to my inspiration.
While studying at UCSB, how did you juggle your full-time studying and full-time dancing?
Dancing was never a question, it was just the priority. I have tunnel vision when working on a task so I must stay organized with to-do lists. And my to-do lists are hilarious! Sometimes my bullet points will remind me to eat lunch or go to the gym because I forget the little things.
However, I did commit a great amount of time to my college studies. But I also took courses that interested me; and as a Global Studies major, that was personally easy. If I was interested in the material, it was fairly simple to work my way through college. At the same time, juggling my classes influenced my passion for future advocacy and the hard work that comes with it.
J CHEN PROJECT is a dance company exploring how we perceive human experience through dance works. What were the stepping stones in creating J CHEN PROJECT?
Before I started J CHEN PROJECT, I was working with other companies as a freelance dancer. My mentor loved this five-minute trio I choreographed and inspired me to apply for any festival I could find. At the first festival I performed at, I filled out a form with my contact information and my company name, but I had no company. At the time, I had no aspirations to create a company but I thought it would be smart to put my works under one specific brand. I gave it some thought and wrote "J CHEN PROJECT.'' And that's how I launched my platform.
In 2011, we had our first company audition that introduced me to many performers outside of my Ailey circle. It was for our first evening-length production, To Identify. Our videographer made a reel of the show and launched it on our Youtube Channel to build more awareness of J CHEN PROJECT.
Importantly, we reached out to our community. With the company, we have two community programs. First, our CORE Choreography Competition provides the chance for an artist to receive a commission for their choreography under J CHEN PROJECT. I am always amazed by what I see from this competition and to see what is outside of our immediate community as well. I have met amazing artists that I may have not connected with if it wasn't for that festival.
We also have a Mentorship Program for aspiring dancers. We bring them to New York and provide a sneak peek into the world of dancing in the big city. We give them the experience and skills to support their future careers in the professional dance scene.
In 2012, you suffered a frightening car accident that forced you to learn how to walk all over again. With a recovery so intense, what did this mean for your dance journey and company?
At the time, I was constantly busy running around, doing errands, and getting my company to its first big production: To Identify. But in 2012, an accident in Santa Barbara caused my car to spin and flip three times, landing on its head. I was helicoptered to the Santa Barbara Cottage Hospital where I underwent 8 hours of brain surgery and laid in a drug-induced coma for 13 days. I had to learn how to breathe again. How to sit up again. How to walk again.
There is a period I don't remember, but my friends certainly do. One of my best friends told me when I learned how to sit up again, the doctor asked me to act three different moves. So I asked, "what beat do you want this on?" To say the least, the physical therapist was baffled.
In the early stages at the hospital, I fought to get home and get back to rehearsals. Everyone told me I needed a break to heal. That message finally broke through and I finally surrendered my body to the process of healing. I used my creativity to help me relax, which meant I pretended to be on set for a movie with all the makeup and hospital gowns. And, of course, Leonardo Dicaprio was my co-star.
Dance, creativity, and imagination were critical in my healing process, both physically and emotionally. Throughout my recovery, I never stopped creating. When I wasn't able to dance physically, I spent hours imagining dance pieces and wrote them down. Thirteen months after the accident, I premiered an evening show titled, Never was Broken.
Due to the pandemic, your programs have gone virtual! What are the biggest challenges and benefits of dancing from a distance?
Everything that I have been doing since 2008, is off the table right now. But I knew this was not my first pause. I thought back to my recovery after the car accident and how special that time was for me to reflect. When I came back from that experience, I exposed myself to more intention, understanding, and awareness.
I used this same mindset to adapt to this current time. The pandemic forced me to step into my leadership role and help my company navigate these uncharted waters. First, there was shock and uncertainty, as everyone felt around the world. And then the world and dance community at large started to reflect on the current systems in place, and it has been powerful to be a part of conversations on how we want to shape New York moving forward, creating the new New York.
Dancing from a distance manifests new levels of creativity for J CHEN PROJECT. I looked through all our past activities and compromised them for online enjoyment. For example, I collected all the semi-finalists from our CORE Choreography Competition and did an artist-talk series streamed live on Youtube every Tuesday. Each week, we highlighted three semi-finalists with a Q&A segment. I don't think I would've ever imagined digital works and the artist-talk series without the world shutting down. The most fearful times in society can make many adapt in ways they never perceived plausible.
You participate in advocacy work within the AAPI community in New York. How do you express your Chinese-American heritage through your company?
Without Zoom, it was difficult to make meeting after meeting, traveling from Brooklyn to Manhattan after work. For the past year, advocacy is so accessible that we cannot take it for granted. I have testified at three city council hearings on the budget for the arts. I can attend panel discussions from my home, and if I were unable to attend, there is a recording to watch for later.
I grew up in Chinese Folk Dance, a wide spectrum of so many different dances holding the Chinese tradition. There is immense storytelling; so colorful, bright, and influential. As I create work for my company, I always think about the storytelling I praised when I was little. One simple arm gesture can lead to many questions. This is not just an arm. What is this arm doing? Are you reaching for something? What is that something? If the dancer sees the story through the arm gesture, the audience will too.
Ultimately, I link my heritage and my choreography through Chinese aesthetics with contemporary movement. For instance, a performance can utilize a bamboo hat from traditional Chinese folk dance. The movement of the dance contains the folk elements but the fluidity of a contemporary piece.
I am also working on a project with another Chinese-American choreographer to collaborate with other Chinese artists. We want to study Chinese classical dance and various forms of Chinese folk dance to find the blend. However, it is not a fusion, but the body resembling Chinese ancestry. It is essential to me to make an impact on the Asian American community through my work.
Where can our readers find your work?
The mission of JCP is exploring how we perceive and create identities within the collective human experience through innovative and culturally-based dance works and community engagement initiatives. Rutgers University, Desales University, Orange County School of the Arts, Yangtze Repertory Theater, and Women in Dance commissioned J CHEN PROJECT's work with press featured in The Huffington Post, Broadway World, and Dance Magazine.