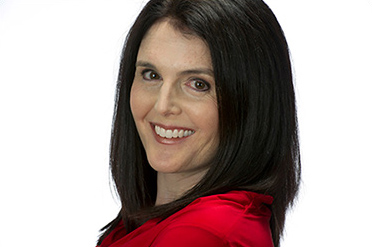 Anne García-Romero is a professional playwright, theater studies scholar and associate professor of Film, Television and Theater at the University of Notre Dame. She earned her M.F.A. in playwriting from the Yale School of Drama and her Ph.D. in theater studies from UCSB. García-Romero has worked as a professional playwright for several years in New York, Chicago and Los Angeles. 

Her plays, which often focus on Latinx themes and characters, have been produced in venues such as the Los Angeles Theatre Center, South Coast Repertory, and Public Theater in New York City. García-Romero's work earned the National Latino Playwriting Awards. She's a Resident Playwright at Chicago Dramatists. She spent the summer at UCSB working with students, faculty and professional actors through the LaunchPad program. Her newest play will be staged on campus in February, 2018.
Why did you choose to study at UC Santa Barbara?
I chose to pursue my doctorate in Theater Studies at UC Santa Barbara because of its excellent Theater and Dance department. I am a scholar/artist. I received my MFA in Playwriting from the Yale School of Drama and worked as a professional playwright for several years afterward in New York and Los Angeles. When I decided to pursue a doctorate, I was seeking a program that would recognize the importance of the scholar/artist model, in which the work of scholar/artist is interconnected, interdependent and valued. Dr. Leo Cabranes-Grant, Professor in the UC Santa Barbara Department of Theater and Dance, as well as Chair of the Department of Spanish and Portuguese, is a theater studies and Spanish scholar, as well as a playwright and director, so he truly valued and understood my need to be both playwright and theater studies scholar. As my dissertation advisor, Dr. Cabranes-Grant encouraged me to draw upon my experiences as a professional playwright in my theater studies research. My doctoral thesis, Transculturation and Twenty-First Century Latina Playwrights, examined the work of playwrights in contemporary Latina theatre, which became the basis for my recent book, The Fornes Frame: Contemporary Latina Playwrights and the Legacy of Maria Irene Fornes (University of Arizona Press, 2016).
Describe your summer work at UCSB (the August reading and March production) and why you decided to participate. 
Risa Brainin is an outstanding director and professor. I first got to know Professor Brainin when I was pursuing my doctorate at UCSB and served as her Teaching Assistant. While I was a student, I greatly admired her LaunchPad program and its commitment to new work. A few years ago, Professor Brainin invited me to participate in LaunchPad with a new play that I would write specifically for her program. In 2016 and 2017, I spent a week working with Professor Brainin, a group of UCSB students and two professional actors to begin to develop my new play, Staging the Daffy Dame. I have been incredibly impressed by Professor Brainin's ability to successfully collaborate with students and professionals through a university program whose goal is to professionally develop a new American play.
Working with Professor Brainin, the professional actors and the UCSB students during LaunchPad has been extremely helpful in developing this play which is so intrinsically tied to a university setting. My play explores a contemporary university theater department that is producing a seventeenth century Spanish Golden Age comedy, The Daffy Dame (La Dama Boba) by Lope de Vega. The Daffy Dame focuses on the education of women and the power of love to transform minds and hearts. Dr. Leo Cabranes Grant, who is a Spanish Golden Age theatre scholar, serves as dramaturg on this play and has been invaluable in sharing his expertise on the work of Lope de Vega with the cast. My play, Staging the Daffy Dame, examines the contemporary echoes of Lope de Vega's seventeenth century comedy as it considers the complications of love in our modern age as well as the role of women and Spanish-speaking cultures in our contemporary society. Professor Brainin and Dr. Cabranes-Grant, both distinguished educators, have also helped shape the ways that the play considers the relationships between professors and students in a theatrical setting.
I'm thrilled that Professor Brainin has chosen Staging the Daffy Dame for a Preview Production at UCSB in 2018. I'm excited to be able to explore questions with Professor Brainin, the actors and designers such as: How do the actors the rehearse and perform the play, The Daffy Dame? How do the actors transform from a contemporary university setting to a seventeenth century Spanish comedy? How does the university theater space inform both the present and past worlds in the play? I'm honored by this opportunity to continue to develop my play with such talented theater artists and scholars at UCSB. 
Describe your job. What do you enjoy most about your work? What are some of your biggest challenges? 
I am a playwright, theater studies scholar and Associate Professor of Film, Television and Theater at the University of Notre Dame. I love that all aspects of my work are interconnected. I write plays that are often inspired by my theater scholarship and my teaching. I research theater studies topics that are informed by my playwriting and teaching. I teach playwriting and theater studies courses that are drawn from my work as a playwright and scholar. I'm fortunate to work with talented theater collaborators across the country on my plays. I'm grateful to be part of a vibrant, national community of theater studies scholars whose work inspires me. I'm blessed to teach at an educational institution that values and supports my work as a playwright and scholar. While I often find the balance between creative work, scholarship and teaching can be challenging, I am continually fueled by the interdependence and interdisciplinary nature of my work. 
How did your major help you in your career? 
My Ph.D. in Theater Studies from UCSB directly led to my applying for and receiving the Moreau Postdoctoral Fellowship at the University of Notre Dame. My UCSB training as a scholar and teacher gave the necessary skills to flourish in my fellowship, which involved completing my book manuscript and teaching playwriting and theater studies courses. After two years as a postdoc, I was hired as an Assistant Professor of Theater at Notre Dame and recently received promotion to Associate Professor. My successful experience at Notre Dame is intrinsically connected to the training and mentorship I received at UCSB.
Who are your role models? How important are mentors in your chosen field?
Maria Irene Fornés, award winning, Cuban-American, playwright, director and teacher, is one of my role models and mentors. Fornés forged a successful career as a playwright and taught a generation of American playwrights through her innovative writing methods, which include visual arts and acting techniques. Fornés taught me to passionately pursue my unique theatrical voice and to trust my artistic instincts.
Leo Cabranes Grant, award winning Puerto Rican playwright, director, scholar and teacher, is also my role model and mentor. Dr. Cabranes Grant served as my dissertation advisor. He is both a scholar and an artist and showed me the importance of cultivating creative and scholarly work. He also helped me find and nurture my identity as a scholar/artist both at UCSB and in the professional world.
What advice do you have for current UCSB students in general or for those hoping to follow the same career path, what would it be? 
"The scholar/artist path is valid, vital and necessary. Each discipline informs the other. While pursuing a doctorate in theater studies, draw from your expertise as an artist. Realize that you will be producing less creative work while you are working on your doctorate but never lose sight of the fact that both arenas are interdependent. As you complete your doctorate, seek institutions that will value your work as a scholar and artist. And remember, patience and perseverance as essential as you pursue your artistic and scholarly path.
The performance included dancers' voices recorded over the music exploring the potential for where home could be and where they currently find home alongside their ongoing desires to pursue careers in the arts.
What makes you proud to be a Gaucho?
I am proud to be an alumna of one of the top theater studies programs in the country at one of the most important public university systems in the world.