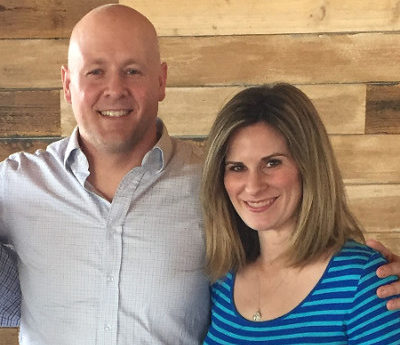 Bigger is better in Texas – including your dreams. That's what California native Danielle Militello Anglen `04 discovered when she moved to the Lone Star State in 2014.
After working for a nearly a decade for big corporations, Ryan and Danielle Anglen wanted to take the reins on their future. So they moved to Austin, Texas to start a family and to build their craft beer brewing business.
While raising two young daughters, the Anglens went through the strenuous process of building their business in an area known for being the epicenter of the Texas craft beer movement.
This January 2016, the Anglens opened Whitestone Brewery in Cedar Park, just north of Austin,Texas.
As co-owner, Danielle does everything from managing the day-to-day administration of the business to marketing and event planning. One very special event on the Whitestone Brewery calendar is the upcoming Austin Gaucho Group Happy Hour on Tuesday, September 27.
In this Alumni Spotlight Q&A, Anglen talks about her first jobs out of college, her time at UCSB and what she loves best about her new home state.
Where did you grow up?
I grew up in Rohnert Park, California. It's a town in the bay area just north of San Francisco. I come from a family of businessmen and women and from a young age I knew that I wanted to be my own boss one day. As a child I loved reading, spending weekends in Lake Tahoe with my family, and watching the 49ers!
What drew you to study at UC Santa Barbara?
I always wanted to go to a UC school. Santa Barbara was an easy choice for me as it is in one of the most beautiful spots on earth! I wanted a school that was far enough that I wouldn't come home every weekend, but close enough that friends and family could come visit frequently. It's one of the top universities in the country, and had a great reputation from a handful of alumni that I spoke to.
What was your student experience like at UCSB? What made you decide on your major?
My experience was amazing from day one. I was surrounded by all of these other students who just like me, were on this crazy adventure known as college and we were instantly bonded by our UCSB pride. I joined Gamma Phi Beta sorority which was an amazing experience that helped me both socially and academically. Some of my best social memories include going to basketball games, The Study Hall, and late nights at Freebirds! I think that balancing my studies with life in Isla Vista was difficult at times, but for the most part I was able to keep my priorities straight. I knew that my success or failure was solely in my hands and that kept me focused on keeping my grades up. I was undecided on a major until my junior year, and doing a total 180 on the "wanting to be my own boss" route, I chose Psychology as my major for no reason other than the undergrad psych classes that I took were intriguing, and I enjoyed learning about peoples' behavior. It also didn't hurt that I had several friends majoring in psych as well…. Instant study buddies! There were some great psych classes that I really loved.
What were some of your first jobs in college and right out of graduation?
During college I worked at Starbucks and Pottery Barn. I still say Starbucks was one of the most fun jobs I've ever had! I was never one of those people who knew what I wanted to do for a living, so choosing a major and figuring out what to do with my life after I graduated was tough. For me it was hard to know at 20 years old what I wanted to do with the rest of my life! I met my husband Ryan just a few weeks before graduation, and because of our new relationship I decided to stay close to Santa Barbara where he lived and had a good job. After graduation I got a job at a day spa to help pay the bills until I figured out what kind of long-term job I would seek. Long story short, I ended up liking the spa industry enough that I went back to school and got my aesthetician license. When Ryan and I got engaged a few years later, we moved back to the bay area (he worked for a large software company in SB that allowed him to work remotely) and I ultimately got a job as a medical aesthetician which I had for the next 8 years.
Though I wouldn't trade my experience at UCSB for anything, if I were to do it over again I would choose a different major. For me a psych degree was impractical, however, my friends do joke that aestheticians, like hairdressers, often listen to people's problems… so maybe it did come in handy! Knowing that business was something I was interested in, in hindsight I should have pursued a business degree. It is so universal and I think prepares you much better for a variety of jobs.
To any students interested in becoming entrepreneurs, I would say that as business owners today there are so many different challenges we face. I strongly feel that any business-specific preparation you can have will help you navigate through the waters of entrepreneurship. A degree in business, finance, marketing or anything you are passionate about would all be helpful.
What inspired you to go into business? What is a typical day like for you at work?
My husband and I both had great jobs but there was always that itch of entrepreneurship that we wouldn't be happy until we scratched. Years ago we started home brewing, and it quickly went from a hobby to a passion for us. We started researching the craft beer industry and spent the next 2 years writing a business plan. Simultaneously we were expanding our family and had always talked about relocating to Texas. Coincidentally, the business climate was very favorable in Austin. So we picked up and moved to Texas in the summer of 2014. It took us a year and a half to get the business up and running, and we finally opened the doors to Whitestone Brewery in January 2016.
Being a business owner is both gratifying and challenging. It is awesome to see something that started as an idea years ago grow into this incredible business that is well-received by the community and growing sometimes faster than we can keep up with! My days range from crazy to absolutely insane! My job includes social media marketing, scheduling, inventory, bookkeeping, event planning, meetings, cleaning, and managing the taproom and employees. I do these things while parenting our two young daughters and managing our home life as well…. It's quite the balancing act! As a business owner my job can be glamorous, like traveling the country visiting breweries and being interviewed by major publications, and it can also be very unglamorous, like cleaning toilets at 2am. There doesn't seem to be enough hours in the day most days, but we run the brewery with such a happy heart because we are doing something we love! There's no doubt it will be years of really tough work in order for it all to pay off one day. We often remind ourselves that If it were easy everyone would do it!
What do you love most about living and working in Texas?
Texas is everything I hoped it would be and more. The people, the culture, the values, the affordability, and the southern charm are just the tip of the iceberg. There is so much to explore here from the hill country and lakes to the restaurants and concert venues. Austin is full of both charm and activity and has proven to be a great place to raise a family and start a business. We love that within a week of moving here we knew 6 of our neighbors because they all came over to say hello! The people are truly what make Austin home for us.
What made you decide to host the Gaucho gathering in Austin this September? Why is it important for Gauchos to maintain a local network with fellow UCSB alumni?
There's something comforting about meeting fellow Gauchos (especially so far from "home") and knowing that we have this common bond and experience, whether we graduated 5 years ago or 25. I am honored to host the gathering to not only show off the hard work that my husband and I have put into the brewery, but to also meet fellow Gauchos, share stories and form new friendships! Talking to fellow alumni and hearing about what they've been up to since graduating is very uplifting. I've found that they can be a great support system, which is important have no matter what part of the country you are in.
What makes you proud to be a Gaucho today?
I am proud to say that I went to one of the top universities in the country. UCSB is a well-known and well-respected school even here in Texas. We knew how to party, but we also knew how to work hard and apply ourselves. I met my closest friends in college and will always have such fond memories of my years there. It was an experience I value beyond words!