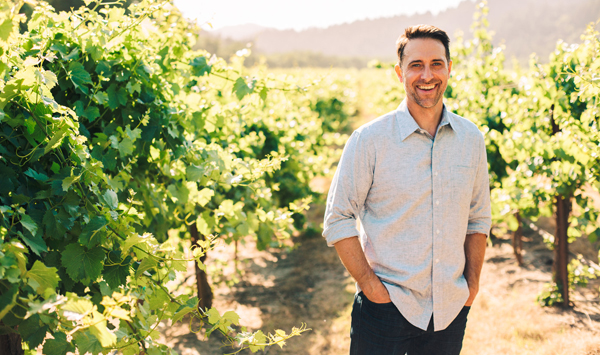 Derek Rohlff's vineyards, located in the Anderson Valley and Russian River Valley, produce award-winning Chardonnay and Pinot Noir.
Rohlff's journey to becoming a winemaker began while he was at UCSB but he didn't realize it until years after graduating. His story is detailed below. 
Why did you choose to study at UC Santa Barbara?
I did a number of college visits as a high school junior, including a trip to Princeton and University of Pennsylvania with my dad. They were all beautiful campuses with impressive histories but just didn't feel like home. When I visited UCSB, I knew it was the perfect place for me as it spoke to me on so many levels. Its academic prestige was on the rise. As a surfer, being close to the ocean was a nice bonus.
Describe your job. What do you enjoy most about your work? What are some of your biggest challenges?
My winemaking work is the classic intersection of science and art…it involves varied disciplines including agriculture, botany, climate, geography, geology, and philosophy. It is work I can do my entire life, or at least another 40 or 50 years if I'm lucky. I am an accomplished winemaker who has received numerous accolades but I don't think I'll ever feel like I've completely mastered my craft. And I have no plans to ever retire. I'm doing work that I love. As far as challenges, I am working on a new estate vineyard planting in the Deep End of Anderson Valley, realizing that is where great wine is made. 
How did your major help you in your career? 
After graduating as an Environmental Studies major from UCSB, I wasn't sure what type of work I wanted to do so I took an internship at the California Coastal Commission in San Francisco. It was my first time living in the Bay Area and I absolutely loved it. When my internship was over, I worked in the gaming industry – the family business – for over a decade but it never really captured my imagination. I wanted to work outdoors, and with my hands. That's how my Environmental Studies background set me up perfectly to make the transition to a new career making wine. The chemistry and natural science courses I took were a great foundation for my new work 
How and why do you remain involved at UCSB? 
I have donated to UCSB and look forward to continuing to do so as my winery becomes more and more successful. I recently took my high school aged son to the campus and was blown away by the growth and renovations that have happened since the 90's. It remains a beautiful place with even more resources for current students: it was inspiring.
What is a challenge you experienced and how did you overcome it? 
When I started my winery in 2007, I launched 10 wine brands in the first year. I wanted to explore my creativity and see what would work best but I may have bitten off more than I could probably chew. I spent a lot of time and money making all of those wines, however I was eventually able to leverage the size and diversity of my product offering when meeting with potential partners. Today my Bravium Russian River Valley Chardonnay and Anderson Valley Pinot Noir is distributed nationally by way of a partnership with Napa's renowned Trinchero family. If you visit Michelin starred restaurants in New York, L.A., Miami, Dallas, and Chicago, you'll see my Bravium wines on the wine lists. And my Outlier Santa Barbara County Pinot Noir – made from locally grown grapes – has been a featured wine in one of the nation's largest retailers for the past year.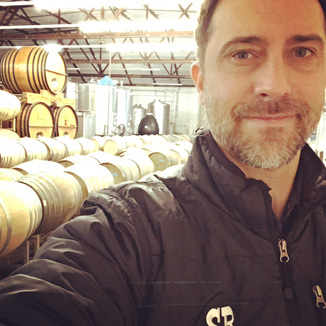 "Technical courses are increasingly needed in all walks of life, however the importance of a balanced education – with the arts and humanities also represented – is where real creative magic happens…"
What would you say is one career or personal milestone that you are most proud of achieving?
Esteemed wine critic John Gilman – in his View From the Cellar publication - reviewed one of my Chardonnay wines a few years back and compared it to 1970's era Mayacamas Chardonnay. Having one of my wines compared to one of Bob Travers' historic wines was a humbling moment as my visit to Mayacamas in 2000 was the moment I decided I wanted to become a winemaker. John's kind review brought my entire winemaking experience full circle. 
What do you hope your wine will be most known for? 
I make wine that I like to drink and I enjoy drinking wine with dinner, meaning my wines are intended for the table and food pairing. They follow in the Old World tradition of being balanced and soulful, with relatively low alcohol – 12% to 13% in most cases – and refreshing acidity. My trips to the famed winemaking regions in France and Italy early in my winemaking greatly influenced me, as did my appreciation of California wines grown in mountainside sites with shallow soils and reduced water holding capacity, which allows the grapes to ripen at low Brix levels. These balanced grapes allow me to produce balanced wines. 
What are your goals in terms of winemaking? 
The goal for my Bravium wines is to produce honest wines of place and time. In a way, they are the Slow Wines of the Slow Food movement, of which I am a big fan. All of my practices are intended to allow the grapes grown in a particular place to express the characteristics of each site's terroir and its growing season. We pick by hand at night, retaining acidity and getting the fruit to the winery in cool, pristine condition. In the winery, I employ traditional methods, whole cluster pressing/fermenting in French and Hungarian oak vessels and barrels. 
What advice do you have for current UCSB students in general or for those hoping to follow the same career path?
Take as many technical courses as you can at UCSB. For instance, chemistry knowledge and experience comes in handy in the winery lab. Also, while I took winemaking coursework and the Winemaking Executive program at UC Davis, I learned most of what I know about practical winemaking from trial and error at my own and other wineries I worked at early on. For me, getting my hands dirty picking grapes, racking wines from tanks to barrels - and of course tasting and blending as many lots as possible - turned out to be the type of education that most informed my winemaking today. And I think that technical courses are increasingly needed in all walks of life, however the importance of a balanced education – with the arts and humanities also represented – is where real creative magic happens, as noted most recently by Walter Isaacson in his book on Leonardo da Vinci. 
What are some of your student life experiences at UCSB? 
My favorite experiences revolve around the friends I made during my time at UCSB. My best man Chris Mosher Plant was my roommate at our house on Del Playa. We used to wake up at 5 a.m. to head north or south to surf dawn patrol and then make it back in time for our first classes. I also loved that the weather and terrain allowed us to ride our bikes and skateboards to our classes…classic California living! 
Any hobbies?
I love food [cooking and dining out], travel [with trips to Japan, Italy, and France last year], reading [currently "The One Straw Revolution" by Masanobu Fukuoka], triathlons [my last race was Escape from Alcatraz], and spending time with my family [wife and three sons]. 
Anything else we haven't asked that you would like to highlight?
My father Duke gave me some good advice when I left home for UCSB. He said: "Learn how to think, speak in public, pursue things that interest you, and do work that you love." My Environmental Studies program allowed me to do all four of those things. While I didn't know it at the time, it was the perfect preparation for the winemaking that has become my passion and life's work.
Reasons We're Proud to be Gauchos
No. 16
I run into fellow UCSB alums all the time – most recently a very high-ranking IT executive at Wal-Mart – and they are without exception down to earth, confident, and fun-loving people. I don't know exactly what's in the Isla Vista water, but it seems to have had a good and lasting effect on so many people who have spent their formative years there.