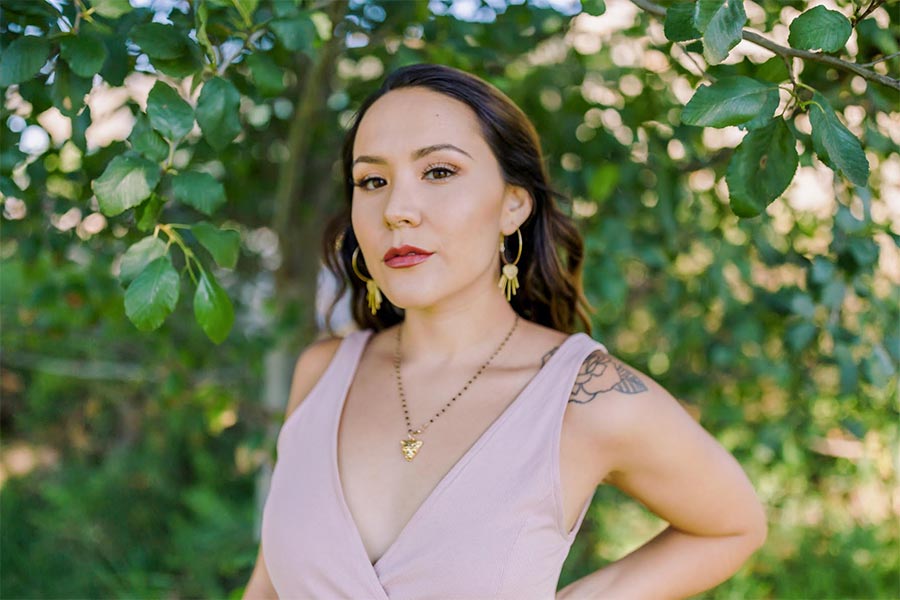 Diosa Femme '15 became an activist because creating opportunities and educational funnels for Latinx communities is her purpose in life.
For Diosa Femme, the deciding factor in attending UCSB, besides campus's obvious beauty, was the College of Creative Studies. Making good use of her degree in literature, she publishes creative articles as a freelance writer for Remezcla; Fierce by Mitu; and Hip Latina. What really put her on the map was Locatora Radio, her podcast that she has co-hosted and produced since 2016. She has empowered so many women to love their true selves.
Diosa Femme speaks about how on-campus nonprofit organizations led her to a path of enlightenment and female empowerment.
You were heavily involved in the Latinx community while attending UCSB. What was your role in activism on campus?
I gravitated towards the LGBT community, doing work with the Resource Center for Sexual and Gender Diversity (RCSGD) where I got in contact with a queer latinx group called De Colores. I was involved with the organization for four years and provided academic, cultural, and emotional support to students. I also partnered with the A.S. Trans & Queer Commission that provided funding and advocation for events relating to LGBTQ+ education.
Another organization I played a role in was A.S. Take Back the Night that dedicates their time to ending sexual violence in Isla Vista, while creating a safe and educational space for everyone. Being a part of all these initiatives and organizations allowed me to learn about myself, as well as different sources in the community.
Each of these orgs, show the variety of diverse programming on campus. I saw this when working in the Multicultural Center for two years. It exposed me to many different groups that I have not intimately witnessed on campus like the Black Student Union and Students in Justice for Palestine.
Tell us a little bit about your podcast! How did it first become reality?
I started the podcast, Locatora Radio, with my co-host, Mala Muñoz in 2016, and it started as just a passion project. So while starting up, I was working as a community organizer in the Harbor region of Los Angeles. I felt that I wasn't reaching my full potential as a creative and that something was missing from my life. I witnessed a lot of people making Instagram pages in 2016 to spread awareness about social justice issues. However, I wanted to do something different and there weren't many independent Latina-hosted podcasts at the time. This path was a way to teach myself before getting back to writing or publishing, even though that was what my degree was for. But I still wanted to express my voice in a way that seemed uncommon at the time.
You are also a freelance writer focusing on sexual health and wellness, radical self care, and feminism. What are your favorite types of pieces that you have written and why?
I like to write about things that are personal to me that I feel are not commonly discussed, whether it is something that I have experienced or my community has experienced. Especially in the Latina community, talking about things like abortions, health care, and inclusive language were rare topics in writing. There are themes and topics I can always discuss on the podcast, but with writing, I was able to frame it in my own specific way. With my style, I dabble with nonfiction creative writing and some more journalistic pieces like the piece I did about abortions. I have also done investigative writing, like my piece about tampons and how they can be bad for our health depending on the type that we use. Being freelance allows me to form those investigative journals to creative content while being informative to the public.
After graduating in 2015, how did you get involved in Grassroot nonprofits and why is the work of community organizing so important to you?
Being at a place like UCSB, it wasn't until my last year where it was hispanic serving institution; it was a predominantly white college. It can go one of two ways. It can either radicalize you or get you comfortable with the status quo. As students, we have an awakening or we don't, but it really radicalized me. Coming from Los Angeles, I was never put into a community where I was considered a minority.
Getting funneled into nonprofits seemed like a natural next step after graduation. I wanted my activism to follow me into my professional life, so I was looking at Los Angeles and Bay Area nonprofits that aligned with social justice.
I applied to LGBTQ centers and many grassroots nonprofits and got hired at one in the Harbor. It geared towards facilitating meetings with parents in Hawthorne to focus on advancing their community. In one of my parent groups, they were interested in starting a yoga class to create an alternative for detention. We were able to look into it as a case study, but instead of implementing my own ideas, I could take a step back and help groups make their proposals happen. It's not about what I think their community needs, it's about how I can help them accomplish what they believe is best for their own community.
You currently work in the Assisted Living field to help individuals with developmental disabilities. It takes a lot of time management to work in the industry, participate in activism, co-host a podcast, and be a freelance writer. How did your time at UCSB prepare you for such a busy schedule?
While being a student I did not have the best time management so I did plan my time day-to-day. But while I was there I worked multiple jobs, was involved in campus organizing, studied as a full-time student, and had a social life so it gave me a great format I could use after graduating. Now, it is really common for young people, especially living in expensive LA, to have 'side hustles' so that is what the writing and podcasting became. But, as of 2020 I believe the podcast has transitioned to a full-time job.
Besides for the schedule, I think self care is really important when pulled in multiple directions. You can't do everything at once so learning how to say yes but also no is super important to prevent from spreading yourself too thin. With having a 9 to 5 job, I take my breaks to work on podcast production or spend my lunch checking emails. Running place to place after work or writing and editing late at night is something that I implemented in my daily routine.
Living in Los Angeles must be constant chaos. What are some major differences between Los Angeles and Santa Barbara that you found hardest to adapt to?
I got really used to having my friends down the street which was a big adjustment. There is nothing better than living in proximity to your friends. Coming back to L.A., it was like where is my community? I haven't lived there in four or five years so now being an adult, I had to find out where I fit in. That is partly why I started the podcast so I can build community. I had to navigate a new perspective of the city I was raised in.
Social media was a huge way to make connections possible. You can build rapport with people online that may not be in your community but you are building an online one. UCSB helps in a lot of ways to expand our connections, but I also think social media plays a huge role in this too.
What is one piece of advice you would give to men and women graduating soon who want to work in the activist light?
In terms of having your own podcast or other content creations, don't doubt your idea because I think we get nervous and start to overthink other people's opinions. But no matter how niche your idea is, there will be people who resonate with it and have just as strong of a connection to it as you do. If you want to continue helping advocate for social justice, find places where you can volunteer because it may not be your day job, but if there are different organizations you want to work with but are not hiring at the moment, it is still important to get connected through nonprofits and volunteer work. If you're new to a community, learn what the community is already doing because you do not have to reinvent the wheel. You can align yourself with people who are already doing the work to continue building.
Hear more from Diosa on her podcast, Locatora Radio, found on Spotify, SoundCloud, AudioBoom, and Apple Podcast. And tune into @locatora_radio on Instagram every Thursday for "Oye Locas" on IG Live.