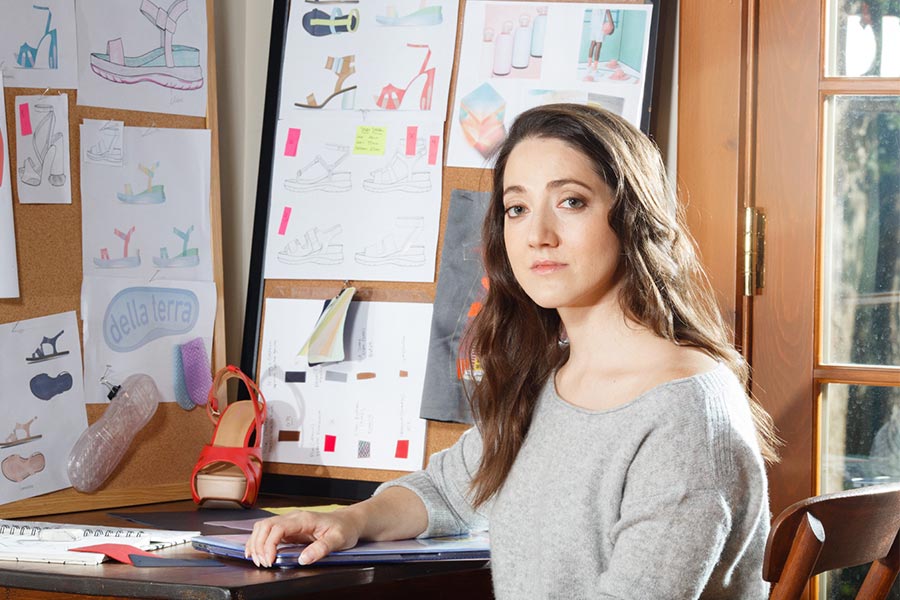 Emily Landsman '05 used her year in quarantine to create her own shoe brand, Della Terra Shoes.
Not only is UCSB picturesque, inspiring, and rich with creative programming, it has the power to change one's entire future. Emily Landsman '05 studied art studio, photography, and digital media at UC Santa Barbara; something she never imagined exploring in an academic setting. UCSB was pivotal in her decision to branch out into creative and artistic aspects of her studies, and later, her career.
Landsman worked in the fashion industry for 18 years, designing for Vera Wang, Vince Camuto, and other influential designers. In 2020, Landsman stepped out on her own to launch her new shoe brand, Della Terra Shoes. In addition to her passion for design, she's concerned about equity, sustainability, and protecting the environment. Landsman collaborates with and donates to multiple organizations to help combat climate change and increase gender inclusivity. Using entirely vegan materials, Della Terra also helps restore the ecosystem by planting one tree for each item purchased.
Landsman discusses the big impact she feels that UCSB made on her career transition and shares what it's like to start small, learn from others, and end up on top.
How did you get into shoe design?
I immersed myself in the art department at UC Santa Barbara. I owe Kip Fullbeck, the Chair of the Art Department at the time, a debt of gratitude. He helped me understand that art is a field where you get bonus points for being original and following your instincts. If you let your instincts lead you in a certain direction and put in the work to support what you are creating, then you will be successful.
I always thought the practical choice was to study through my academic strengths for my future career, no matter how much I loved art my whole life. It wasn't until working with Kip that I saw a future with a creative career. I originally started as a Psychology major thinking I would be a lawyer. However, UCSB helped me shift paths to working in art therapy and that's how I got into shoe design.
What inspired you to be the Shoe Boss: Creative Director and Industry Advisor?
I became a shoe designer after I went to the Academy of Art and received my Masters in Fashion Design. I took my passion for art a little further and got into the specific industry of fashion design. I worked in the New York fashion scene until 2016, then moved to Boston, where I currently reside and worked on shoe design here. That is when I started consulting and eventually, created my own shoe brand.
How did you go about creating your own footwear brand, Della Terra Shoes?
It all started about a year ago. I consulted for other brands for two years which provided me some confidence and insight to see if there was an appetite for what I wanted to share. There was something about designing for other brands for 18 years that made me nervous to venture out on my own. I was comfortable with designing for other brands and stretching my creative muscles through that path, but I have always longed for my own brand. It was not until this global pandemic that affected everyone's life, including my own, that I started thinking about what product I would like to create. It would need to be something that people want and need. What does that look like? What does that feel like?
Last summer I started sketching Della Terra. My boyfriend at the time, now my husband, and I were renting a house in Cape Cod, Boston. We wanted to escape the city life in quarantine for a little while. I took a deep breath, started sketching, and hung my sketches on the windows. My husband said, "Why don't you start your own line? Why don't you get some samples made?" I thought he was crazy! But the rest is history and I'm so grateful the reception has been what it has been.
What were some of the challenges you faced being a women-led company?
As women, we almost apologize for our successes and experiences along the way. It has been really exciting to assert myself as the industry expert that I am. A lot of it comes from putting in the work, staying humble, and working for numerous people over the years. I am stepping up to this arena with the experience to back up my opinions and creativity.
How did UCSB prepare you to market your brand?
One of the things I loved so much about UCSB is I am a New Yorker and I decided at a very young age that Santa Barbara was where I wanted to go before I ever visited California. I had a feeling in my bones. Being on a beautiful campus in a picturesque location is a perfect place to learn the work-life balance. To succeed in a creative field, you must find the time to breathe in that inspiration and UCSB provided me the opportunity to learn that.
What advice would you give to a fellow entrepreneurial Gaucho?
There is always a balance of humble confidence. You should always start out by working for other people. I firmly believe that even when there are times when it's not so glamorous, there is something to learn from every working experience we have. Absorb as much information as you can, especially if you know you want to start your own business. Learn from other people's mistakes because those mistakes are free!
When branching out on your own, the stakes are higher and you feel a lot of personal pressure you have never felt before. Take your time in getting to that point. When you decide you are ready, just know you have the skills to do it and take that dive.
The connections I have made are the reason I was able to do everything both quickly and economically safely. It was so important for me to reach out to factories to see if they can take the journey with me. I was in shock when so many said "Let's do it!"
What was your favorite part about being a Gaucho?
I go back to the Santa Barbara landscape and the amazing teaching staff who incorporate this landscape and Santa Barbara lifestyle into their material. Starting in New York, moving to UCSB for undergrad, and moving to San Francisco for grad school, all of these new moments pass by so quickly. Cherish every second.