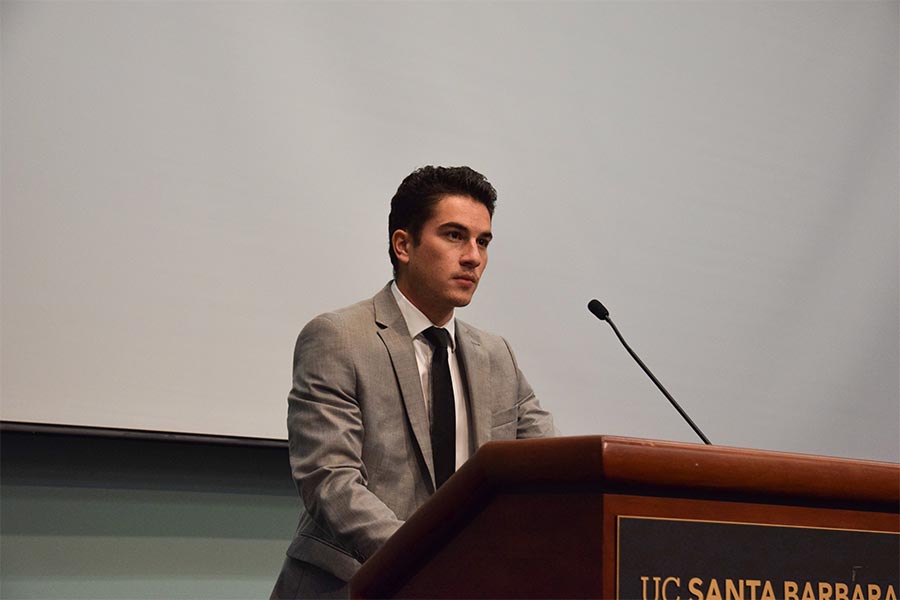 Alperan Koliva '20 graduated only a year ago, and has already navigated his way into a profession he finds engaging. How did he do it during a year of global chaos? Koliva graduated with a degree in Global Studies and as a member of Sigma Pi Fraternity. But to this day, nothing like UCSB First impacted his academic and professional career. UCSB First's mission is to educate all Gauchos of the importance of giving and collectively making change through student resources.
As the Co-Chair of UCSB First, Alperan promoted the power of philanthropy and student organizations across campus. He increased student spirit, involvement, and development during his 3 years with UCSB First. The gift of giving is a skill Alperan took with him in every step of his job-seeking journey. Today, he promotes the well-being of small businesses as Associate District Manager at Automatic Data Processing, Inc. To ease the strain that comes with running a small business, a man like Alperan is perfect for the job. After making his way through numerous job interviews, he now has the opportunity to decrease those challenges and increase the benefits for local businesses every day.
As a part of his gift-giving, Alperan wants to show the truths and realities that come with graduating from UC Santa Barbara during a year that surprised everybody. Alperan tells us how to prepare for our future as Gaucho graduates and how to keep confident while job seeking.
In your year since graduation, what do you miss most about being on campus?
To be honest, there truly is no shortage of things I cherish and miss about campus and Isla Vista. My four years there will always have a special place in my memory, but the community is what I miss most. The experience of being surrounded by such a myriad of caring and intelligent people, and the chance to meet and form connections with so many of them. I wouldn't trade those memories for the world. Oh, and the chaos of the bike lanes. Definitely in a league of their own.
You worked closely with UCSB First to raise awareness of the power of philanthropy. How did you get involved with this program and how did this opportunity aid you in your path after graduation?
I was introduced to UCSB First through a friend and Sigma Pi brother. At the time, I had never really heard of UCSB First or what their role was, but he was a director and implored me to go to a meeting and see it for myself. I was taken away by the unique opportunity UCSB First had in its mission to not only raise awareness of the power of philanthropy but also to unify and support the various organizations and goals of the student body. It truly is an organization like no other at UCSB – and I was hooked. Whether it was as a volunteer, director, or co-chair, UCSB First allowed me to grow in more ways than I could have imagined. I would say that both personally and professionally, First gave me the conviction that I could make an impact on others and exceed my own expectations, so long as I believed in what I was working for.
You only graduated a year ago! What were the surprises and hardships of entering the professional realm? It's hard to believe it's already been a year!
As I'm sure the Class of 2020 is all too aware, the permanence of the pandemic following graduation was staggering. Learning how to keep my spirits up amid isolation and a rapidly fluctuating job market were obstacles I certainly had not seen coming. Facing job rejection after job rejection (all the while having to move back in with my parents) was a tough pill to swallow. But with focus, persistence, and consistency, it was only a matter of time before something came up that would allow me to change my situation and take that next step into the professional realm.
What is one tip you can give to UCSB's recent graduates to help them navigate the map from college to a job they have a passion for? Trying to navigate the map from college to job is rarely a cakewalk.
If I could only give one tip, I would say "Don't be afraid to fail". As cliché as that sounds, I look back and wish that I had internalized that message more. Even without the pandemic still trailing over everyone's heads, finding a job you're passionate about can be difficult. Sometimes even more difficult is trying to discern what you're truly passionate about, to begin with. Learn from your defeats, try new things, and look at every step you take as an opportunity to grow. The first step is never easy, but with the one you take, it gets easier.
How did you come upon your role as Associate District Manager at Automatic Data Processing, Inc., or ADP? How did UCSB advance your career?
Like UCSB First, I actually came upon my role at ADP through a friend I made on campus. He had started with the company several months before myself and recognized it could be a great fit based on my personality and prior work. While there's no shortage of ways UCSB can develop your career opportunities, I believe that it was the community and education (particularly the TMP program) at UCSB that gave me the professional network, personal confidence, and educational edge that allowed me to advance my career to the next step.
What inspired you to enter this field and what do you enjoy most about it?
I think it was an alignment of aptitude, interest, and opportunity that inspired me to join ADP. If you had asked me if that's where I would have been a year ago, I would have laughed – but being here now, I've found it invigorating. The opportunity to build renowned professional experience, help improve small businesses in my area, and provide for myself have all been amazing. Every day is unique in its own way and allowed me to start building my own future.
How has being a Gaucho prepared you to go after your long-term goals?
I think the better question would have been how being a Gaucho hasn't prepared me for the future. I look back on who I was on my first day at Santa Cruz Hall and am so thankful to call myself a Gaucho. The knowledge I've gained, the experiences I've had, and the people I've met along the way have all allowed me to flourish as a person. I firmly believe that UCSB has a place for anyone and everyone to develop themselves for that next step in their lives and careers, no matter what direction they decide to take. Here in Isla Vista and beyond, we Gaucho back.