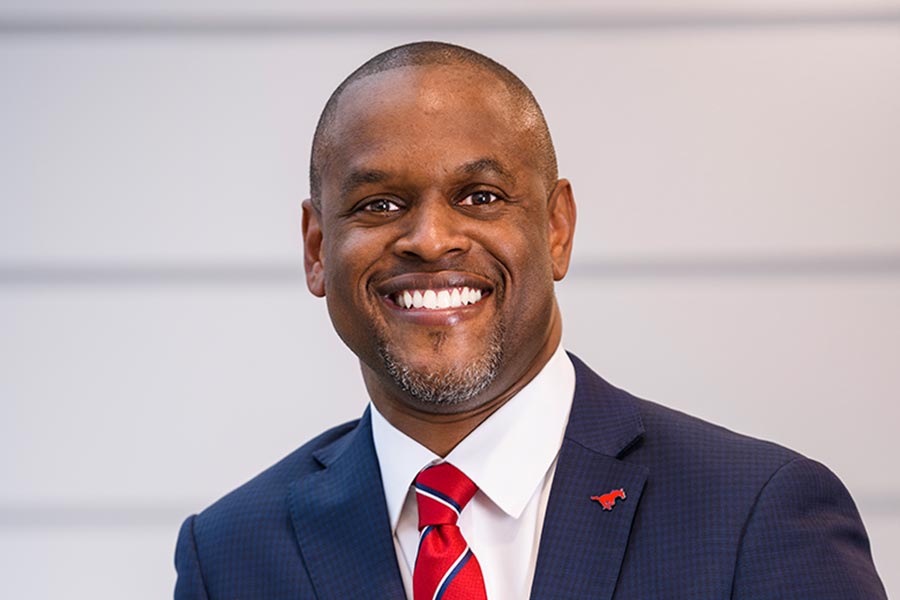 One of the most impactful ways to make a difference can be through mentorship. These mutually beneficial relationships can help everyone involved to see the world through a new lens and achieve their goals. As the moderator for the Meaningful Mentorship panel during the Gaucho Professionals Expo, K.C. Mmeje '02, shares his thoughts on the power of the mentor/mentee relationship.
For K.C. Mmeje '02, his time at UCSB was transformative. It sparked his passion to support students as they navigate college and their professional lives post-graduation. Studying Sociology and Black Studies, Mmeje interned for Student Affairs and discovered the endless roles he could play in guiding students to success. Nowadays, he works for Southern Methodist University in Texas and serves on the UCSB Alumni Board of Directors.
At this year's Gaucho Professionals Expo, Mmeje leads the Meaningful Mentorship panel, which aims to highlight mentorship success stories and inspire Gauchos - students and Alumni - to support other Gauchos through mentorship. Right now, there are thousands of Gauchos on Gaucho Network, an online professional platform for the UCSB community, willing to serve as sounding boards, provide insights into their respective industries, and help other Gauchos grow their network. This panel may just be the nudge you need to lend your time or ask for support. It's all about Gauchos helping Gauchos. We hope you will follow K.C.'s lead and give back through mentorship.
See where K.C. finds the value in mentorship.
What do you feel are the most valuable skills UCSB taught you?
UCSB provided me with a strong academic foundation from which to launch my professional career. Beyond the formal curriculum, the most valuable skills I acquired during my time at UCSB were my communication skills, ability to think critically, interpersonal skills, time management, and problem-solving. I gained these critical skills through my involvement in various student organizations and leadership positions held during my UCSB experience. I rely on these skills daily in my professional life and I am grateful to UCSB for preparing me for life after college.
What were the most important steps you took in pursuing your career and how did you choose this professional Avenue?
I discovered my career path in Student Affairs as a result of my interactions with the amazing professionals whom I was blessed to encounter during my UCSB student experience. Many Student Affairs professionals at UCSB had such a profound impact on my success as a student, and my overall college experience. They encouraged and inspired me to explore a career in Student Affairs. Perhaps the most transformative experience which led me to this career path was serving as the Stephen S. Goodspeed Intern during my senior year. The internship provided me an opportunity to work closely with then Vice Chancellor for Student Affairs, Dr. Michael D. Young, and his staff. That experience helped me broaden my understanding of Student Affairs and truly understand the myriad of ways in which Student Affairs professionals enhance the student experience. Lastly, I benefited tremendously from engaging various Student Affairs professionals in conversations about their career journey—their stories helped me understand what preparing for a successful career in Student Affairs entailed.
What has been the biggest obstacle or barrier to working with students as the current Vice President for Student Affairs at Southern Methodist University?
Unfortunately, most often, as student affairs professionals advance in their careers, their opportunities to interact with students become more infrequent. In my current role as Vice President for Student Affairs, I provide strategic leadership for a broad range of departments that directly impact a student's success and sense of belonging on campus. Most of my time is spent in meetings, managing personnel, responding to crises, and project management. The daily demands on my time make it difficult to have regular positive interactions with students (i.e., beyond responding to student crises or dealing with student conduct). Consequently, I have to be intentional about seeking regular opportunities to connect with students in meaningful ways, which is incredibly important to me. After all, the opportunity to connect with and support students is the reason I decided to pursue this career path.
Why is a sense of belonging so important for success in the workforce?
Experiencing a sense of belonging is vital to success in the workforce because it is important for people to feel included. Inclusive practices ensure that everyone feels like a valued member of the organization. We all have a natural desire to feel a sense of belonging and feel like we are a part of something bigger than ourselves.
You're moderating the Meaningful Mentorship panel for this year's Gauchos Professional Expo. What do you hope alumni and students take away from your panel on October 20th?
I hope alumni and students who participate in the Meaningful Mentorship panel leave the experience with a greater appreciation for mentorship, and the critical role it plays in professional growth and development. Most successful professionals have benefited from formal and informal mentorship. I strongly encourage new professionals to cultivate mentoring relationships with seasoned professionals who are willing to help them successfully navigate their career journey. Equally important, I hope to help seasoned professionals recognize their obligation to mentor young professionals. Mentoring a new professional in your industry allows you to shape the future of your field, as well as impact someone personally. Mentoring, when both parties are equally invested, is a mutually beneficial experience for the mentor and mentee.
Is there a piece of valuable advice you would give to new alumni entering the workforce?
Recent graduates need to be open to new opportunities. Very often, you will meet someone that will open a door with a new opportunity that was not part of your original plan. A key strategy to get connected is to become active in professional associations and societies related to your field of interest. Another reason this is important is to stay current with your profession. You will become a vital part of any organization when you are the go-to person for the most recent trends, best practices, and cutting-edge innovations. Make a mentorship match with other Gauchos by creating an account with Gaucho Network.
Check out the Meaningful Mentorship panel and the other exciting offerings during the Gaucho Professionals Expo