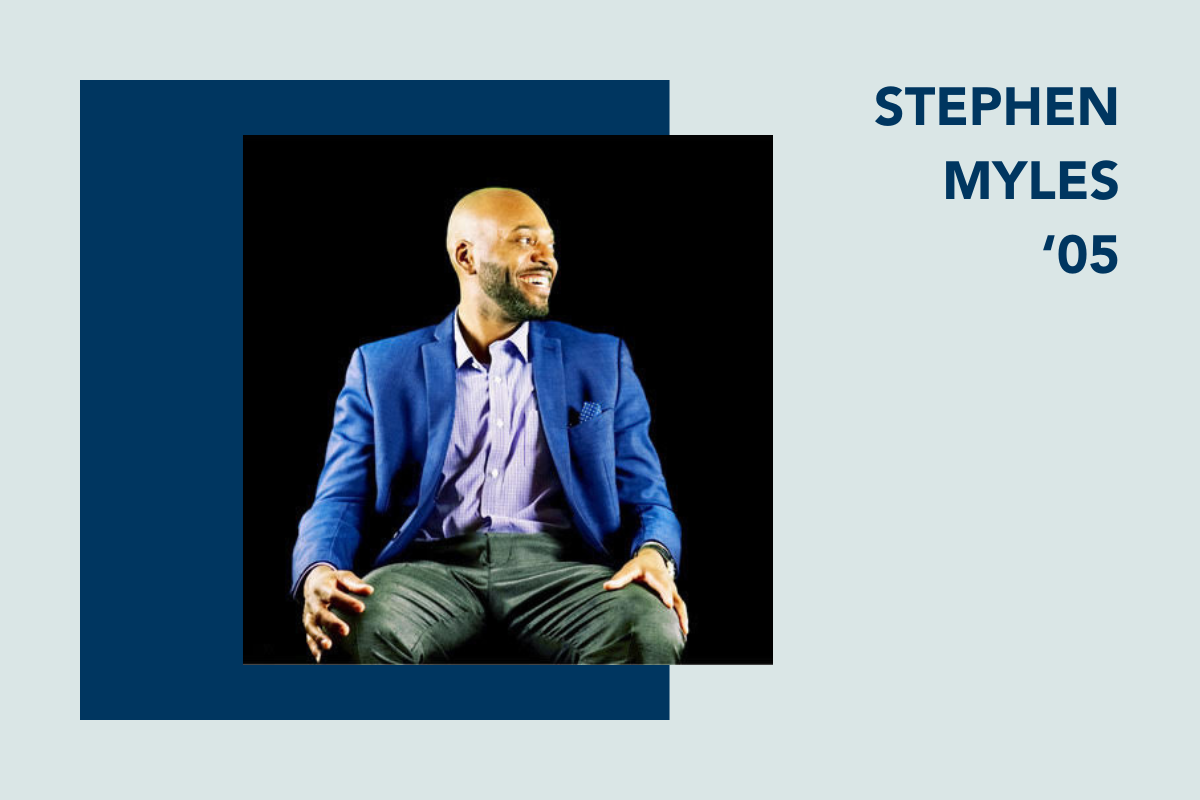 By Ellah Foster '24
Stephen Myles '05 majored in Film and Media Studies at UCSB but what he learned during his time went beyond the constraints of a cinema lens. He joined the Alpha Phi Alpha fraternity, which provided not only good memories, but lasting effects on his life over 15 years later.
With advice from his father, Stephen entered the financial services industry after working in customer service post-grad. This led to the creation of his LLC, Rose Through Concrete. While he is eager about his work building a sustainable brand with RTC, his endeavors don't end there.
With a passion for the written word, Stephen has dabbled in poetry, publishing his book, "On My Couch," in 2010. Centered around his self-identity and personal pursuits, the poetry book feels like a time capsule, according to Stephen. Now, as both a father and husband, Stephen balances his work, writing and family life with gratitude and ambition.
What was the process of writing your poetry book, "On My Couch" (2010)? How has the publication been received?
The book is a time capsule of who I thought I was, and who I was trying to be. After graduation, I moved to Henderson, Nevada to reconnect with my father and rebuild our relationship – this did not work out. So, I moved in with my aunt in Lakewood, sleeping on the couch, trying to figure out my next big step. I was watching the world from my couch, exploring my mental health after all kinds of emotions were unlocked from my failed reconnection attempt. In those raw moments, I wrote about my feelings, reflecting on people I had met in college, my relationships with my family, and my ideas about love. I even tried to capture other people's stories and tell them anonymously in the hopes that this would empower and comfort them.
Fast forward a few years later, and I was feeling stuck in life. At this point, I decided that I wanted to publish my collection of poetry. I joined Facebook to market my book, making my profile picture the cover of my book. My future wife messaged me, "nice profile pic, regards from the other side of the world." The rest of that tale is now the story of us. Without this book, I wouldn't have met my wife and my two amazing daughters wouldn't have been born; without my kids, I wouldn't have become a father nor written my first children's book inspired by them ,"The Shoes You Wear Will Take You There." I guess you could say that things come full circle. Life is funny that way – how several million little connections have to happen for us to end up where we end up.
Walk me through your role as the founder of Rose Through Concrete. What are your current endeavors with the company?
Rose Through Concrete is an LLC that I founded in 2017, shortly after being laid off from Bank of America; I knew I wanted to stay in the financial services industry so I focused on building out a fintech product to address gaps in merchant services. I did a lot of heavy lifting as a founder [during the pandemic] because I wanted to ensure that I created a product that met the needs of owners and entrepreneurs in those fields.
My current endeavors with the company include giving it a facelift – sort of a pre-launch rebrand. Most of the product features remain the same to retain the premise of the original idea but the approach will be different. In time, I am confident that I will take my company to where I had originally intended: building a sustainable brand that is both unicorn and altruistic in nature. I guess I'm in love with that paradox.
How was your experience in Film and Media Studies at UCSB?
My major taught me how to analyze a narrative and the three act structure of a film, and the driving factors that color characters' motives throughout the arc of the story. Now, when I watch a film or a show, I can predict the dialogue and know for the most part, what's going to happen in the story. My wife used to hate that I would spoil it for her, but now she has the skill too!
I do wish I had more hands-on experience in the department or even more of an intersection between Film Studies and Dramatic Arts given how common it is for professional creators to cross over from screen to stage, and vice versa.
How did you get into the financial services industry?
After graduating, I primarily worked in customer service jobs, including Apple for three years. Eventually, I got that itch to switch. My father's career was in outside sales and, during my search, he was working for Bank of America in merchant services; he advised me that the transition from inside to outside sales can be lucrative. And he was not wrong – sales for financial services is a completely different animal! There's something weird psychologically that happens when people feel like they are being sold a product as opposed to them making the decision on their own to buy. My position in financial services involved selling Bank of America's point-of-sale technology for small business owners. I felt confident in this role due to my experience at Apple so this felt like a natural fit for me at the time.
Tell me about your experience in Alpha Phi Alpha. What impact has that had on you post-grad?
My experience as a member of the fraternity was phenomenal! The members, both past and present, are such amazing men that helped shape my college experience. Between the service opportunities and the social gatherings, it helped me feel a part of a community and painted a positive picture of black men in order to uplift the culture. Alpha continues to impact me post-grad, especially throughout the pandemic. The importance of staying aware, active, and involved in civil rights is ever present. Understanding that an injustice anywhere is an injustice everywhere keeps my mind in a state of progress, and my heart beats for change.
What was your greatest learning experience while in undergrad at UCSB?
My greatest learning experience during my UCSB undergrad came years after post-grad. During reflective moments of my college days, I realized that nothing is ever handed to most people. You must create your own luck! Most have to work and grind just to have a single opportunity present itself; shortly before I graduated, the opportunity for higher education wouldn't have existed for people who look like me. People fought and died for me to walk on a campus, flow through lecture halls, and have seats reserved for me. Ultimately, even when you see behind the veil, there are still several curtains blocking your view.
What do you do for fun when you aren't writing or working?
Well, I think about ways I could write or work! Kidding. I stream movies and binge watch shows. My wife and I sneak in micro dates while our girls are sleeping and have conversations we're not able to have while our kids are awake. Sometimes we envy those who 'adult' better than us over glasses of wine. All jokes aside, my free fun time goes into being the best husband, father, and friend that I can be.