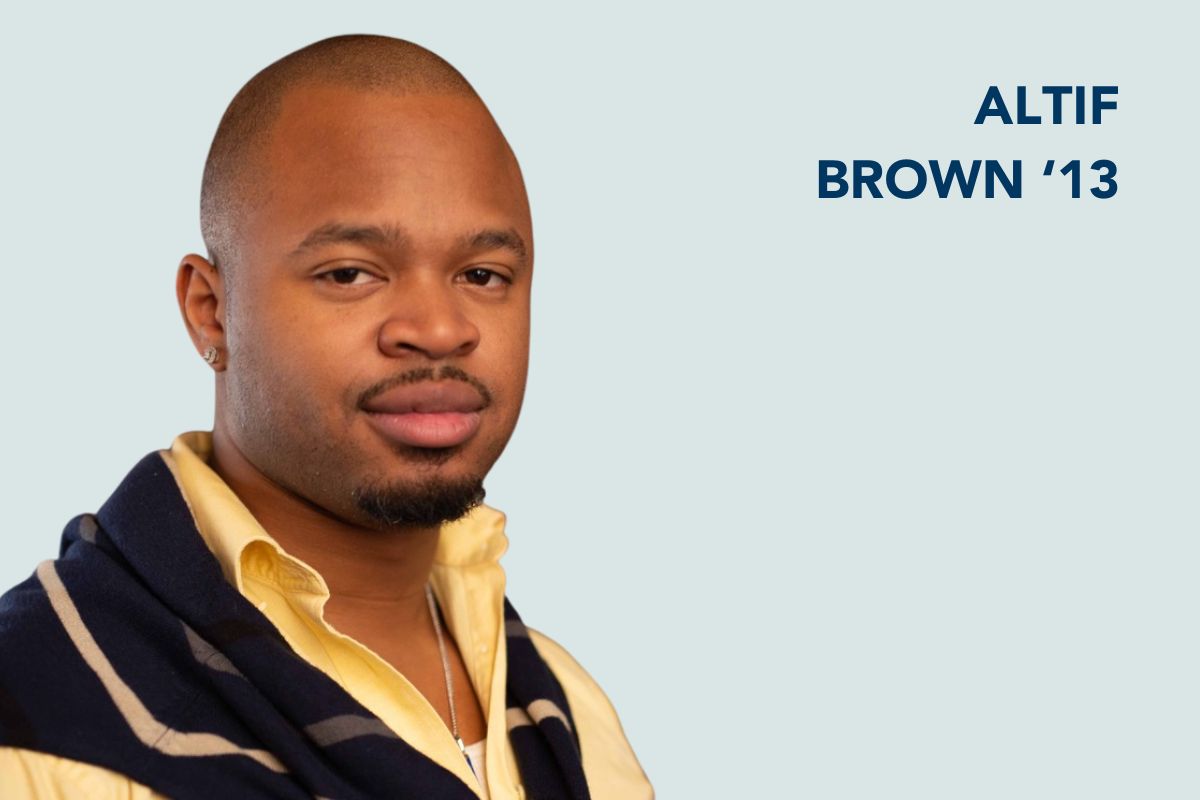 By Ellah Foster '24
Growing up in Silicon Valley, Altif Brown '13 was always drawn to the tech industry. He combined his interests in tech and philosophy throughout his undergraduate and postgraduate career. Calling it the "mother of all disciplines," Altif appreciated the foundation of philosophy he grasped in his undergraduate education as it continues to serve him in the tech world. Additionally, Altif joined internationally focused groups like Model UN, which exposed him to new cultures and ideals long before he stepped foot in another time zone. 
Now, as co-founder of Constellation Network, a global blockchain-based technology company, Altif is busy putting his skills to the test. As the Global Community Director there, utilizes his leadership, communication, and critical thinking skills on a daily basis while overseeing tens of thousands of people. Altif thanks the wide breadth of international education he received at UCSB for preparing him for his career path.
How do you feel your major, Philosophy, shaped your time at UCSB and throughout your career?
Philosophy seeks to understand the nature of reality, knowledge, truth, morality, and values, and it provides a critical and reflective approach to all forms of human inquiry. As such, philosophy has influenced virtually every field of study. Because of this foundational and interdisciplinary nature, my experience at UCSB was eclectic. Being able to seamlessly weave between different disciplines and academic interest groups enriched my collegiate experience and allowed me to grow my network in all directions. I strongly feel that my major has equipped me with a toolbox that not many other majors can boast.
You were active in many campus organizations, like Model UN, Ski Team, and the Black Student Union. Looking back, what do those experiences and connections mean to you now? 
UCSB has a very diverse ecosystem. I  joined anything that even remotely interested me. Many of my best friends today are those I met through  extracurriculars. Student groups offered me an extended opportunity to develop my leadership, communication, negotiation, and critical thinking skills. Moreover, they fostered planning and execution skills and the commitment to teamwork that I still lean on today. 
What did your life look like at the beginning of post-grad and how has that changed over the past 10 years?
After graduation, I moved back home to get my life started as many people do. My family has been in Silicon Valley for over a century, so I had a natural draw to the tech sector. I started my first job at a tech startup and immediately fell in love with the industry. The company was Liftopia, and coincidentally, I was recommended for that position by a UCSB alumnus. That launched my tech journey and I weaved across a variety of startups until I ended up co-founding my own. 

You are the co-founder of Constellation Network, a blockchain-based technology company. How did your UCSB experience help you manage your role as a Founder and Global Community Director? 
The University of California system is a melting pot for students from all across the world. As co-founder of a global blockchain corporation that is present in 90+ countries, I can easily say that what primed me for this career were my internationally oriented student groups, such as Model United Nations. These groups exposed me to a variety of new cultures long before I stepped foot in another timezone. 
Blockchains and cryptocurrencies by their very nature are "borderless" and are meant to serve the planet. Thus, my operational role as Global Community Director tasks me with oversight of the tens of thousands of people within our ecosystem spanning the globe. To be transparent, I would be sufficiently under-equipped to perform this function if I wasn't heavily involved in internationally oriented student groups courses in philosophy classes geared towards international relations. 

In what ways do you stay connected to UCSB as an alum? 
I have attended every All Gaucho Reunion since graduating 10 years ago. Beyond visiting the campus, I also take pride in mentoring young graduates who are navigating the world of tech and partnering with alumni on business initiatives. 

What has been the biggest obstacle you've faced in your career and how did you overcome it? 
Overcoming Imposter syndrome is something that I have struggled with. This affliction affects a large swath of the workforce and is often heightened in minorities as being around people who do not look like you can raise self-doubt. As I continue to level up my career, imposter syndrome occasionally rears its head. When it was at its worst I actually made a list of my achievements and read them out loud to myself. By adopting a growth mindset, I focused on progress rather than perfection and became more resilient in the face of challenges. I have conquered these feelings by acknowledging my accomplishments, reframing my thoughts, and seeking support when needed. 

What is your favorite part of your workday? 
Getting to build and deliver revolutionary technology to the world alongside some of my closest friends.