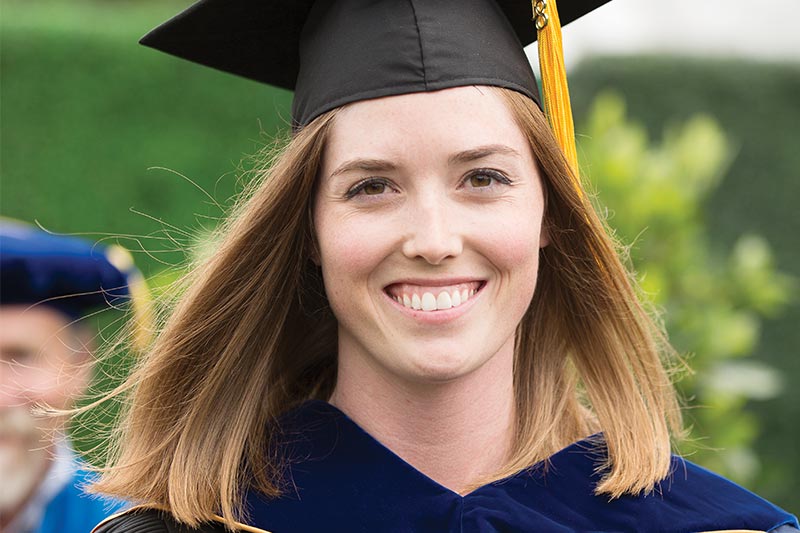 As a research and development scientist at Agilent Technologies, Dr. Leah Foltz Ph.D. `18 is focused on improving the lives of patients through developing new solutions in precision medicine.
A Gaucho through and through, she earned all three of her degrees from UC Santa Barbara — from her undergraduate degree in biochemistry and molecular biology in 2013, to her master's degree from the technology management program and her doctorate biochemistry and molecular biology in 2018. As a graduate student, she worked as a researcher at the Dennis Clegg Lab at UCSB, and won the 2017 UCSB Grad Slam and the UC-wide Grad Slam People's Choice Award. She also delivered a Santa Barbara TEDx talk titled "Making Stem Cells from Skin" in December 2017.
We are honored to share Leah's story in this edition of the Alumni Spotlight Q&A, and wish her all the best in her career!
What has it been like since you left UCSB? Where are you working and how would you describe the company? (And any other updates we can share?)
After defending my PhD in June 2018, I completed an interim post-doctoral scholar position to wrap up a couple publications and transfer my project. Since then, I was able to work as a consultant for a start-up stem cell therapy company called Regenerative Patch Technologies. At the same time, I was interviewing at companies all over California, and I recently accepted an offer as an R&D Scientist position at Agilent in Carpinteria, CA.
We were so proud of your TED talk in Santa Barbara and wanted to find out what that was like for you. Can you tell us about your experience? 
I have to thank Bryan Kerner in the Development office for informing me of the opportunity to audition for the TEDx event. After my Grad Slam win, I was excited to get a chance to share my research with a larger audience. The TEDx program gave me a chance to work with speech writers and movement coaches to refine my public speaking. I got to know an incredible community of scientists and professionals through the event, and it was truly a once in a lifetime experience.
As a Grad Slam Champion and now an alumna of UCSB, what would you say was the biggest impact of the competition for you? 
The design of the competition, that being refining a complex research topic to just three minutes, is an incredibly useful task. It forced me to sit down and think about the larger purpose of what I was doing, as well as providing an elevator pitch for future networking events and interviews.
What would you like to say about your lab and your colleagues and mentors at UCSB? How did community and collaboration factor into the research environment at UCSB?
From speaking with other scientists about their experiences in graduate school, it has become apparent to me that the collaborative environment at UCSB, particularly within the biology department, is highly unique. I learned how to be a scientist not only from my advisor but my entire committee, the senior graduate students who mentored me directly in my first year, and the other students in my cohort.
What drew you to choose UCSB for your graduate studies? 
I had met Dr. Clegg as an undergraduate and respected his approach to scientific research. After interviewing on campus and meeting the larger research community, I was certain of my decision to continue my studies at UCSB.
What drew you to choose your research focus? (And can you recall when and why you first became fascinated by this type of research?)
At the time I started working in stem cell research, I had never even taken a cell biology class. My focus in undergraduate had been on biochemistry and I had researched fungal infections in frogs. I have realized since I accepted my recent job offer in cancer companion diagnostics that I have always been drawn to the field of precision medicine.
You also spoke at the 2018 New Graduate Student Orientation. What was it like to stand there in front of new graduate students? 
I was excited to speak a bit to my experience and hopefully transfer some of my knowledge to the incoming students. Graduate school can be stressful at times, but it is also one of the only times in your life when learning is your sole purpose.
What advice would you give to a prospective graduate student looking to focus on research in your chosen field?
I would advise anyone interested in industry to take time to complete an industry internship or consulting role at some point during graduate school. It's not something that is always encouraged in academia, but I can say from a year of interview experience it is highly valued in industry and can help set you apart in a competitive field of applicants.
What inspires you? (What gets you up every morning to do what you do!)
I have always been motivated by improving the life of patients and keeping in mind that scientific research is much bigger than any one scientist or thesis.
Why is it important for our local businesses and fellow alums to support graduate research at UCSB?
During my time in both undergraduate and graduate research, I was partially supported by both alums and local businesses. That funding allowed me to take quarters and summers off from teaching or picking up a second job, which meant I could spend more time in the lab and make greater strides in my research.