El Plan de Santa Barbara: Beyond Studying Politics, a Legacy of Activism
Armando Carmona '12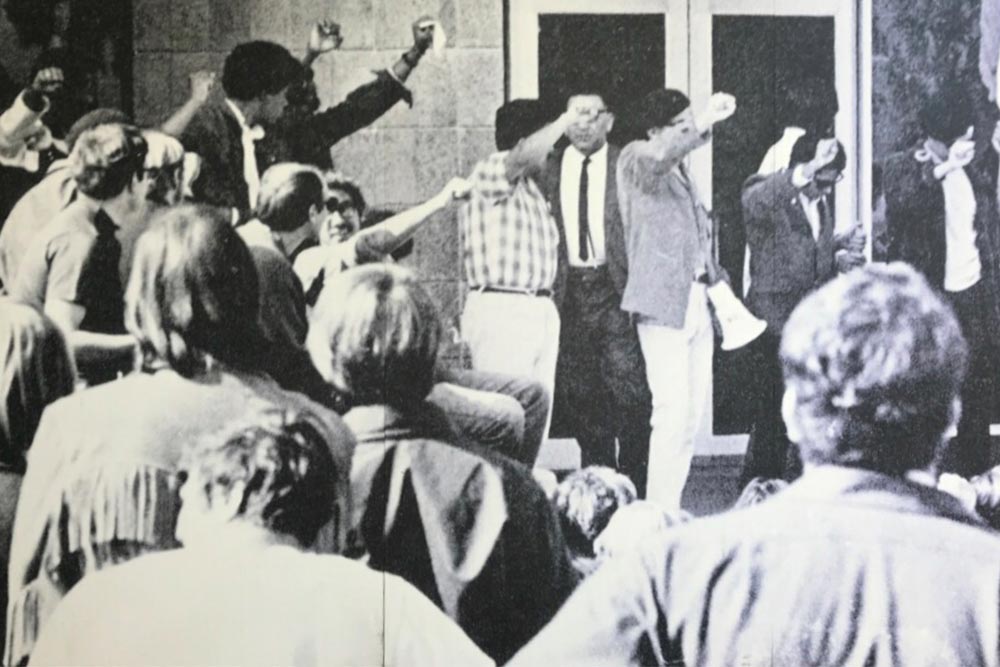 The legacy of the Chican@ movement and activism at UCSB grew out of a powerful document written 50 years ago. El Plan de Santa Barbara was, at the time, a radical proposal that combined education, research and political consciousness with the objective to empower and break open a pathway towards higher education for generations to come.
Fernando Negochea, a UCSB Academic Advisor during the late 60's was one of only a handful of Chican@ administrators and played a pivotal role in the development of El Plan de Santa Barbara. "We called for a program that would incorporate the 3-fold function of the UC system: Teaching, Research and Public Service" he said in an interview. "This is what distinguished the Chicano Studies proposal; the multi-component program that we proposed to UCSB made it distinct and made it much more impactful."

Born and raised in Calexico, CA, Fernando Negochea couldn't have imagined the trajectory his political life and academic involvement would take him in. With an academic scholarship to Dartmouth University, graduate school at UCLA and an impactful tenure at UCSB – Fernando was present in some of the nations most pivotal moments in civil rights and social justice history.
As I sat down with him at El Portal, a Yucateco Mexican restaurant tucked away near his home in South Pasadena, he shared vignettes and anecdotes of civil rights-era moments that he not only witnessed or heard about, but directly participated in and led.
"In the year 68, a lot of things were going on. The strike at Berkeley, the strike at San Francisco State, the anti-war protests. We just had the walkouts in East LA. There was burgeoning Chicano Student movement that helped create a context for this key document. There was common purpose, but also a lot of rivalries." Fernando credits activists such as Rene Nuñez, a heavy hitter in Chicano movement politics in Southern California and Los Angeles, with the idea of holding the statewide conference that brought together student organizations from across the state. The initial conference was well attended and helped articulate the institutionalization of Chicano Studies Programs and Departments.
On February 17th 1969, prior to the El Plan conference, students from the United Front took over and occupied the University Center setting up a free-student run university or "liberated zone" which included regular classes on global capitalism and Marxism and theory on revolutions.  The United Front was a coalition of the Black Student Union (BSU), the chapter of Students for a Democratic Society (SDS) and the United Mexican American Students (UMAS).
Seen as a response to the inherent limitations that existed within the university system such as bias and discriminatory practices towards students of color it was out of necessity to demand the implantation and complete re-envisioning of how the university engages Chican@ students. Now, UCSB continues to reach major milestones in terms of serving Chican@ students, in the recruitment and retention of Chican@ Latin@ students and ensuring commitment student-led organizing, student centers such as El Centro de Arnulfo Casillas and becoming a Hispanic Serving Institution.
The purpose has always been civic engagement, public service and to share tools and resources with young Chican@s who are fighting for social justice and the rights of their communities. Decades of student activism have created a long list of achievements and initiatives that have shifted the debate around diversity, inclusion, and affirmative action.
In 1994, for example, a hunger strike organized by student activists, many whom were members of El Congreso demanded and successfully achieved the formalization of the Chicano studies department. These struggles among other major breakthroughs are thoroughly represented in Ralph Armbruster-Sandoval's book (Hungry for Justice - 2017).
For decades student-led groups like El Congreso, among other prominent campus based organizations are a testament to the impact El Plan de Santa Barbara has had and continue to embody the legacy that was once imagined. Now, a movement 50 years in the making continues to demand direct engagement in political movements well beyond the mere study of activism.