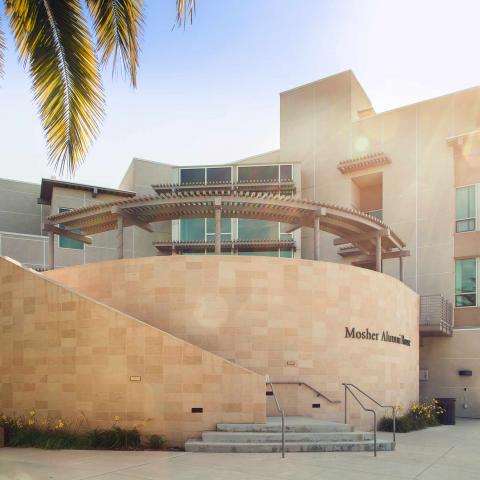 June 2021 marked the end of a two-year period of strategic planning for the Alumni Association's Board of Directors. Throughout this period, and in spite of the global pandemic that ravaged many aspects of our lives, great strides forward were achieved.
Executive Director George Thurlow '73, who served for more than 14 years, retired in late 2020 and set the stage for new leadership under Interim Executive Director Samantha Putnam, who has previously served as both Programs Director and later Associate Director. Under the leadership of Board President Joel Raznick '81, the board has crafted a comprehensive set of ambitious goals that will shape alumni engagement for years to come; Their goal:
"In 10 years, the UCSB Alumni Association will be a key influencer of prospective students' choice to attend UCSB"
At the June 2021 meeting of the board, which is made up of 26 alumni engagement leaders, the Directors voted on their newest leadership team: Michael Citron '10 as Board President, presiding for a two-year term along with fellow officers, Diane (Church '66) Doodha as vice-president, and Gene Lucas '73 as treasurer.
That same meeting welcomed the newest board cohort of 5 engagement leaders; Carrie Herbert '10, Liberato Martinez '92, K.C. Mmeje '02, Colleen (Gorry '81) Pizarev, and Rocio Torres '05.
The Board of Directors includes a diverse group of Gauchos who carry out the mission of UCSB Alumni. Members meet quarterly, participate in committees, support events, advocate for UC Santa Barbara and for the University of California.
In 2016 the board voted to move from a membership based organization to an inclusive model, where all graduates are members. Since moving to this model the Board has focused its efforts on increasing alumni engagement with a focus on professional engagement.
"We encourage all alumni to participate in Gaucho Network" Says Sergio A. Lagunas '11 who has been on the board since 2020, "It's the perfect example of how we can strengthen our Gaucho community; there is opportunity for mentorship, alumni can post jobs and we can create community wherever we are."
In addition to their engagement efforts, the board supports philanthropy as part of their mission, making the Gaucho for Life Fund their passion project. It is a fund which supports the events, benefits, and activities of alumni programming including the Gaucho Network.
"UCSB Alumni provides important opportunities for alumni to stay connected and engaged to their alma mater. From the day students step on campus, they are a part of the Gaucho community for life. Supporting the Gaucho for Life allows their story to continue to be told long after graduation." —Julie Capritto '81, Outgoing Member of the Board of Directors.
Learn More About the Alumni Board