The 2020 UC Santa Barbara Alumni Annual Awards
Join us in honoring the achievements of six outstanding alumni and friends of UCSB.
Since 1960, the UCSB Alumni Association has presented awards of achievement and recognition to outstanding alumni and friends of UC Santa Barbara. The awards program has evolved over the years to honor success, service and philanthropy.
The UCSB Alumni Association established its awards program with an Alumnus of the Year Award in 1960. An Honorary Alumnus Award was added in 1970 when it was presented to Theodore Harder, the UC Santa Barbara football coach. A year later, the Distinguished Alumni Award was inaugurated to recognize alumni achievements in specific areas, such as public service, education and business.
In 1991, the Alumni Service Award, named after influential Association board member Chuck Graver, was created to honor those who demonstrated exceptional leadership and service to the University.
In the last 59 years, UC Santa Barbara Alumni has honored more than 200 individuals. As the excellence of UC Santa Barbara and its alumni has grown, these awards have highlighted the men and women who have brought distinction to their alma mater.
At a time when big banquets and inspiring luncheons are being postponed, the Alumni Association did not want to postpone honoring some of UC Santa Barbara's illustrious alumni and friends.
Here are the profiles of the 2020 Alumni Award winners. They bring distinction and pride to UC Santa Barbara.
Anne Smith Towbes 
A Philanthropist Devoted to Education and Art
Anne Smith Towbes is a teacher, ambassador, and community leader in Santa Barbara. Born and raised in Detroit, Michigan,  she attended University of Michigan where she earned a BA and an MA. 
She spent 20 years teaching English and drama classes in Michigan and Maryland. During that time she acted and directed in a number of theater productions. She settled in Santa Barbara in the 1991 where  she and her husband, Bob Smith owned KEYT the major television station in the Central Coast market. During that time she was instrumental in introducing community affairs programming, including the Mission for Mentors telethon that recruited local mentors and over 17 years produced 250,000 volunteer
hours. After the death of Bob Smith she married Santa Barbara philanthropist Michael Towbes and continued her philanthropic work.  She was the president of the Cate School Parents Council and the Lobero Theater Foundation. She has served on the boards of Santa Barbara City College Foundation, the Hutton Foundation and the Towbes Foundation. 
She and her late husband established the Dean's Chair in the UC Santa Barbara Graduate School of Education while Anne was active on the UC Santa Barbara Arts & Lectures Council. In 2013 she was named by the Santa Barbara Foundation as the Woman of the Year in Santa Barbara.
She was named a UC Santa Barbara Foundation trustee in 2018 and has been featured in a book by impactmania featuring 130 women around the world who have made a difference in philanthropy.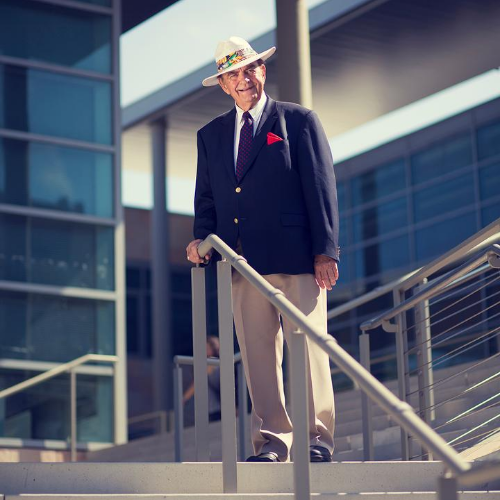 Richard Auhll
An Engineer Who Advanced Medicine
Richard Auhll is an entrepreneur, aerospace engineer, and pioneer in science and engineering. 
Auhll earned his bachelor's degree from University of Michigan as well as a master's degree from Stanford University and an M.B.A. from Harvard University. When he joined Circon Corporation, a manufacturer of circuit board components, as its president in 1969, the company had eight employees and had $200,000 in sales. Following an IPO in 1983, the company was valued at $128 million. Under his leadership Circon became the largest U.S. producer of medical endoscopes and color video systems for minimally invasive surgery. He received the Master Entrepreneur of the Year
Award from the Institute of American Entrepreneurs. Auhll remained with Circon, where he also served as chairman of board, until 1998. He has served as president of the board of SEE International and Seton School for Developmentally Disabled Children. He established the Richard A. Auhll Professor and Dean of Engineering Chair and made major contributions to the building of the Richard A. Auhll Engineering Student Center. He is a member of the Dean's Cabinet in the College of Engineering and a trustee of the UC Santa Barbara Foundation. He has served on the UC President's Engineering Advisory Council. Auhll has generously supported the UC Santa Barbara Dance Company, the Santa Barbara Dance Theater, and the Jean M. Devlin endowment in pharmacology. He is also an instrument-rated solo jet pilot.
Graver Alumni Service Award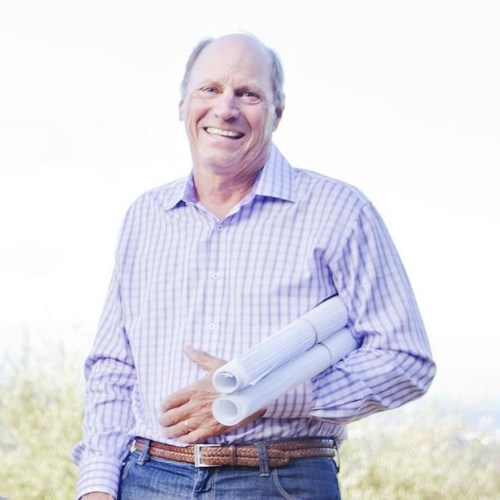 Richard Breaux '67
Building Beautiful Homes and a Strong University
Dick Breaux '67 did not start out as a home builder. After receiving his BA in Physical Education from UCSB and masters degree and teaching credential from Stanford University, Breaux spent nine years teaching and coaching high school before leaving to start a career in home building. He founded Peninsula Custom Homes in 1978 and in the 40 years of building some of the Bay Area's finest homes, PCH has received numerous honors including a prestigious 2018 Julia Morgan Design award. His homes are among the most dramatic in the Bay Area and have been featured in the Wall Street Journal and numerous home design magazines. His clients have included a who's who of the tech industry. 
And yet this design superstar has made the time to serve on two of the most important UC Santa Barbara volunteer leadership organizations, the Foundation Board of Trustees and the Alumni Association Board of Directors. With his wife Kathy, he established the Breaux Family Fellowship at UCSB in support of stem cell research in the Dennis Clegg Lab in the Center for Stem Cell Biology and Engineering. Their fellowship recipient is using stem cells to try and discover a cure for Muscular Degeneration of the eye.
As the president of the Alumni Association Board of Directors Breaux was instrumental in helping grow the Alumni Scholarship Fund from a few thousand dollars to over $1 million. He also helped guide the move from a membership model to an all-inclusive Membership for All model.
As the chairman of the Foundation Trustees, Breaux was a champion for more diverse board membership and greater philanthropic support by the Trustees.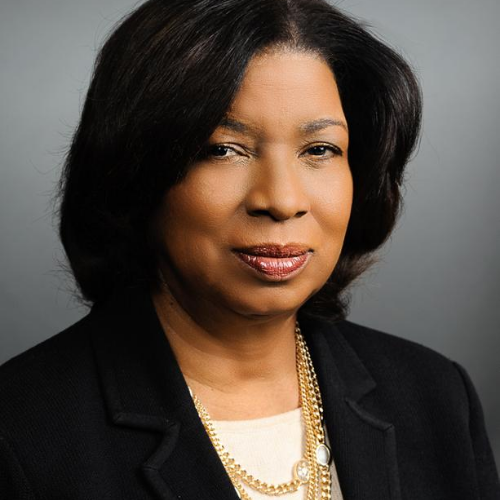 Gwendolyn Brown '71
Opening Doors for UCSB in the Halls of Government
Gwendolyn Brown, a 1971 graduate of UC Santa Barbara, is the former president of the UC Santa Barbara Alumni Association Board of Directors.  Ms. Brown is currently the Director of Congressional Affairs at  Lockheed Martin Corporation's  Arlington, Virginia office.  
Prior to joining Lockheed Martin, Ms. Brown was Director of Congressional Relations at Hewlett Packard Company in its Washington, DC office.  She managed its legislative portfolio from 1991-2010.  Her career in federal government service spans over twenty-five years.  In 1995 she was appointed by former President Clinton as a Deputy Assistant Secretary in the Department of Defense.  Prior to her position at Defense, Ms. Brown was the
Legislative Director for then-Congressman Julian Dixon of California.  At the Department of Commerce she managed the North Africa division where she supported the United States team in bilateral trade negotiations and led U.S. trade delegations to the region.
Ms. Brown received a Master of Arts degree from the University of California, Los Angeles in 1973, and attended the Fletcher School of Law and Diplomacy at Tufts University.  She serves on the Board of the California State Society and is a former Board member of the Washington Tennis and Educational Foundation.  She has received numerous awards, including three Lockheed Martin Government Operations excellence awards and the Department of Commerce Bronze Medal for superior service. She is a member of the NAACP, a Friend of the National Museum of African American History and a member of the Alpha Kappa Alpha Sorority, Inc. She has served on the Board of Trustees of UC Santa Barbara since 2008 and serves on its Regional Committee in Washington, DC.
Ms. Brown lives in Silver Spring, Maryland with her husband, Cameron Byrd, and their daughter, Camara.  She has three stepsons: Cameron, Jr., Brian, and Kahlil and a grandson, Christopher.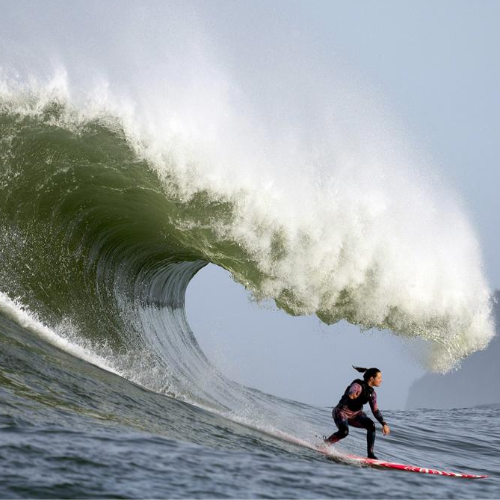 Bianca Valenti '07
A Woman Who Took On the Most Challenging Waves
Bianca Valenti '07 decided she would become a surfing champion when she was 7 years old. After graduating from UCSB with a focus on global studies and sports management, Valenti began studying wine. She and her father opened a restaurant called "Valenti & Company - Ristorante Vinobar." But the world of surfing, big wave surfing, beckoned. She won the 2012 ASP Women's Pipeline Pro in Oahu as well as the first surf competition for women in big waves in 2014 in Nelscott Reef, Oregon. When she tried to compete at Mavericks, one of the premier surf spots in the world, but was turned away, ultimately because she was a woman. At the time she was also championing the right of women to be paid the same as men in professional surfing
events. Valenti gathered her friends and formed the Committee for Equity in Women's Surfing (CEWS) and took the issue up with the State of California.
The state ruled that all competitions that use public lands must include women and pay equally. She continues to pave the way in Women's Big Wave surfing along with advocating for helping the environment. She has been featured in the New York Times Magazine for the dangers she faces as a big wave surfer and in the movie "It Ain't Pretty," about the life of professional women surfers. She has been on many speaking tours touting the need for environmental protections for the ocean. 
Distinguished Alumni Award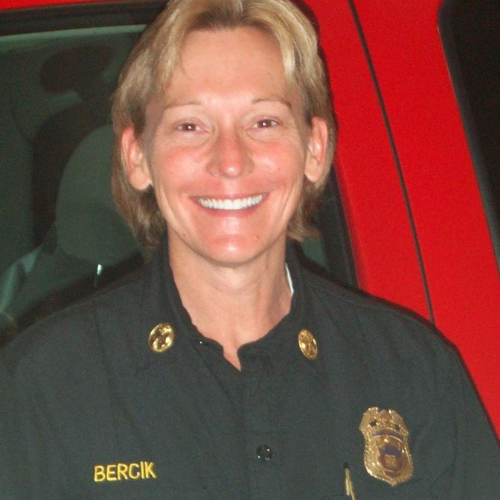 Roxanne Bercik '88
A Trailblazer In A Male Dominated Profession
When Roxanne Bercik '88 joined the Los Angeles Fire Department in 1984 there were only four other women on the force. When she retired last year, she was a Deputy Chief, the highest rank any woman had achieved in the department.
Bercik's road to fire department history passed through UCSB, where she came as a third year student but left before graduating in order to become a firefighter. She applied with the Los Angeles Fire Department after being recruited by members of the LAFD, including the first woman to join the LAFD.
She came to UCSB after receiving an academic scholarship and because of its
strong economics program, she returned in 1988 to finish her degree.
She rose through the ranks of the LAFD one test at a time, being one of the youngest to hold the rank of captain, and eventually becoming a battalion chief with responsibility for five fire stations. She had filed papers to retire when newly installed Chief Brian Cummings decided he needed a strong candidate with a background in gender equity to take over the training and support for the entire department. She became one of five deputy chiefs in the department
At her retirement dinner dozens of female firefighters attended to thank her for her mentorship of them. Bercik told the Los Angeles Times that for women in firefighting "the road has been forged but it has yet to be paved."
Besides her historic role in the department, Bercik has been active in international and national firefighting organizations, including those aimed at female firefighters. Early in her career she was a strong advocate for integrating fire stations and changing the design of fire gear, which is all designed for men's bodies. 
Bercik served on the editorial board of the International Fire Service Journal of Leadership and Management, authored many articles on fire safety and leadership, and has given talks all over the world on the role of women in firefighting. 
Thank you to our Sponsors!