Inspired by the Taste of UCSB 
April 24, 2021
4:00 p.m.
Zoom link will be sent upon registration and purchase of the wines
Join us for a Virtual Wine Tasting, inspired by All Gaucho Reunion's signature event, the Taste of UCSB. We will be joined by Doug Margerum '81, owner of Margerum Wine Company and provider of the amazing selection for the wine tasting. Doug built his family business with the goal of creating handcrafted and personal products. Doug will welcome fellow Alumni into his home (virtually of course) as he takes us on a wine tasting journey. Our host Doug will talk about each bottle as we all sip together! A Virtual Wine Tasting requires no designated driver….why didn't we think of this sooner?
We have chosen 3 types of wine to share with you during this 45 minute experience. The selection includes a 2019 Riviera Rosé, a 2019 M5 White, and a 2018 Syrah, Santa Barbara County. Our Gaucho community will receive a special discount on the wines. Shipping of the wines is now closed, but if you live in the Santa Barbara area, pickup of the wines is available through April 24th. You can purchase the wines here. If you missed out on the wine selection this year, feel free to purchase bottles of your choosing and still join the live event. Register below for the Wine Tasting ticket type to be sent the Zoom link. 
If you can't make it on the 24th, feel free to still purchase the wine selection. Then, check this website the week after the reunion to see the recording of the event so you can host a virtual wine tasting of your own!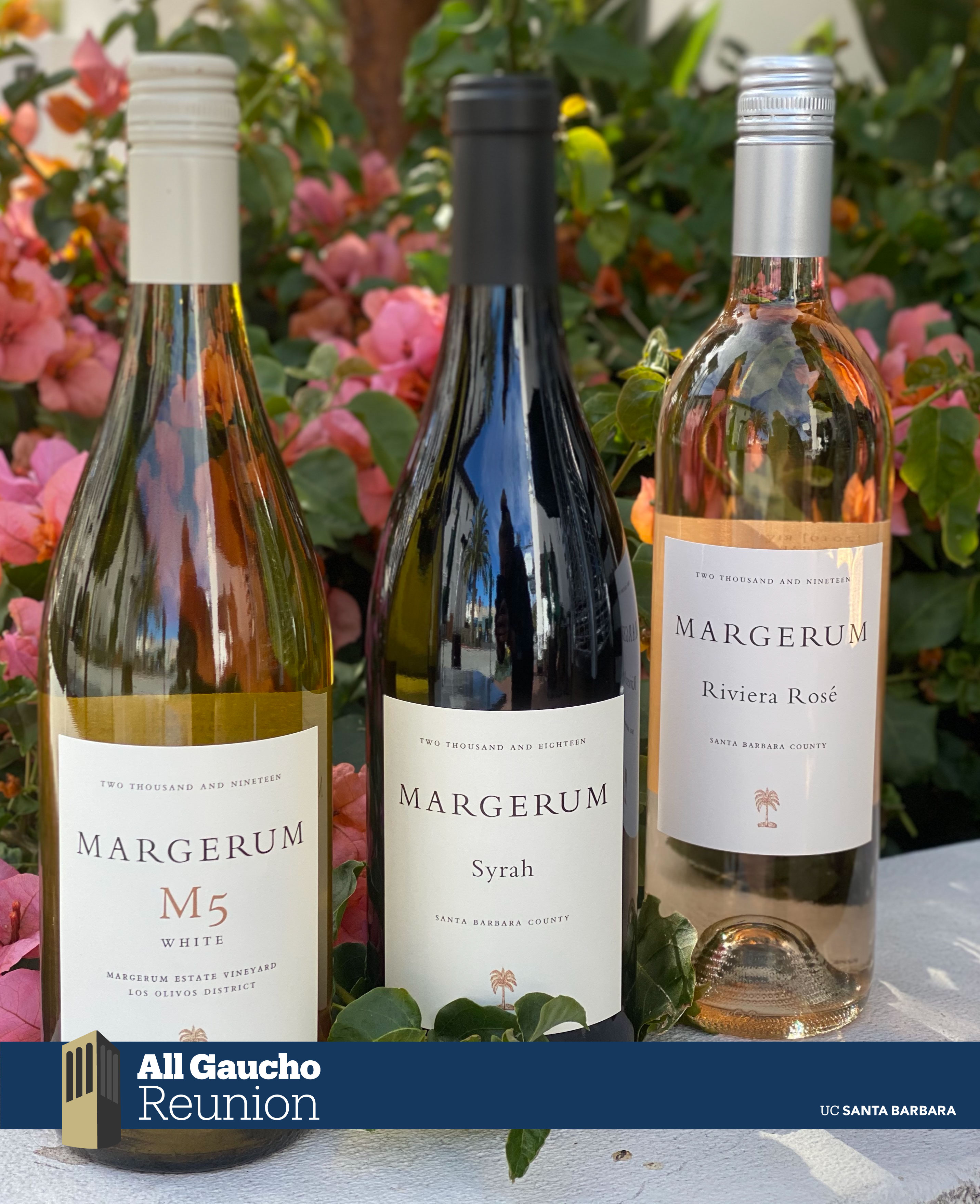 Gaucho Grown Brewers & Vintners
Check back regularly as we will be promoting Gaucho Brewers and Vintners that you can buy from across the USA, with some featuring exclusive deals. Snag a few drinks to accompany you as you attend the other amazing events being offered during the reunion! 
If you'd like to be added to the list, please email Sheri Fruhwirth at sheri.fruhwirth@ucsb.edu
THE OFFER:
2 for 1 wine tastings for UCSB graduates for the month of April at either of our locations.
GOLETA WINERY & TASTING ROOM:
6485 Calle Real Suite E, Goleta, CA 93117
(805)-845-8001 
Thurs through Mon 12-7pm, and Tues-Wed by Appointment
LOS OLIVOS TASTING ROOM
2446 Alamo Pintado Ave, Los Olivos, CA, 93441
(805) 688-8689 
Thurs-Mon 11:00 a.m. - 5:00 p.m., Tues & Wed by Appointment
About the Wine Maker
Matt Brady '05 first fell in love with Santa Barbara wine country as a college student. During that time, He used available weekends to explore all that Santa Barbara County has to offer including, of course, wine tasting and wine education. In 2005, while completing his last courses at UCSB, Matt joined the team at Jaffurs Winery and worked his first harvest in their cellar. Matt climbed the ladder at Jaffurs, earning the role of Co-Winemaker in 2012, and was named Head Winemaker in 2015.
Matt also took an opportunity to broaden his winemaking experience by working a harvest season at Two Hands Wines in the Barossa Valley of Australia. Matt joined SAMsARA Wine Co and took over winemaking duties in 2016. His winemaking philosophy of minimum interference and maximum patience were a perfect match for SAMsARA's award-winning style. Matt especially loves spending time in the vineyards working with our farmers and vineyard managers to maximize the potential of our esteemed growing sites.