Wednesday, April 22, 2020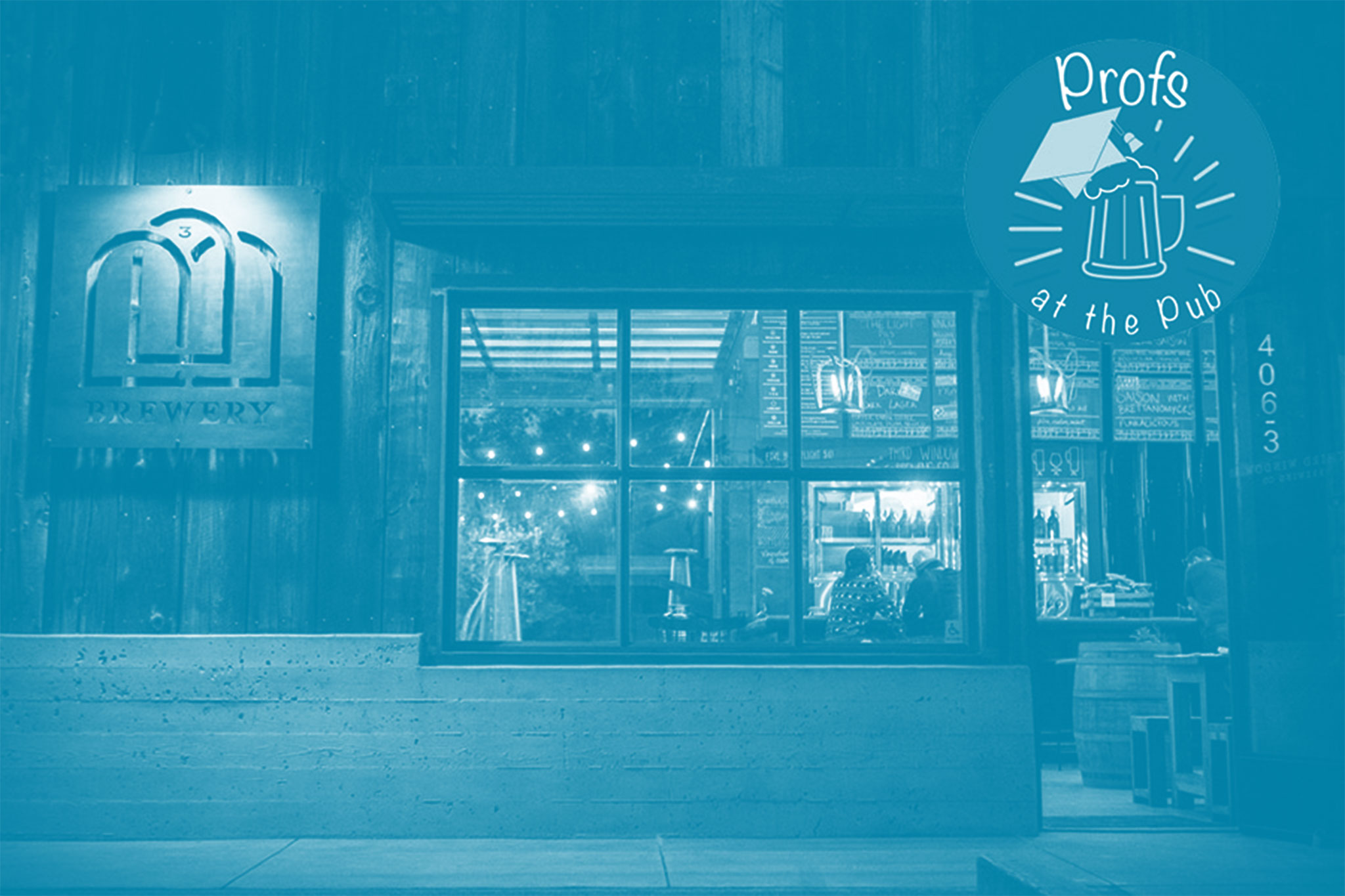 Profs at the Pub
Wednesday, April 22, 6:30 – 8:00 p.m.
The Hub, UC Santa Barbara
Free Event..
Profs at The Pub, An Engaging, Free Speaker Series Featuring UCSB Professors At Santa Barbara's Favorite Watering Holes.
With Professor Bruce H. Tiffney
Interim Dean, College of Creative Studies
Professor of Plant Paleobiology
Food and beer will be available for purchase from Wahoo's Fish Tacos.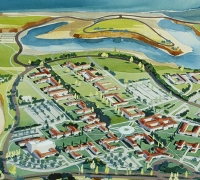 UCSB Library Exhibitions
Tuesday, August 27, 2019, 8:00 a.m. - Friday, June 26, 2020, 5:00 p.m.
Art & Architecture Collection, 1st Floor Mountainside, UCSB Library, UC Santa Barbara
Free Event. Exhibit open to the public. No RSVP required.
As UCSB grew from a small liberal arts college into a large Research One University, the plans for the campus buildings grew accordingly. This exhibition showcases some of the long-range plans for the campus which are housed in the Architecture and Design Collection at UCSB's Art, Design & Architecture Museum.
Special Research Collections, 3rd Floor Mountainside, UCSB Library, UC Santa Barbara
This new work was created as a companion to the UCSB Library exhibition Plans for the Future: UCSB Long Range Building Plans, 1944-1990.
This exhibition was designed and curated by University Archivist Matt Stahl, Special Collections Librarians David Gartrell and Yolanda Blue, and Processing Archivist Leland Riddlesperger. Co-sponsored with UCSB Alumni. With thanks to the Office of Public Affairs & Communications.
Ocean Gallery, UCSB Library, UC Santa Barbara
Eunice Foote's 1856 discovery serves as a cornerstone of understanding the greenhouse effect, and her feminist activism created the momentum for changes in the civil, social, and political rights of women. Despite these achievements, few have heard of Foote.
This UCSB Library exhibition will draw on John Perlin's research to illustrate Foote's contributions to climate science and feminism and connect her legacy to the contributions of faculty at UCSB who study climate change.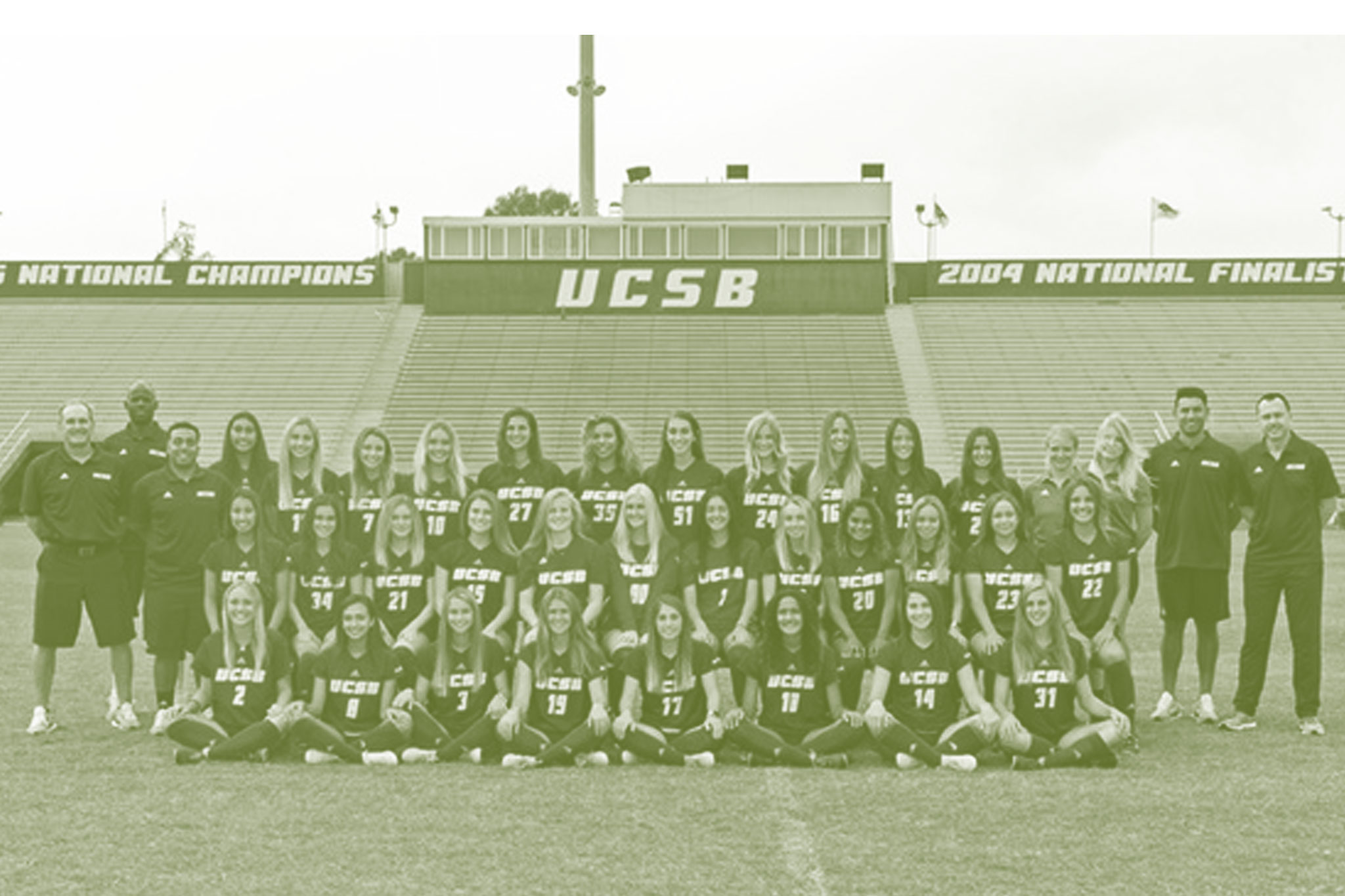 UCSB Women's Soccer 2020 Golf Tournament
Friday, April 24, 12:00 p.m.
Glen Annie Golf Course, 405 Glen Annie Rd., Goleta, CA 93117
$150 Registration fee.
Contact Mia Weber at mia.weber@athletics.ucsb.edu for more information
Check-in at 11:00 - 11:30 a.m. (Practice range will open up for golfers at 11:00 a.m.) Player fee includes a round of golf with a cart, boxed lunch, practice range balls, post-round appetizers and soft drinks, and one free raffle ticket.
Tournament outline: Shotgun start | Scramble | Longest Drive | Closest to the pin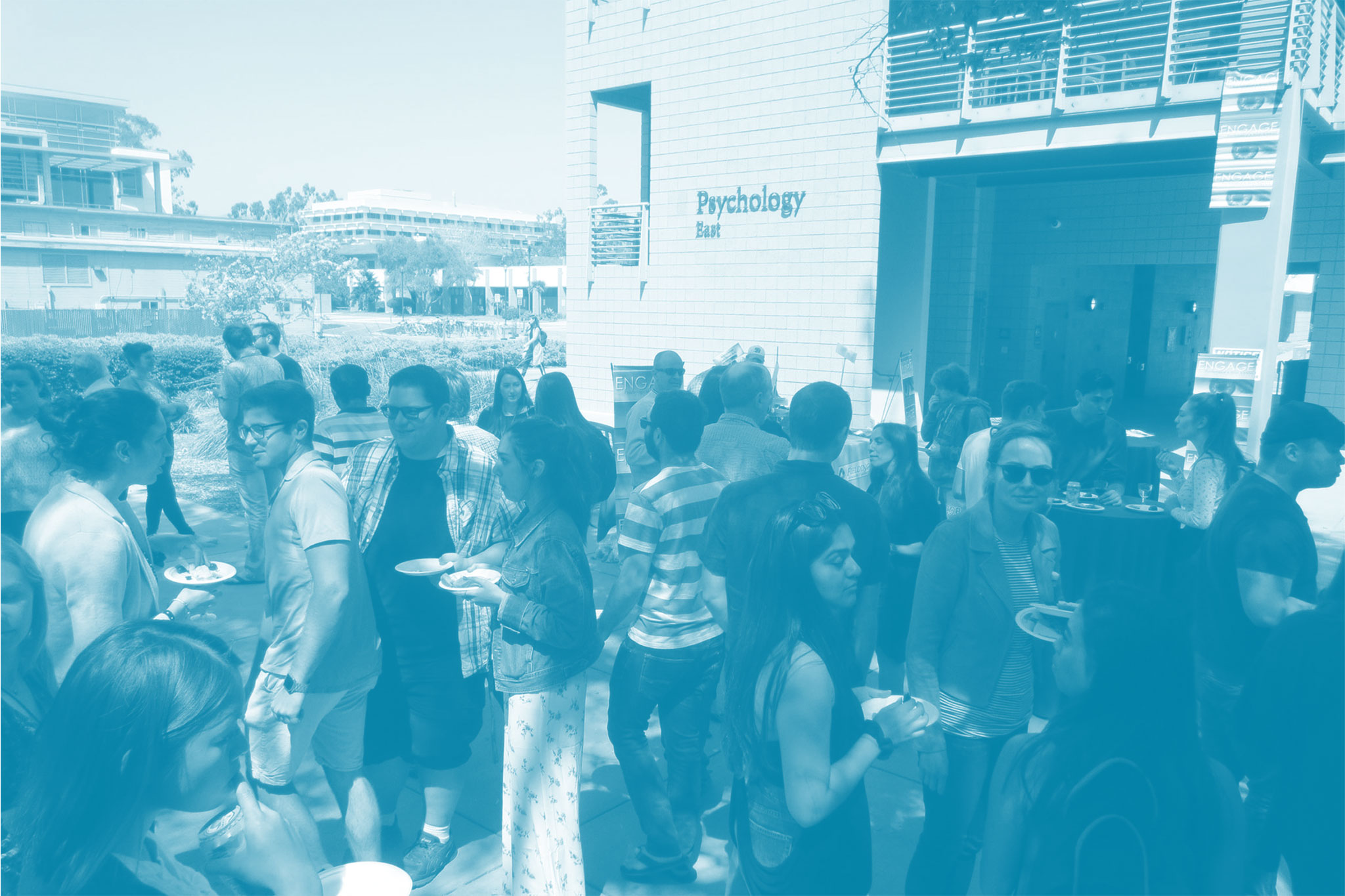 Engage: Psychological & Brain Sciences Alumni Career Panels
Friday, April 24, 1:30 – 2:30 p.m.
Psychology Building, UC Santa Barbara
Free Event.
All graduating seniors are invited to attend the 2020 Engage PBS career panel series.
Psychology and Biopsychology Alumni are eager to Engage, Network, Grow, Advance, Guide, and Empower (ENGAGE) students at three career-focused panels showcasing Alumni in different career paths.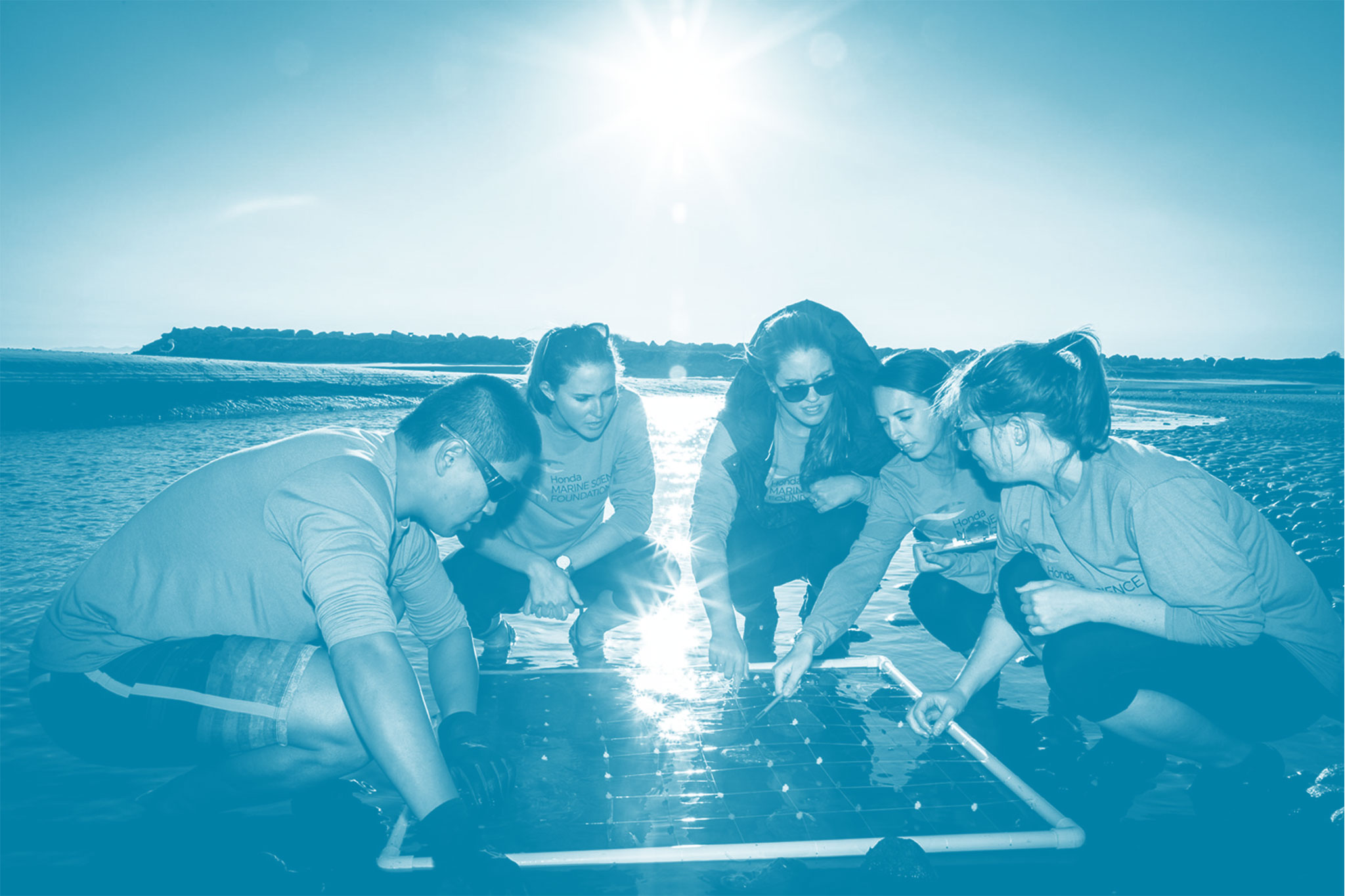 The Bren School of Environmental Science & Management Master's Thesis Public Presentation
Friday, April 24, 1:00 – 5:00 p.m.
Hilton Santa Barbara Beachfront Resort
633 E. Cabrillo Blvd., Santa Barbara, CA 93101
Free and open to the public. For questions, please email projects@bren.ucsb.edu.
22nd Annual Final Presentations of graduating master's students. Student groups will present science-based solutions to environmental challenges, followed by a reception.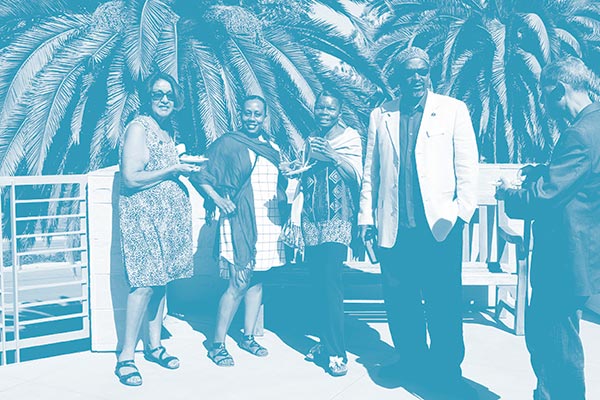 Psychological and Brain Sciences Alumni Mixer
Friday, April 24, 2:30 – 4:00 p.m.
Psychology Courtyard, UC Santa Barbara
Free Event.
Come to enjoy an afternoon with fellow PBS alumni and students while enjoying complimentary refreshments and appetizers.

Department of Physics Presentation and Alumni Career Panel
Friday, April 24, 2:00 - 4:30 p.m.
Broida Hall, UC Santa Barbara
Free Event.
We are excited to welcome our alumni back to Broida Hall during the 13th Annual All Gaucho Reunion on April 26, 2019! Join us for a presentation from award-winning physics professor Cristina Marchetti, a panel discussion with UCSB physics alumni, followed by refreshments and tours of our physics research labs in which exciting and innovative discoveries are made every day!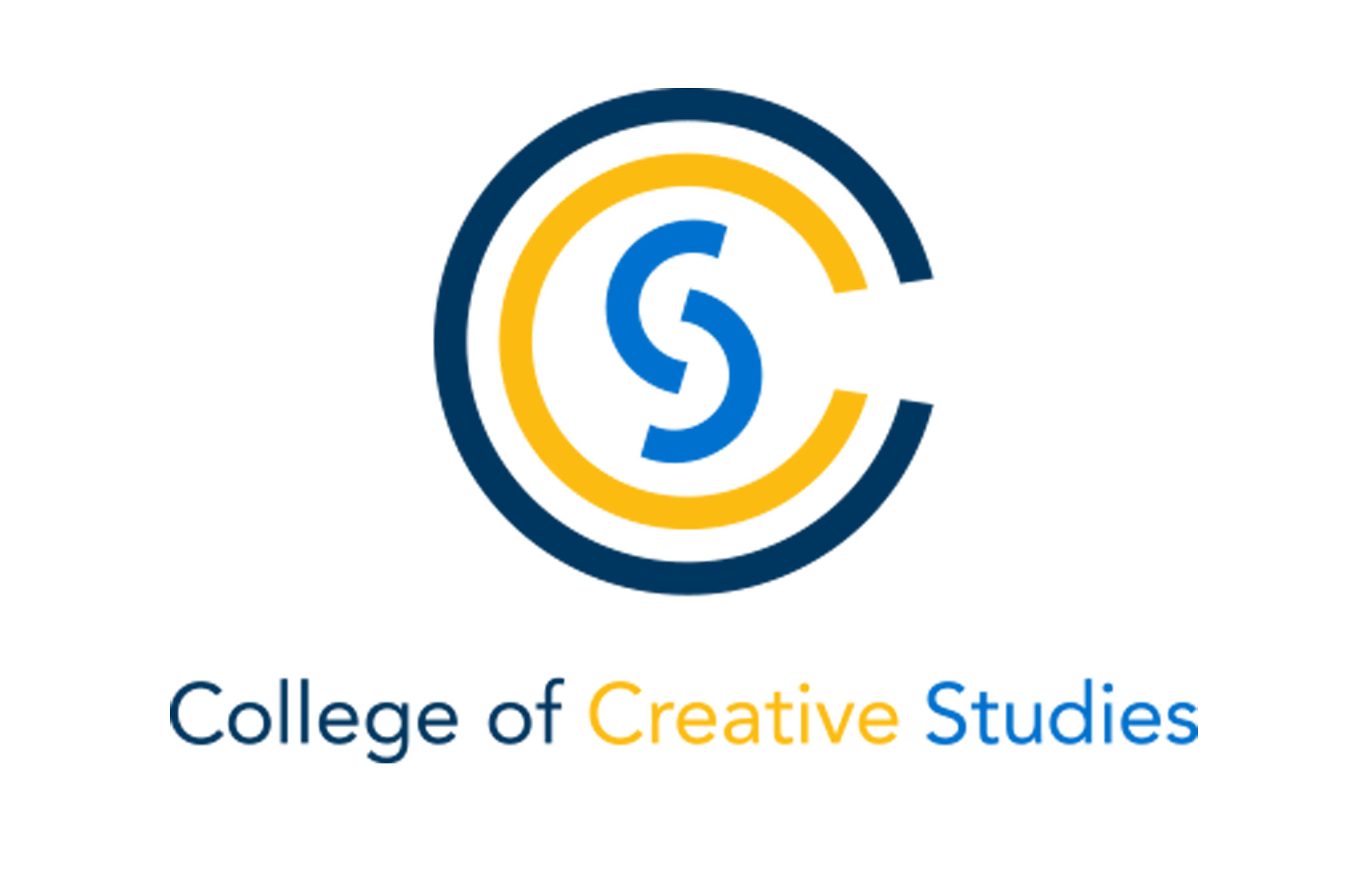 College of Creative Studies Alumni Panel
Friday, April 24, 3:00 p.m.
Old Little Theater, UC Santa Barbara
Free Event.
All UCSB students and alumni are invited to attend the CCS Alumni Career Panel. The goal of this event is to provide students and alumni (especially those who have graduated recently) with an opportunity to gain informal and frank insights on career opportunities from a panel of distinguished UCSB CCS graduates who have gone on to exciting private and public sector careers in the sciences and humanities/fine arts. After the event, there will be light refreshments and an opportunity for all to mix and chat with the panelists. All are welcome!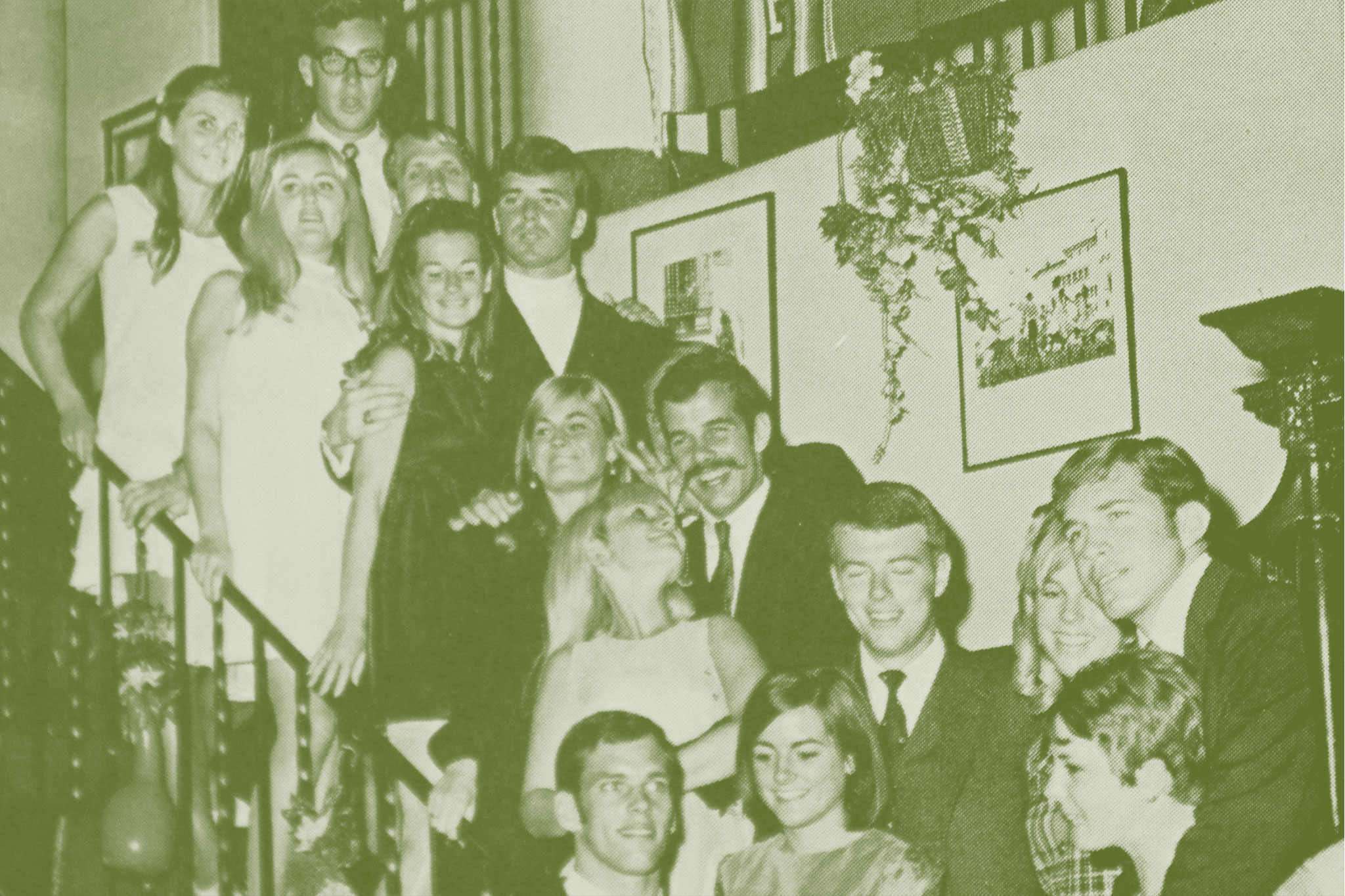 Golden Gaucho TGIF - Classes up to 1970
Friday, April 24, 5:00 – 7:00 p.m.
Location: TBD
Tickets $20, includes heavy appetizers.
Enjoy a wonderful evening of music and nostalgia at the TGIF. Ticket includes appetizers and admission to the Greek Alumni Party from 7:00 - 9:00 p.m.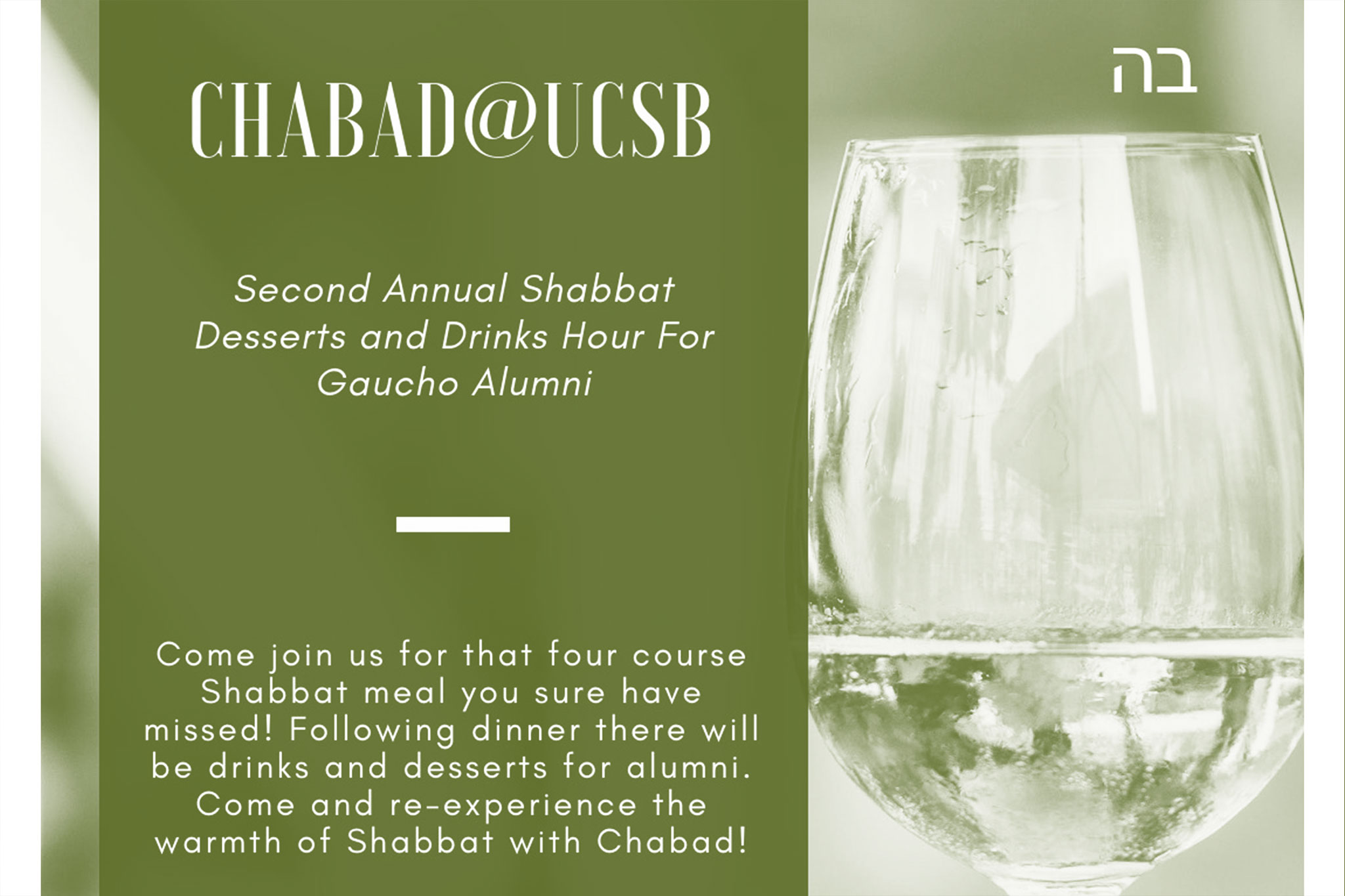 Chabad@UCSB
Friday, April 26, Dinner 8:00 p.m. Drinks and desserts 9:45 p.m.
779 Camino Pescadero, Goleta, CA 93117
Free Event.
Second annual Shabbat desserts and drink hour for Gaucho alumni. Come join us for a four-course Shabbat meal. Drinks and desserts for alumni following dinner.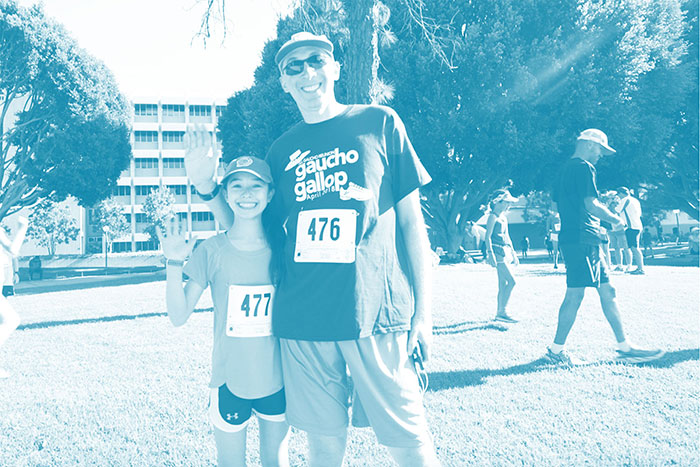 Kids 1 Mile Dash presented by the Santa Barbara Independent
Saturday, April 25, 8:00 – 10:30 a.m.
Adjacent to UCSB Library, UC Santa Barbara
This race is for all ages and fitness levels. The flat and fast course accommodates both competitive and first-time 5k participants.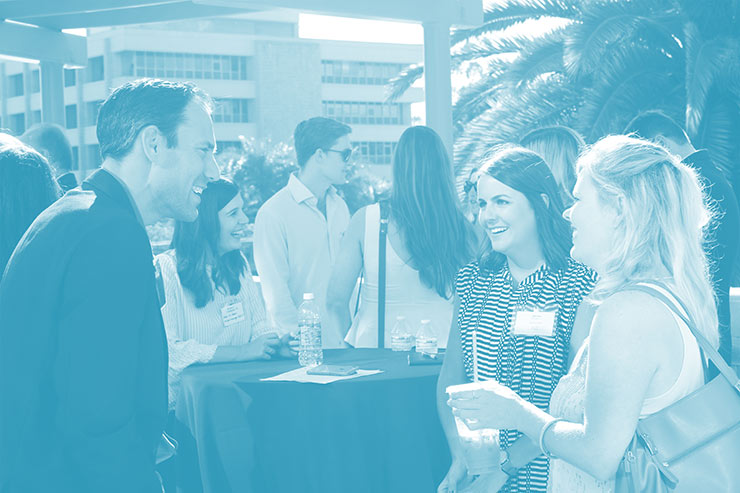 Saturday, April 25, 9:30 a.m. – 2:00 p.m.
Mosher Alumni House, UC Santa Barbara
Free Event. Contact Karen Ravago-Ballaret at karenrb@ucsb.edu
Connect with Gauchos in tech, finance, education, and entrepreneurship during an engaging morning of industry talks and networking. Keynote speaker: Eric Lauterbach '89, President, Consumer Division, Peet's Coffee.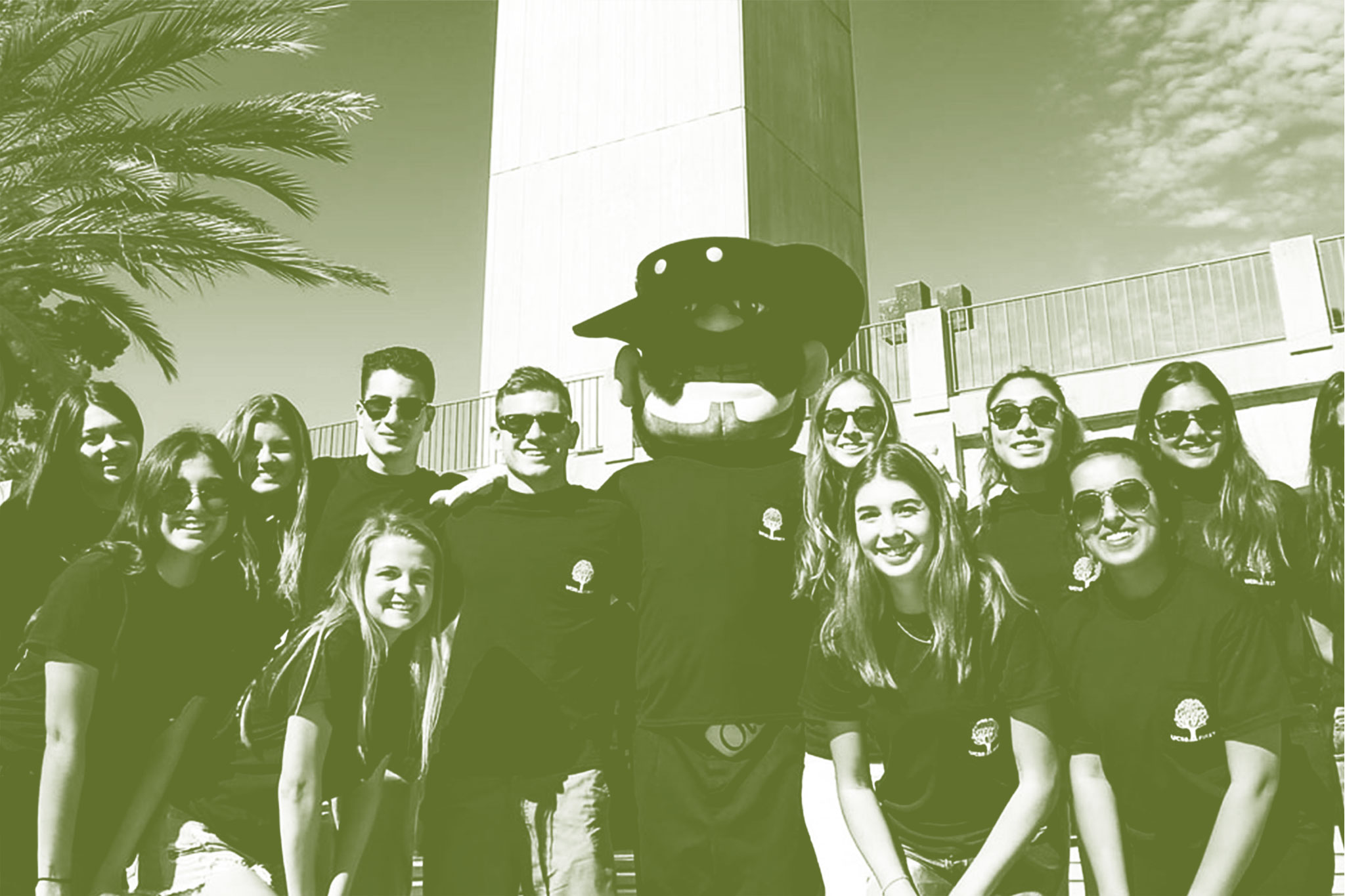 Class of 1970 Campus Tour
Saturday, April 25, 10:00 - 11:30 a.m.
Meet at The Club & Guesthouse, UC Santa Barbara
Free Event.
We invite our 50th anniversary class to come rediscover UCSB's beautiful campus and see what's changed. Reconnect with old friends on a guided tour of campus.
If you are unable to walk the duration of the tour but would like to participate, please email Lauren Cain at programs@alumni.ucsb.edu.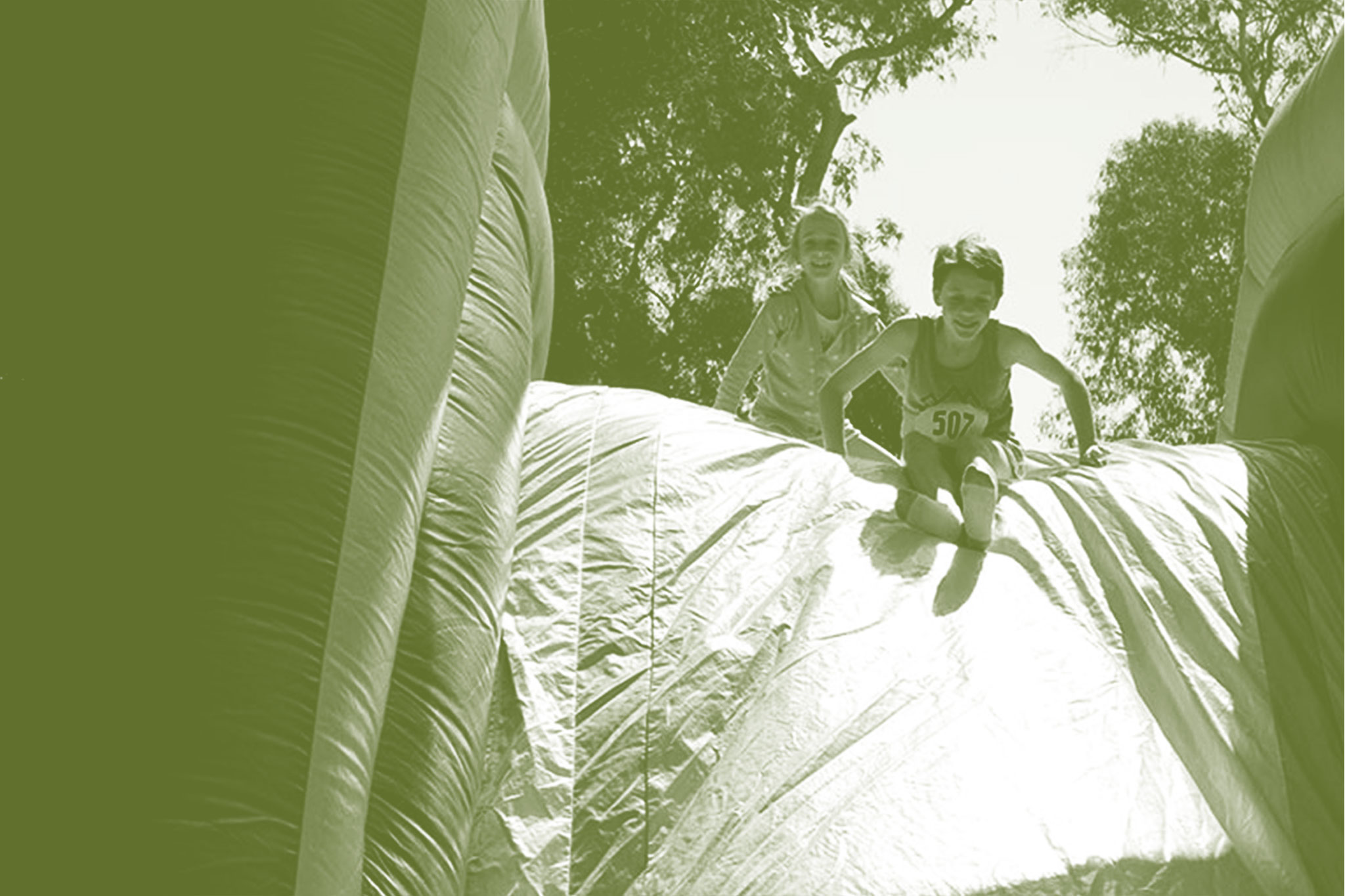 Gaucho Kids Festival
Saturday, April 25, 10:00 a.m. – 12:00 p.m.
Behind the UC Santa Barbara Library
Free Event. No registration necessary. Waiver required for all youth.
Choose from a multitude of engaging activities family such as earthquake simulations, liquid nitrogen ice cream, LEGO robots, Physics Circus, the REEF, and more!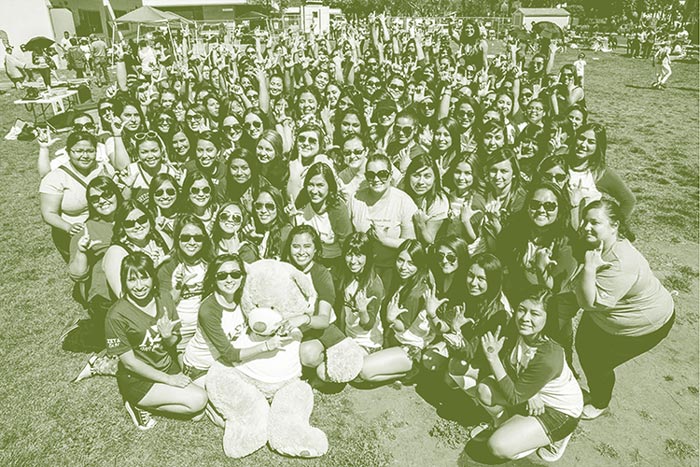 Greek Chapter Gatherings
Saturday, April 25, Times may vary
Chapter Facilities, Isla Vista
Get a tour of your old home away from home!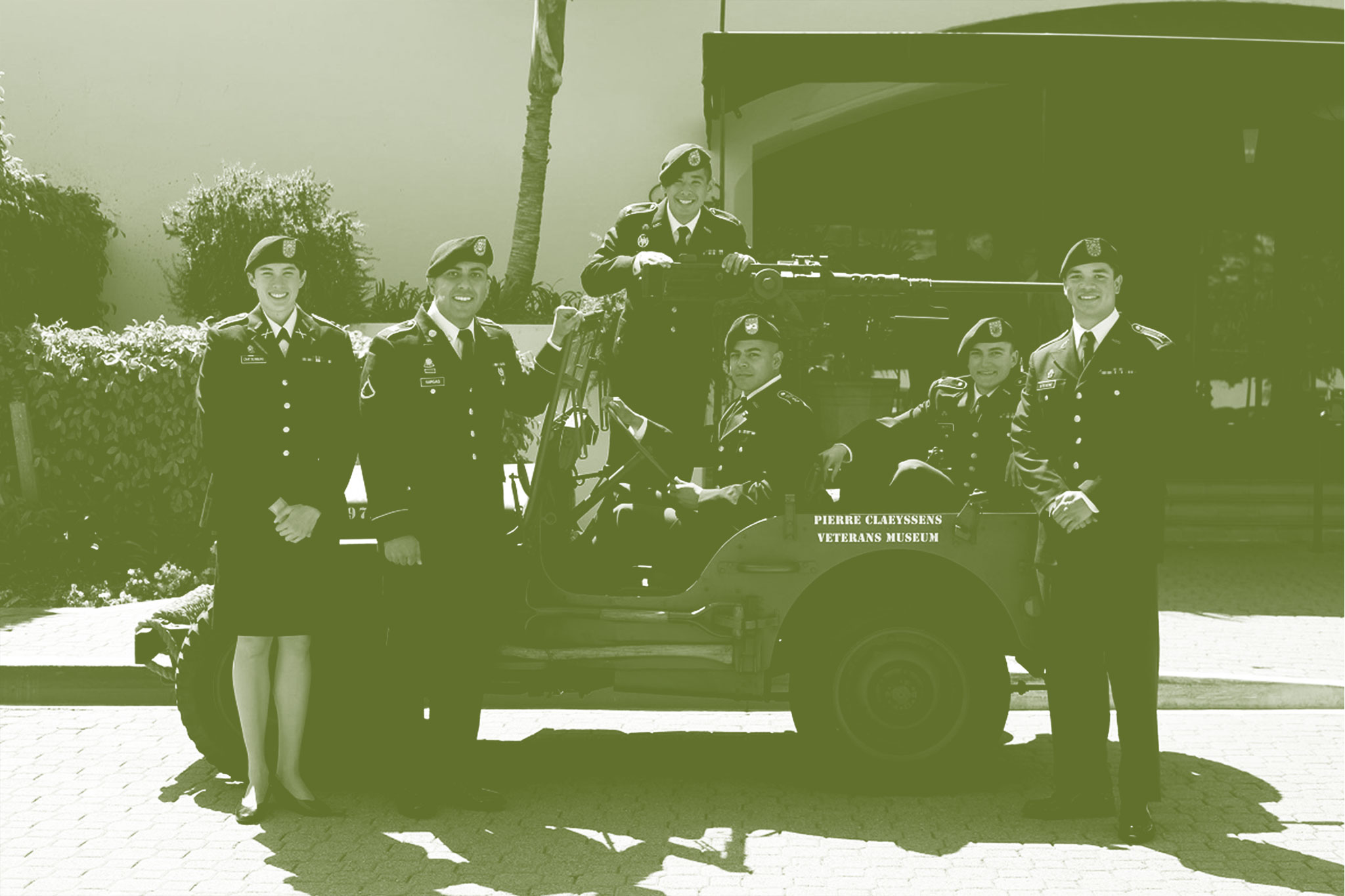 ROTC Reception
Saturday, April 25, 11:00 a.m. – 1:00 p.m.
Goleta Beach, Area B, 5986 Sandspit Rd., Goleta, CA 93117
Free Event. 
RSVP by March 17th: Email rotcalumni@milsci.ucsb.edu
UCSB's Department of Military Science / ROTC Program is hosting its annual Alumni Reception. All past Surfriders are invited to a BBQ to mingle with current Cadets.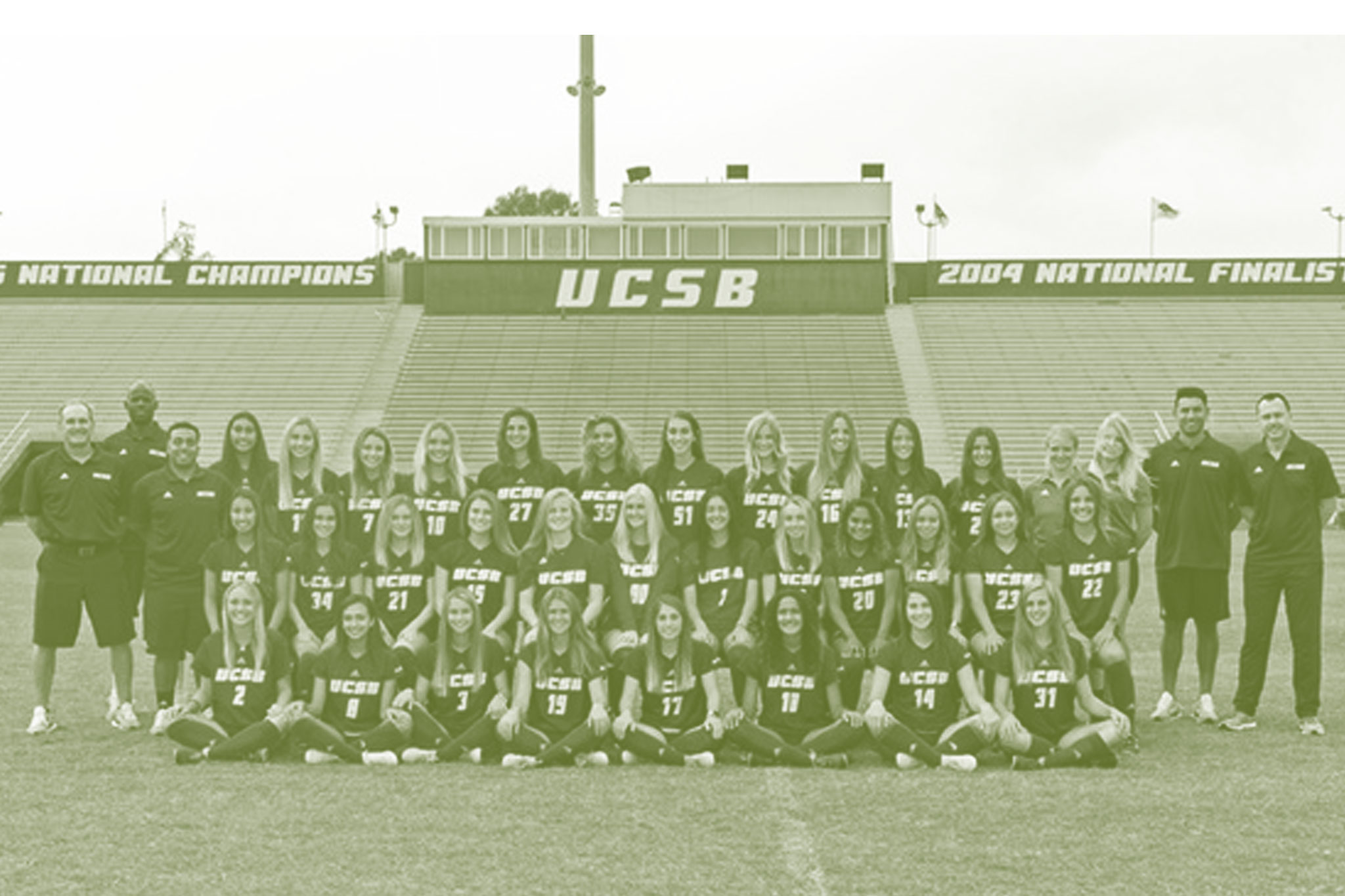 UCSB Women's Soccer
Saturday, April 25, 11:00 a.m.
Ticketed.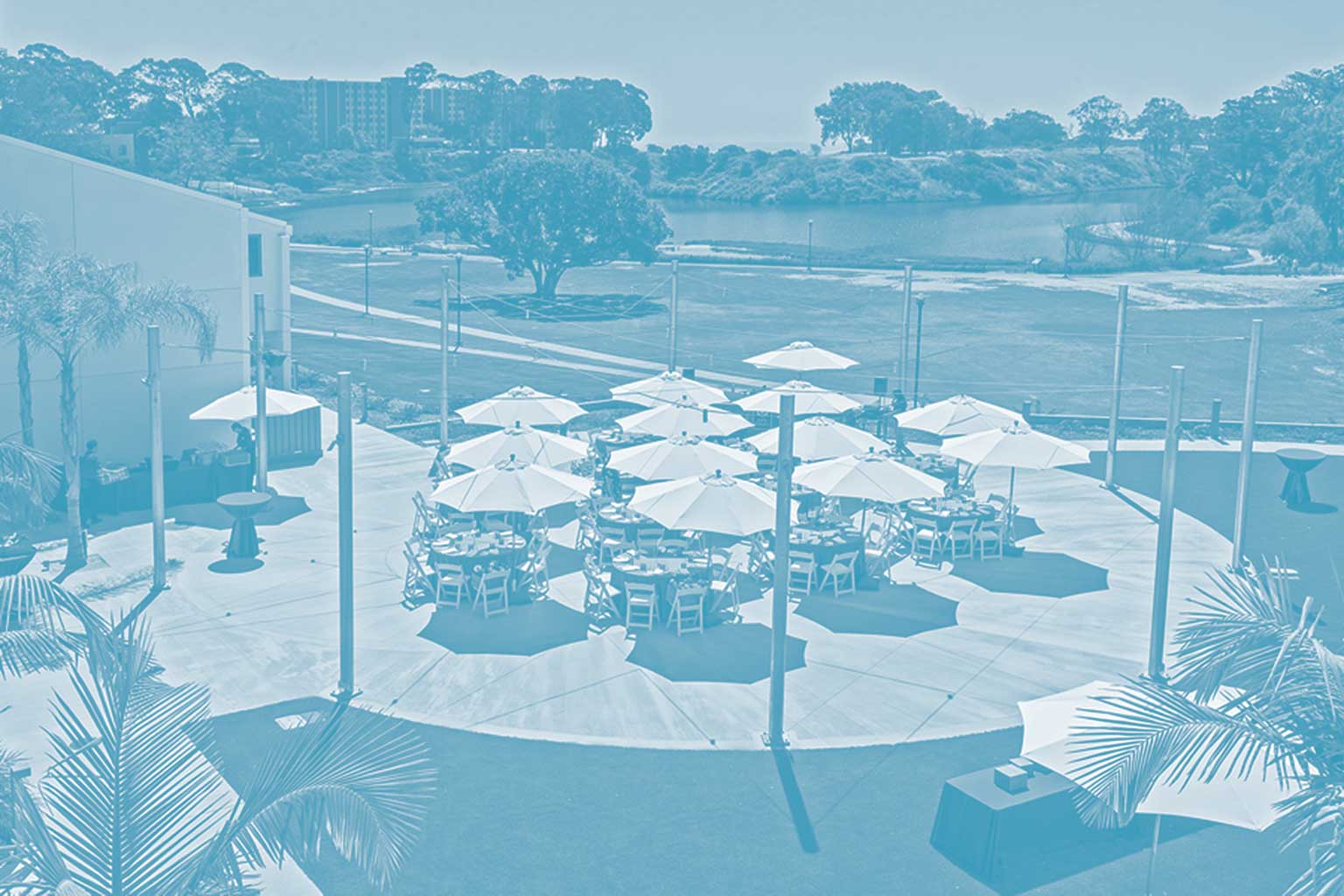 Class of 1970 Reunion Luncheon
Saturday, April 25, 11:30 a.m. – 2:00 p.m.
The Club and Guesthouse, UC Santa Barbara
Tickets $40.
The 50th Reunion luncheon is the highlight of the Reunion weekend. The ticket price includes a cocktail hour, lunch, and program. The venue will be the Betty Elings Wells West Terrace overlooking the UCSB lagoon (weather permitting.)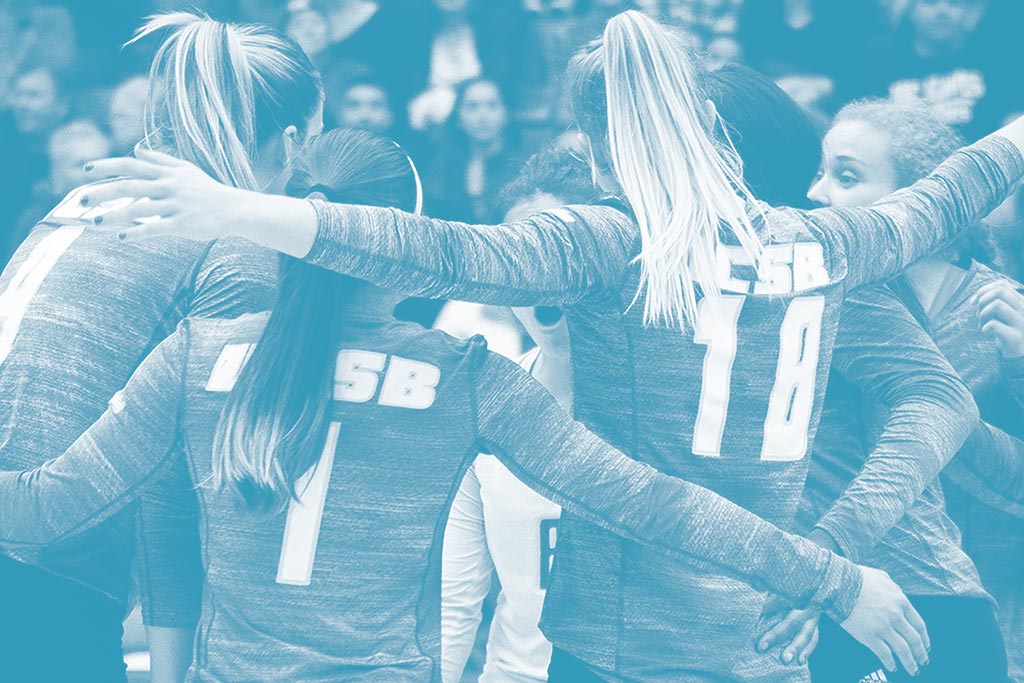 Women's Volleyball Alumni Match
Saturday, April 25, 12:00 p.m. Alumni Match
2:15 p.m. Lunch with current team
Robertson Gymnasium, UC Santa Barbara
RSVP to Laura Lum at laura.lum@ucsb.edu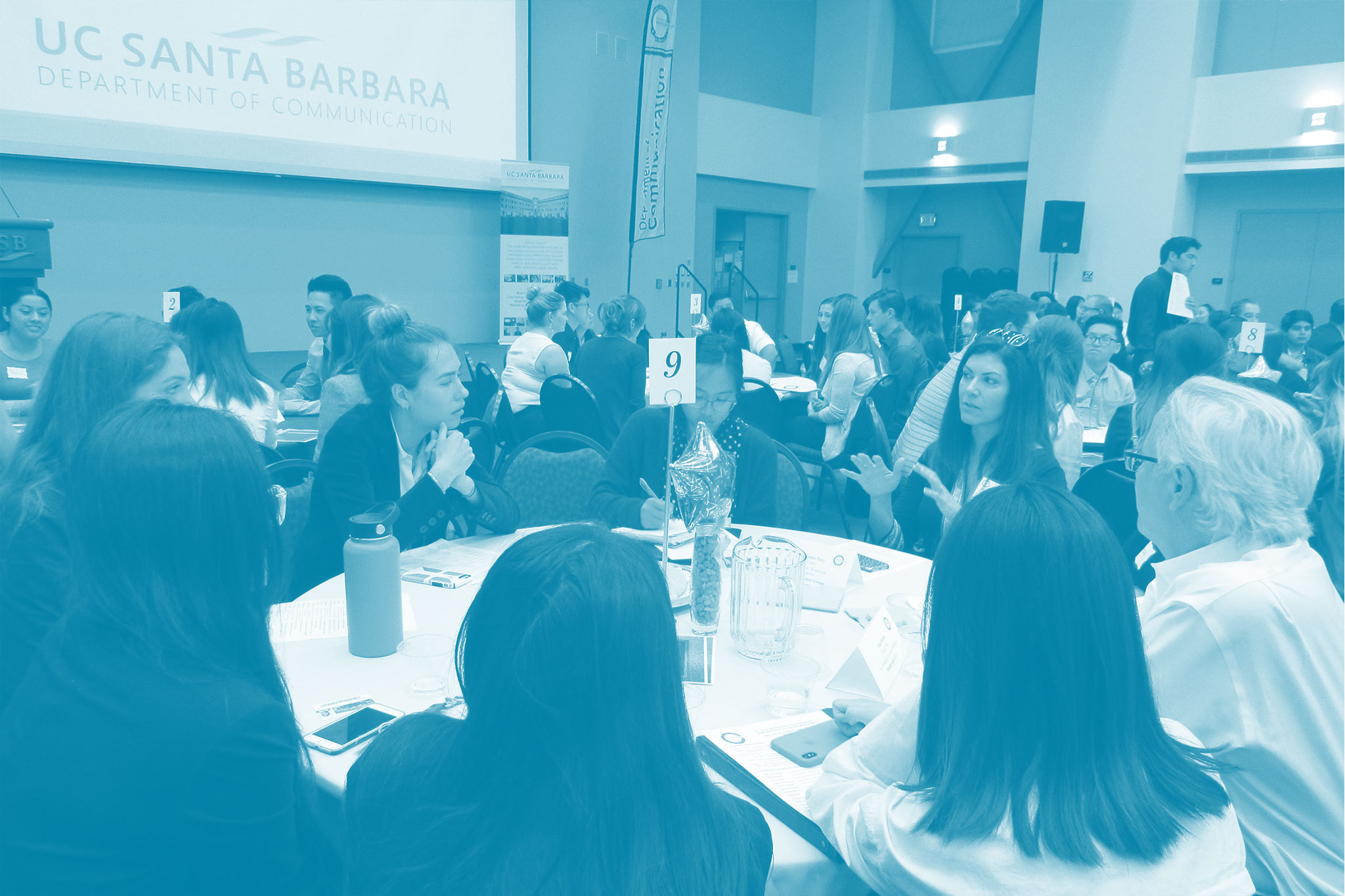 Department of Communication Career Day
Saturday, April 25, 1:00 – 5:00 p.m.
Corwin Pavilion, UC Santa Barbara
Free Event.
If you are a Communication Alumni and would like to attend the event or have questions please reach out to the Alumni Council at comm-alumnicouncil@ucsb.edu
Career Day is an event hosted by the Communication Alumni Council through which we aim to connect current communication students with alumni as we work to build a program in which we provide mentorship and opportunities for students as they begin to plan career paths. It is a great opportunity to reconnect with UCSB, give back to the campus, and engage with students and Alumni. Following the event, we invite all Alumni to gather for a reception/ networking event which grants alumni the opportunity to reconnect with each other, the Department of Communication and faculty.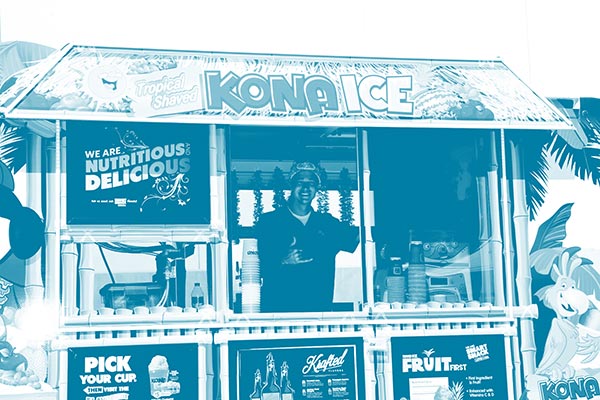 Taste of UCSB presented by Hotel Californian
Saturday, April 25, 2:00 – 5:00 p.m.
Lawn behind UCSB Library, UC Santa Barbara
$50 while supplies last.
Questions? Email taste@ucsbalum.com
This is the premier event of AGR Weekend, with over 50 Gaucho chefs, brewers, caterers, and vintners providing the best Central Coast cuisine and beverages. This benefit event for the UCSB Alumni Scholarship Fund also features live music and a chance to meet various UCSB department representatives.
RULES AND REGULATIONS: ALL TICKETS ARE NONREFUNDABLE within 30 days of the event -- Taste of UCSB happens rain or shine. This event is exclusively 21+ only, no one under the age of 21 will be permitted inside the festival, including children in strollers and carriers. Please bring your valid photo ID or another form of government-issued identification. Animals are not permitted inside the festival unless they are designated service animals with proper documentation. Tickets will be sold at the door WHILE SUPPLIES LAST. Remember to bring either your printed ticket OR your mobile ticket details for scanned entry.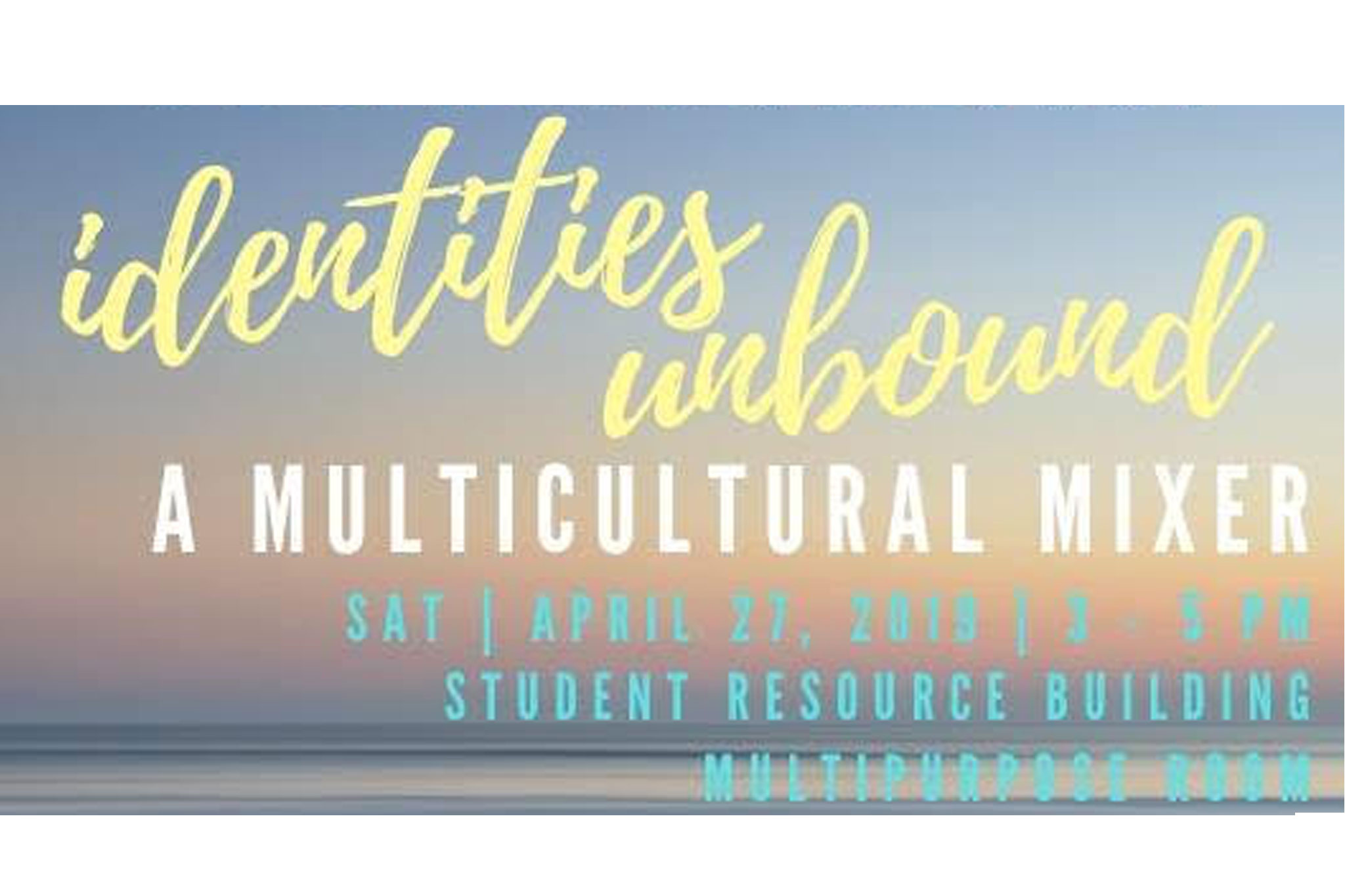 Identities Unbound: A Multicultural Mixer
Saturday, April 25, 3:00 - 5:00 p.m. 
Multipurpose Room, Student Resource Building, UC Santa Barbara
Free Event.
Inviting all UCSB alumni and current students who are/were involved with any cultural, identity-based student organizations and/or a fraternity and sorority for an evening of networking, learning, and solidarity. Alumni share their unique stories and wisdom about life after graduation with current students, staff, and faculty. Enjoy desserts and light refreshments that interweave our communities together during this multicultural family reunion.
Hosted by: Asian Pacific Islander Alliance (APIA), Chican@/Latinx Alumni Network, Education Opportunity Program (EOP), Latinx/a/o UCSB Networking Association (LUNA), Resource Center for Sexual and Gender Diversity (RCGSD), UCSB Black, Undocumented Student Services, UCSB Alumni Affairs.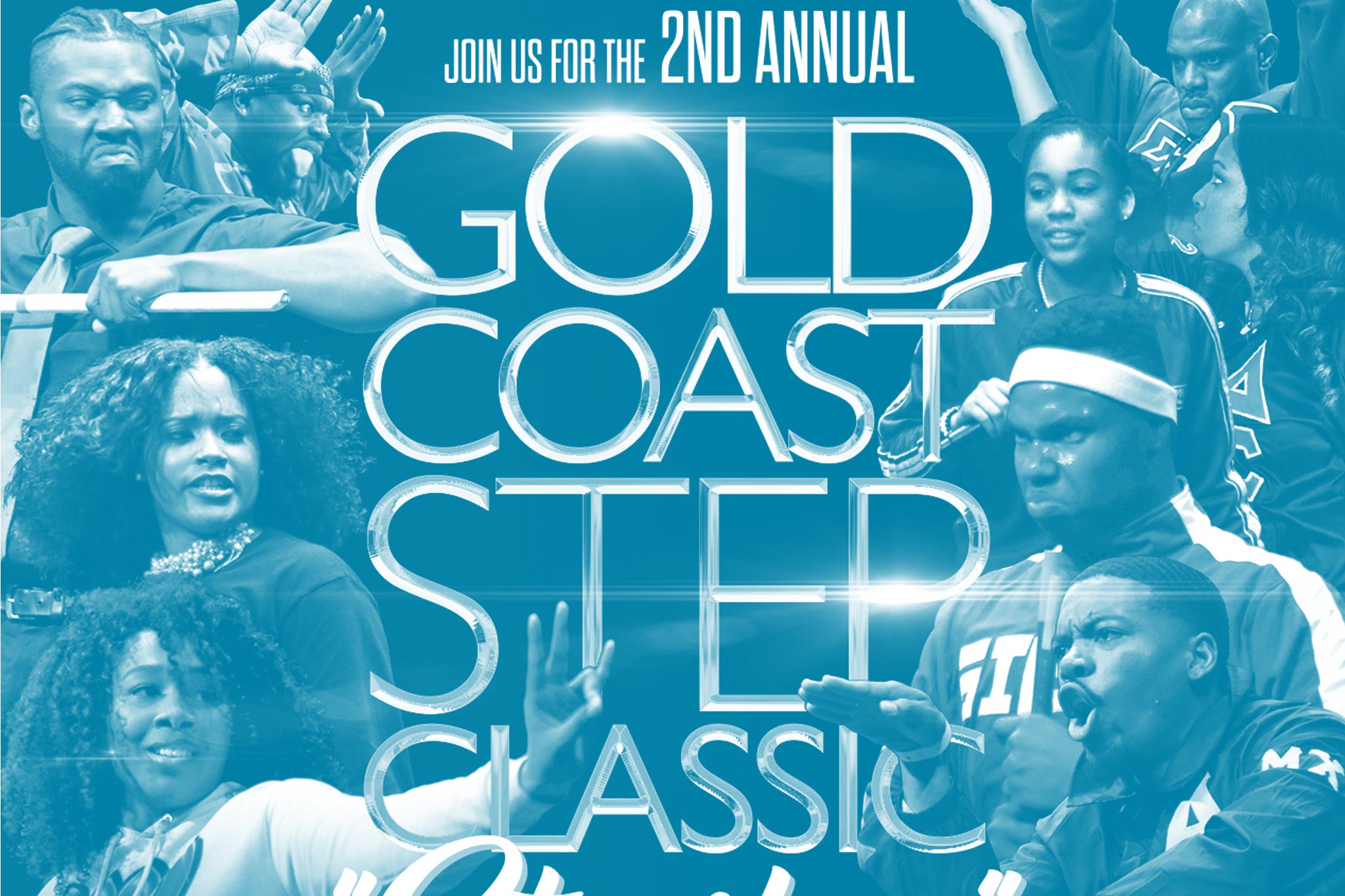 3rd Annual Gold Coast Step Show
Saturday, April 25, 4:00 - 8:00 p.m.
UCSB Thunderdome, UC Santa Barbara
Tickets $10-$20.
Featuring Step Performances By Organizations of the DIVINE 9 (Fraternities and Sororities)
Doors open at 4:00 p.m., Show starts at 5 p.m.
For more information: q20.rsvp@gmail.com or by phone: 310.431.8564 
Executive Producer: Q-20 Entertainment
Proceeds to Benefit The Center for Education and Academic Development Elite Scholars Program.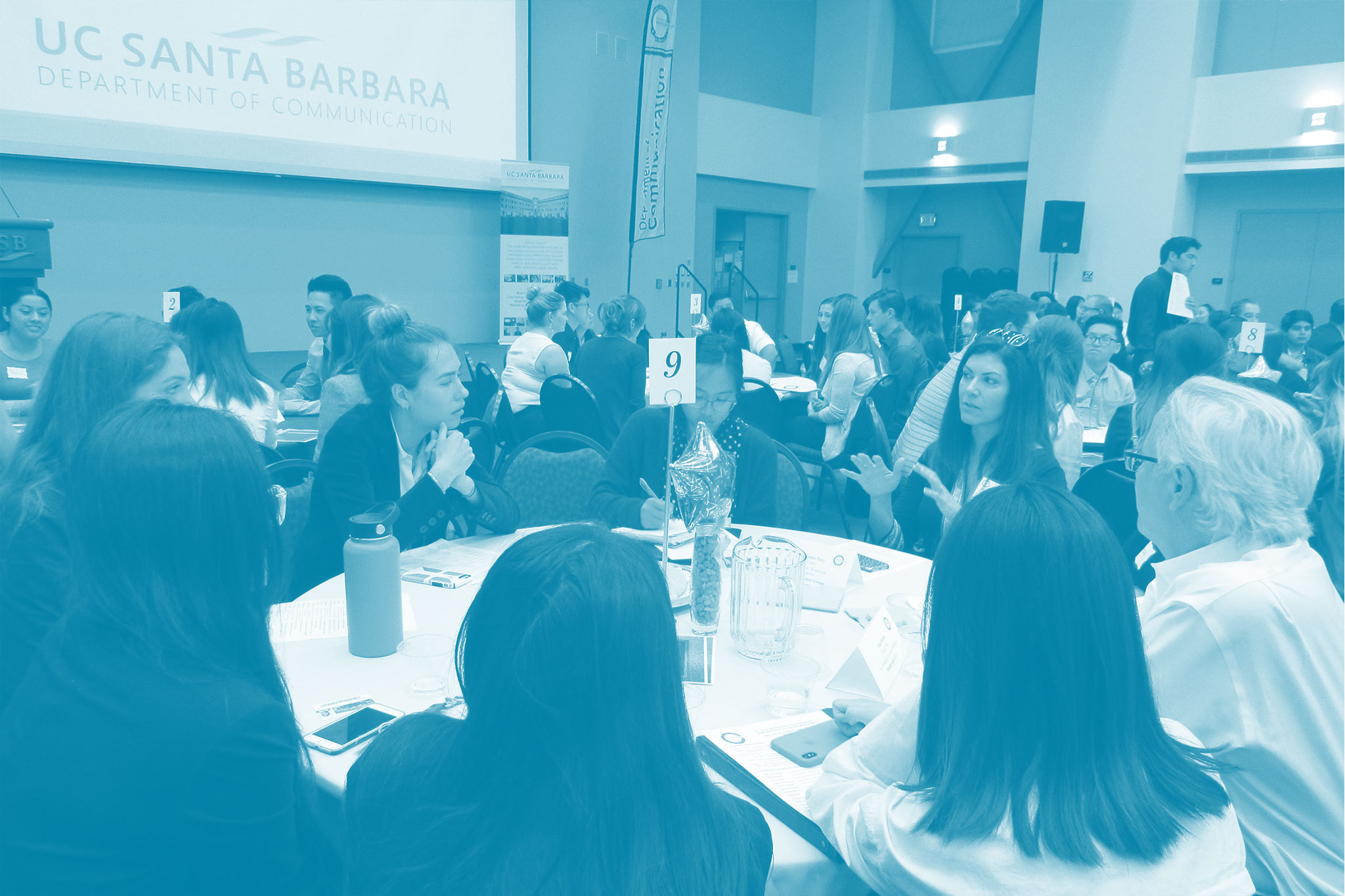 Greek Brunch
Sunday, April 26, 10:00 a.m. - 12:00 p.m.
Alumni Hall, Mosher Alumni House, UC Santa Barbara
Tickets $15.00. Ticket price includes breakfast and mimosas (for 21+ with a valid ID).
Join us Sunday of All Gaucho Reunion Weekend at the Greek Brunch at Mosher Alumni House! It's the perfect chance for a visit with friends before finishing your last day at the All Gaucho Reunion. Enjoy delicious food, tour your Alumni House, snap those last selfies, and share last hugs and laughs with your special lifelong friends.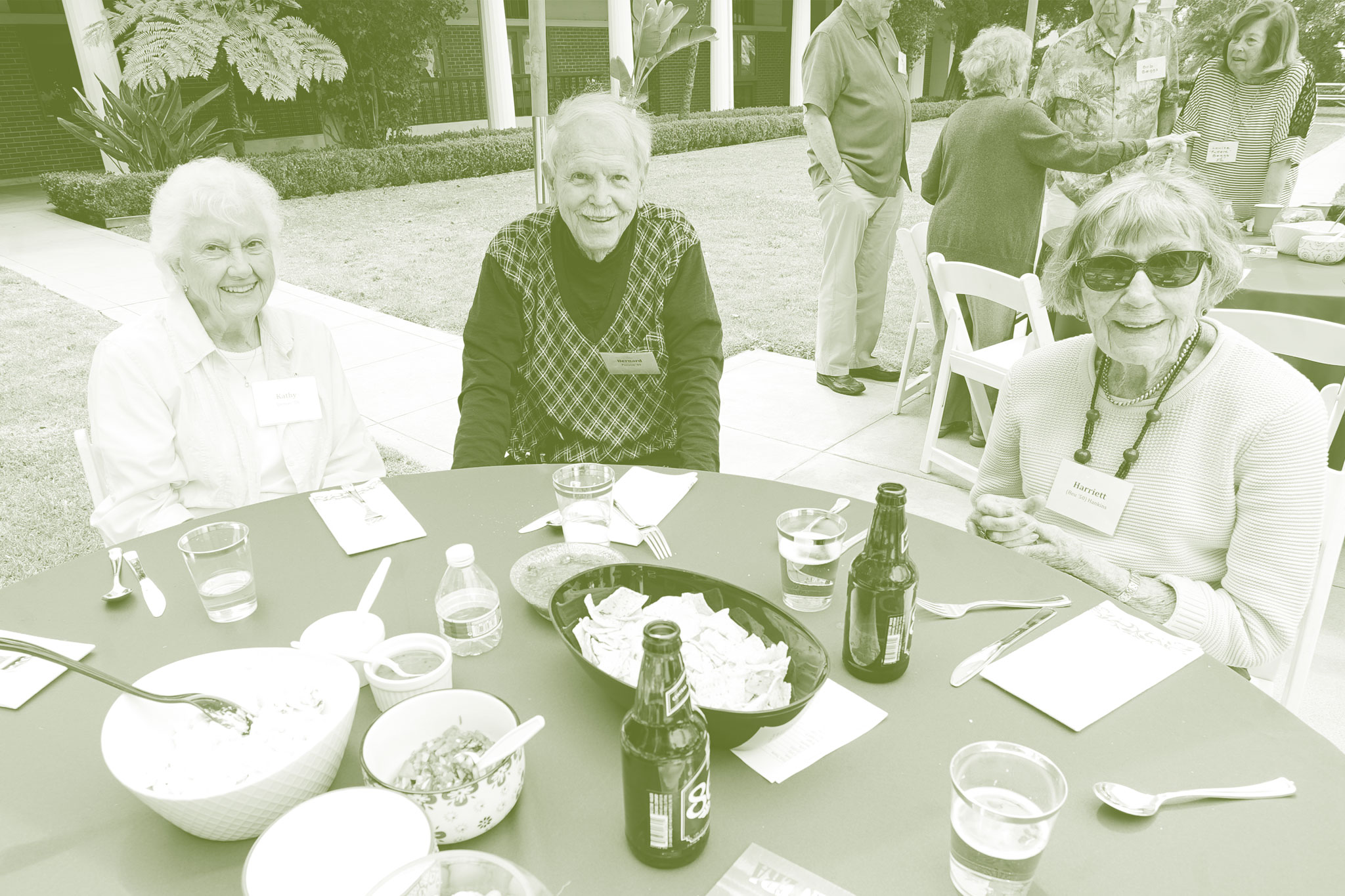 Riviera Reunion Luncheon
Sunday, April 26, 11:00 a.m.– 1:30 p.m.
Riviera Park Quad
2020 Alameda Padre Serra, Santa Barbara, CA 93103
Tickets $35.
Join fellow Riviera Gauchos in the Riviera Quad at the original UCSB campus! Enjoy a family style BBQ lunch and share stories with Gauchos who graduated in 1957 and before.